Amy Ellington and the Nike SB Dunk for Hypebeast's Sole Mates
The KCDC skate shop owner discusses her love for the SB Dunk, her experiences working with Nike and how she's been able to sustain her business for over two decades.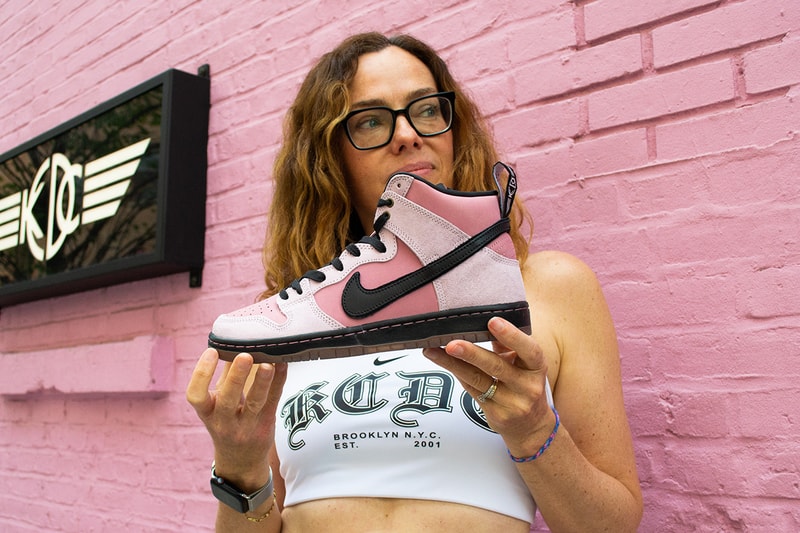 Amy Ellington is proving that anything boys can do girls can do better. The skateboarding industry has long been male-dominated, but with a deep-rooted ardor for the sport and the ways in which it's influenced pop culture and fashion, Ellington has blazed her own trail by helming KCDC — a Brooklyn-based skate shop that's been serving the New York skate community for over two decades.
Ellington grew up in Long Island, New York but spent plenty of time hanging out in Manhattan and often reminisces about witnessing the impact that skateboarding has had on pop culture in the early 2000s and beyond first-hand. So when we tapped her to be a guest on Sole Mates, she wanted to hand-pick a silhouette that reflected this era's rebellious attitude and undeniable swagger: the Nike SB Dunk.
We caught up with Amy Ellington to talk about her love for the model's function and versatility, her experience working on the KCDC x Nike SB Dunk collaboration and her constant motivation to build community through sneakers.
Who or what got you into sneakers?
Skateboarding. As an avid skater growing up, sneakers were what I turned to as my fashion statements.I also had the privilege of watching many of my friends within the skate community receive their own collaborations, which made me love them even more.
Can you recall what silhouettes you were into growing up?
I grew up during the punk rock generation, so early on I was heavy on combat boots, especially Dr. Martens. Having grown up around New York during such a pivotal time in hip hop when Wu-Tang Clan and Nas were huge, I also witnessed how much music was inspiring fashion. Back then, you'd definitely catch me shopping on Canal St. for fake Gucci velour suits.
When did the Nike SB Dunk first come into the picture for you, and can you remember what your reaction was when you first saw it?
The first Dunks I ever owned were Gino Iannuci's first Nike SB Dunk Low collaboration, those will always be special to me. Since my sneaker journey started out with skateboarding, I've always stuck to the SBs and have never really been a fan of the regular Dunks from Nike Sportswear.
What would you say your favorite design elements are about the Dunk and do you have any favorite colorways?
The SB Dunk is timeless to me. It's amazing that it's been able to span so many trends. As a business owner I always see so many people try on shoes, and some designs only look good on certain people or specific sizes of feet — but SB Dunks just look good on everyone. One of my favorite recent collaborations was Travis Scott's take on the SB Dunk Low. The pink Swooshes worked so well paired with the tear-away bandana prints.
I definitely resonate with that. Sometimes I'll see shoes and have to appreciate them from afar because I know they wouldn't fit with my body proportions or style, but there are certain silhouettes out there that are made for everyone.
Totally. Also, I used to model and would be wearing my sneakers when I would pull up to castings. I knew that my Dunks looked good because there were many times when I didn't have to change my shoes, and in a casting, that's really rare.
I also think that Nike SB is one of those unique labels that has so much heritage with the skate community and culture, which gives it the power to execute collaborations that people will actually invest in.
For sure. I see so many collaborations release these days and wonder who would actually buy and wear them. People think Nike SB is a huge conglomerate, but it's actually a tight-knit design team. I love that it had the power to make two Dunks inspired by [rock band] Melvins just because Chris Reed was a huge fan. Those little underground collaborations are so important. They've given Nike SB its power, and will continue to do so down the line.
"When I started this journey, I realized how much I love bringing people together, and that has been translating into the business to this day. I love bringing this energy to the skate community who, by nature, tend to already feel like they're not fully seen or heard."
You released the KCDC x Nike SB Dunk High collaboration a year ago. Can you reflect on what that project meant to you and how it came to life?
It came at a perfect time because we were celebrating our 20th anniversary, which I was looking at as a platform for a lot of things, but mainly to show what we support. Nike SB gave us free reign when it came to the design, so the inspiration was sort of an inside joke. Throughout my time in the industry I've sat in a lot of meetings, was always the only girl in the room and would often be shown women's products that followed the "shrink it and pink it" model, so I wanted to send a big "f*ck you" and make the shoe pink because of the irony.
Besides that inspiration, the sole referenced my love for Dr. Martens. I even put pig suede on the interior so that skaters wouldn't heat up too much when rocking it. It's both fashionable and functional. We also partnered up with Love, Nelly, one of my favorite bakeries in Brooklyn, for the launch. It was dope to see the shoe come to life and be appreciated by skaters and fashion enthusiasts alike.
Can we expect more KCDC x Nike collabs to come in the future?
Yes! It was an incredible experience working with them across the board. They made us step up our game from the design side and were fully supportive of our ideas.
The streetwear and sneaker industry isn't the easiest to survive in. What's been the formula to your success over the last two decades?
When I started this journey, I realized how much I love bringing people together, and that has been translating into the business to this day. I love bringing this energy to the skate community who, by nature, tend to already feel like they're not fully seen or heard. I'm not sitting on piles of money, yet I still wake up every morning motivated to try and figure this thing out. I've been fortunate enough to have had mentors like Sandy Bodecker support me and guide me throughout my career. All of these things add up and are super important to me.
Why are sneakers and their stories important to you?
It might somewhat be judgemental, but the first thing that I look at in another person is their shoes. They're a language. Sneakers tell the tale of who a person is. I love the way a SB Dunk can tell you so much about what a person likes and what their style preferences are.