Olly Shinder is the U.K. Designer Making Calculated Risks Look Good
The emerging designer explains to Hypebeast that "sexy techwear" is just the start.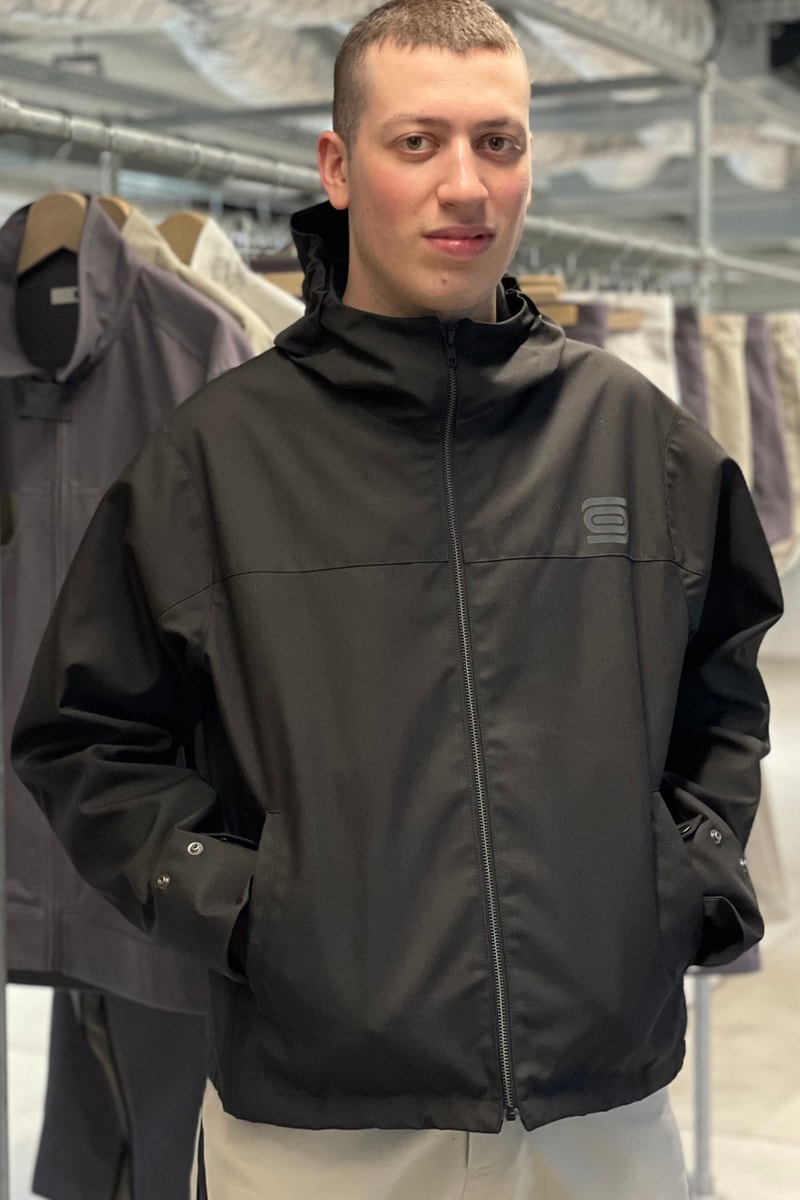 Olly Shinder is the U.K. Designer Making Calculated Risks Look Good
The emerging designer explains to Hypebeast that "sexy techwear" is just the start.
Olly Shinder makes sexy clothes for even sexier people. 
His work, informed by outerwear, military uniforms, techno raves, functionality, sensuality, and his work placement at Snickers Workwear, is nuanced, inspired and refreshing beyond the 23-year-old's years. Despite a wealth of experience under his belt, Shinder only graduated from Central Saint Martins in June 2022 – so it's safe to say that his journey into the world of fashion is just getting started. 
His collections have been picked up by Dover Street Market Paris and London, SSENSE, Très Bien and MACHINE-A – and it's clear to see why. His work opens up a conversation around masculinity in a progressive, inviting way. It's flirtatious and to the point, cutting out any of the clunky small talk.
It's also more than meets the eye; when you look closer beneath tech outer layers, something much more sensual is unveiled. Shinder's wardrobe of clothes have hard shells, but blend seamlessly alongside finishing touches of intricate lace; a delicate, and self-expressive set of armour crafted for modern masculinity.
Hypebeast has commented on such themes for both of Shinder's collections – SS23 and FW23. But what's beyond subverting sporty garments for the young designer? 
In order to find out, Hypebeast visited Olly Shinder at Dover Street Market Paris' showroom (where FW23 is currently on display), to discuss his path into the industry and how he got to where he is today, and more importantly, what's to come. In his own words, here is how he continues to find himself through his work, pushing his comfort zone in order to tell the story of the brand.  
Hypebeast: Why did you become a fashion designer?
Olly Shinder: I always knew I wanted to study fashion, or art. Central Saint Martins seemed like a really good option because it's a fashion school but somehow also an art school, and the course – Fashion Design and Marketing – was so uncommercial. It's the course that doesn't specialise, it's just fashion and not menswear or womenswear. I felt like I didn't want to be boxed in – and it turned out that various other people on the courses were in similar situations – so it turned out to be the most fine art-y one of the courses. 
Menswear, you learn technical tailoring. Womenswear, you are going to a House. It's all quite fluid at Saint Martins, but it worked for me because I've always hated being boxed into a gender. I didn't like to identify as a menswear designer, I felt like that put me in a lower calibre somehow – womenswear is seen higher in the pecking order. But I also wasn't just a womenswear designer. 
What inspired you to create a label? 
There are so many elements to it. First of all, I feel that the collection that I made deserved to be in a shop. I really believed "this is good – this needs to be produced." That's why I found myself more interested in speaking to press and buyers than I was speaking to Houses and brands, because I felt like I needed to push this collection myself. That gave me a real confidence to try it out for a bit and see how this works. 
How has the first collection been received? 
I think I've had good feedback, everyone was happy with the timing and the quality – those were the things that I was told [should be] my main priorities as a new brand, and I achieved both of those things. 
I think it's impacted this new collection. I didn't have much time to develop this, and even though it looks quite different it's really just small changes. There are few new pieces and techniques – obviously, everything is new, new fabrications and colours – but it is not conceptually too different from the last collection. 
How did you feel about it on a personal level?
I get a lot of good advice from the community of designers in London. It's more about designer-to-designer contact, because we're ultimately going through the same thing ourselves. For example, when I was really caught up in the production of the brand, and it was a huge headache, a friend of mine who is a designer said, "Olly, you need to focus on the direction of the brand." That was a nice moment. 
Just going to shows – the Junya Watanabe show – there was perfume in the room, I could smell it… those details are important. Thinking of all those little things; I find that inspiring. Seeing great work is also really inspiring, whether that's great artwork or great fashion, or anything of a very high level I often can find that very inspiring. 
What has your vision become?
It's a work in progress, a real ongoing thing. When I released my first collection, I didn't really realise that this was going to be "my vision." I didn't overthink it, but I also didn't have much time to really refine it. That is what I am doing over these next collections. 
"I like you calling them 'Sexy Techwear'… they're jackets that don't show much skin and I like that people can see that showing skin isn't the only way to be sexy."
I'm still trying to be experimental and to try push myself to build a foundation of who I am. This is one way of doing it, I'm interested in seeing how it turns out next season as well. 
What have you found out about yourself by doing this next collection?
I like you calling them "Sexy Techwear," I honestly do like it. I like that a lot of these clothes are so covered up; they're jackets that don't show much skin and I like that people can see that showing skin isn't the only way to be sexy. It can actually be quite vulgar. What I am trying to do is a little bit more… actually sexy. 
Maybe you would want to f*ck someone who's wearing this. It's not screaming sex, but you can smell it on the clothes. 
And this is continued for Collection 2…
Pointless vents. No one needs vents in there. 
So why is it there?
Because it looks good – it's sexy!
What was going through your head when designing this collection?
A lot of things. Originally: how can we take the last collection and put it into slightly different fabrics and new colorways? But obviously, I felt like that wasn't enough for me, so I kept pushing and pushing and pushing, experimenting and trying out different things. 
Are you tough on yourself in that kind of way?
Really tough on myself. It's really horrible, I wish I was less tough. But then, I also wouldn't come out with good results. It's nice to have these celebratory moments in the end, once it's finished. I actually feel quite at peace with myself now.
That's good. Are you happy with the collection?
I am now. It takes a while. Often, when you release something originally and you haven't fully been able to process it yourself or really process what other people's reactions are, especially releasing something online, you don't really know how people are. 
The night that I released it online, I was just in my bedroom. I just ordered a takeaway, I was having it by myself. It wasn't really the celebratory moment. 
Moving on to the specifics of this collection – do you have a favourite piece?
Never. That just isn't a thing. It wasn't a thing in this collection, and it wasn't a thing in the last collection. I don't know if it won't be a thing in the future. It's the balance of all the pieces together, for me. 
It's almost an entire wardrobe…
It's what my teacher said to me at school. We had this line-up at the end, before we did our final Saint Martins collection. They had all the looks there and said, "What's the favourite piece?" And I said, "I like it all!"
That was it. They tried to restyle it, but everything went with everything. I wanted this collection to be exactly like that.
Continuity and wearability are really effective points to create a successful brand. 
You can see it – it works really well as a wardrobe, all these pieces. But I am wearing a shirt from last season and it would definitely go with a trouser from this [second collection]. I hope the next collection will have continuity. 
I think the base of the brand is fundamental staple pieces. The way that they are, they are these things. But I hope in the future to build out more less-practical pieces that have more fun. A bit more conceptual and boundary-pushing, so it's a brand that's seen within the art-side of fashion. I hope that already stands out to people a little bit. 
What would you say to someone who would box you into "techwear?"
I am not against it. But it is not all I am. It is one of the references that I definitely pull, but I usually use the word "outerwear" rather than "techwear." 
I pull from a lot of military clothing – modern or vintage. I am not afraid to reference current army and technical things, because I don't find it harmful to reference a different industry and bring it over into fashion, because I don't see any difference between an old military jacket and a paramilitary jacket. I'm not stepping on anybody's toes. 
"I think the whole point of the process is to take risks. That is the only way to go forward a little bit, you cannot play it safe while doing things."
Bringing over those functional details which are also sexy in the way that they are masculine, strong, guys often actively working out and sweating in those sorts of clothes. Taking parts of that and putting it in this; perhaps that is also the essence. 
That's inherently camp. 
That's open to interpretation. What does that mean to you?
That sweaty workmen are quite homoerotic. It's subverting masculine techwear with a vent on the thigh and a zip near the nipple. 
Then I agree with you!
You're coming in with something that is obviously sexier… 
You get it. I get it. Some people get it. But it's also not just that. Some guys who might wear this might just think that this is a beautiful jacket. It's sexy enough. It's not trying to say, overtly, "this is a gay jacket." 
I really don't want to be boxed as a "gay brand," because I think all men can be sexy, whoever you are. It's about trying to show the person as sexy. 
It's about confidence, then?
I hope it makes you feel confident. I remember when I came to Paris in June 2022, I wore the collection and I remember feeling so good. I had never worn my own things [before]. I felt stares like, "you look expensive, you look amazing." 
It's always a great vibe to radiate your own inner confidence. It's nice that your clothes can speak to everyone, too. 
It's that mix. It's building up those collections, building a language with what I'm trying to say. It's way bigger than one or two collections, it's going to take… a lifetime to get out what it is. At least many years to have people fully understand what I'm trying to say, stuff that cannot necessarily be put into words. It's a combination of thoughts that come through these designs. 
Before we sat down, you mentioned that your third collection might be different.
I say that now, but it is also a process one has to go through. Ultimately, I think that at the moment it is still too early in the process to know what it's going to look like. I am excited, I want to and definitely will question myself and put myself out of my comfort zone whilst developing it, but whatever makes that final edit is the result. Maybe different won't work, and if so, so be it. 
You're happy to take a risk, then?
I think the whole point of the process is to take risks. That is the only way to go forward a little bit, you cannot play it safe while doing things. People can feel it's a good collection because I didn't just do a jacket in purple and blue and beige – you can see that there are a lot of failed ideas, a lot of work went into getting to this. 
One of my friends said it's the same as when a good album is released. You can tell that singer didn't sing those twelve songs in an album, a lot of work and failures went into getting to those songs. A lot of songs aren't released. 
It's a lot of takes…
It is, and a lot of time to get to that moment. I think that is what needs to come through in the clothes, that there has been a lot of love poured into making something at the highest standard that I can. 
Is this collection like an album to you?
I think this collection is more like an EP. It's still concise….
So what era are you in?
The early works, which are being documented. These first amateur collections are quite an important moment. When looking at history and designers, I am always trying to find the first thing that I can see from them. I'm interested in the good bits, but I find myself always wanting to start from the beginning. In this age of the Internet everything is so well-documented – but all the designers that I look up, I cannot find their graduate collections online.
"I hope I'd be able to communicate the energy of the brand, the fun, the performance, the humour, and what it is."
Such as?
Phoebe Philo. I have one small snippet that I have seen of her graduate collection on a runway (and it's amazing by the way, mind-blowingly good), but… for me, people will be able to type in [my name] in many years' time. If the trajectory of the brand goes well! 
On the topic of trajectory: what's coming next?
I would like to get more people involved. I would love to do a show, but it's such an expensive thing to do. I would like more people to get on board and support it. I have great opportunities [currently] with the shops and sales, though. 
Another favourite designer of mine, Raf Simons, he had the Belgian government fund him. After that he started to get Creative Director jobs. When I look at those early Raf shows, and also has the budget to do those fab things… The sense of a runway show enables you to communicate much more.  
Is that the dream?
I would love to do a show. I hope I'd be able to communicate the energy of the brand, the fun, the performance, the humour, and what it is. The clothes sit beautifully on the rails, but I can tell the story [with a runway]. I am bursting to tell the story. 
And, I would love a footwear collaboration!