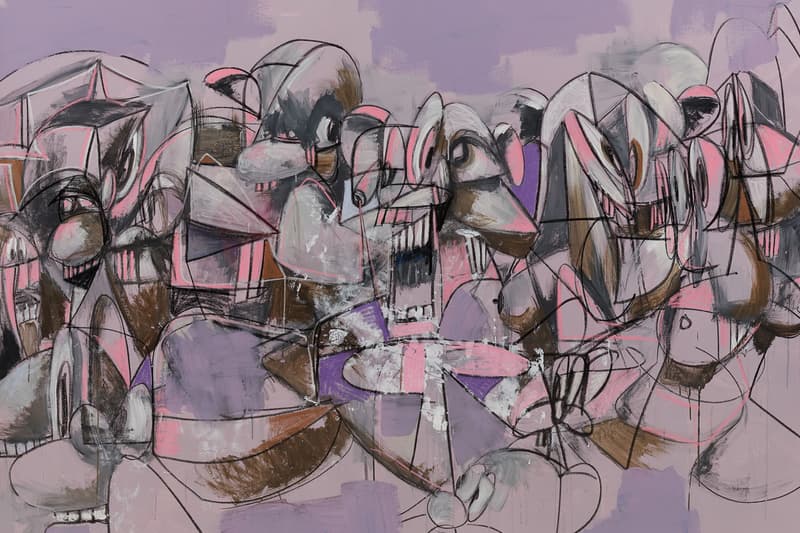 Must-See Booths at Art Basel Hong Kong 2023
Showcasing 177 exhibitors from 32 countries.
---
Art Basel Hong Kong (ABHK) is returning in its second in-person fair since the COVID pandemic. The fair itself serves as a calling card to not just art enthusiasts, but the entire world, to descend on the vibrant city after years of strict measures were finally lifted. Within that time, there were many within the art community who believed that Art Basel would effectively pull away from Hong Kong, as the fair's parent company MCH Group also poured investment in Art SG Singapore fair and Art Week Tokyo, as well as monitoring the success Frieze had in its inaugural Seoul edition.
A decade since its original launch, ABHK has shown to be a catalyst to growing art market in Hong Kong, "from the opening of new museums such as M+ to a vibrant mixture of commercial and non-profit galleries and artist-run spaces," said ABHK director Siyang-Le in a past interview. "Our show has not only established itself as the leading platform for Modern and contemporary art in the region, it's also deeply embedded in the cultural fabric of a city whose art scene continues to go from strength to strength."
For the 2023 edition, the fair will boast 177 exhibitors from 32 countries, including the return of the Encounters section, which spotlights large-scale works. Housed at the Hong Kong Convention And Exhibition Center, the fair will host a number of blue-chip galleries and emerging spaces, an Insights section dedicated to Asian and South Asian artists from the past century to the present, Discoveries which celebrates exciting newcomers, as well as a Film, Magazines, Conversations and a Kabinett sector, the latter of which showcases thematic solo exhibitions.
The fair will commence from March 23 to 25. There are a variety of ticket options, with a three-day pass ranging $165 USD to $199 USD, two-day passes in the ballpark of $109 USD to $130 USD, along with a single day costing $41 USD to $77 USD. Please visit the fair's website for more information and check out our must-see exhibition's for Art Basel Hong Kong 2023 below.
Pace Gallery, 1D14
To understand where we are in the art world, a good first step is to learn what has come before. Pace Gallery set out with this intention by presenting a number of legendary figures from the past century at its booth located at 1D14.
Highlights include Agnes Martin's Tranquility (2000) painting and Robert Rauschenberg's Twirling Gig (Runt), towering sculptures by Joel Shapiro and Claes Oldenburg, as well as introspective and somewhat chaotic paintings by Loie Hollowell and Robert Nava, respectively. The gallery will also spotlight Asian artists through its Pace Program, including Song Dong, Qiu Xiaofei, Yin Xiuzhen, and Zhang Xiaogang from China, Yoshitomo Nara from Japan, along with Lee Kun-Yong and Lee Ufan from South Korea.
NANZUKA, Booth 3D14
Humanity's ability to overcome hardship serves as the thematic base of NANZUKA's presentation. Named after Bruce Lee's hit 1972 film, The Way of the Dragon, the Tokyo-based gallery will showcase works by Keiichi Tanaami, Hajime Sorayama, Daniel Arsham, Roby Dwi Antono, Hebru Brantley, Jean Jullien and Christian Rex van Minnen, amongst others.
The booth's installation will be composed by artist Hiroki Tsukuda, who reflects on his upbringing and how he envisioned the 21st Century to be bright and hopeful. The work on view invites viewers to reconsider the circumstances of the present day — from climate concerns, the threat of another global pandemic to war.
Hauser & Wirth, Booth 1B15
To celebrate the fifth anniversary of Hauser & Wirth Hong Kong, the gallery will present works from old masters and contemporary stars. Highlights include George Condo's Purple Compression (2011) and Untitled from Cindy Sherman's Color Studies series, landscape works from Pipilotti Rist and Nicolas Party to sculptures by Mike Kelley and Louise Bourgeois.
Make sure to check out Rashid Johnson's first solo exhibition in Asia, Nudiustertian, as it's on view at Hauser & Wirth Hong Kong until May 10.
Tang Contemporary Art, Booth 3C16
With outposts in Beijing, Hong Kong, Bangkok and Seoul, Tang Contemporary Art has nestled its place as one of the premier art destinations in Asia. For Art Basel Hong Kong, the gallery will spotlight figurative works from an international list of artists, including Chen Yingjie, Diren Lee, Etsu Egami, Gongkan, Hao Zecheng, Jonas Burgert, Jigger Cruz, Kitti Narod, Luo Zhongli, Qin Qi, Rodel Tapaya, Wang Xiyao, Woo Kukwon, and Yue Minjun.
Conceptually speaking, freedom and expression runs concurrent throughout each of these paintings — from Kitti Narod's Fall (2023) to Yue Minjun's Definitely (2022). Tang Contemporary is also exhibiting a new solo exhibition by Filipino artist Jigger Cruz at its Hong Kong outpost.
Victoria Miro, Booth 1C21
Rounding out the list, Victoria Miro gallery will showcase new and historical works by Milton Avery, Hernan Bas, María Berrío, Alice Neel and Flora Yukhnovich, amongst others. Additional highlights include two works by acclaimed Japanese artist Yayoi Kusama, who recently worked with Louis Vuitton at M+ Museum, and will showcase a new Infinity Room with David Zwirner New York in May.
Victoria Miro will present Kusama's green and black sculpture PUMPKIN (2018), along with her painting INFINITY DOTS [QGFUU], which pulsates with colorful dynamism. Please visit the gallery for more information on programming.
Hong Kong Convention And Exhibition Center
1 Harbour Rd
Wan Chai, Hong Kong