Why Corteiz's Rise as a Streetwear Powerhouse was "Inevitable"
Through work rate, authenticity and fierce independence, Corteiz has become the true definition of 'streetwear' in 2023.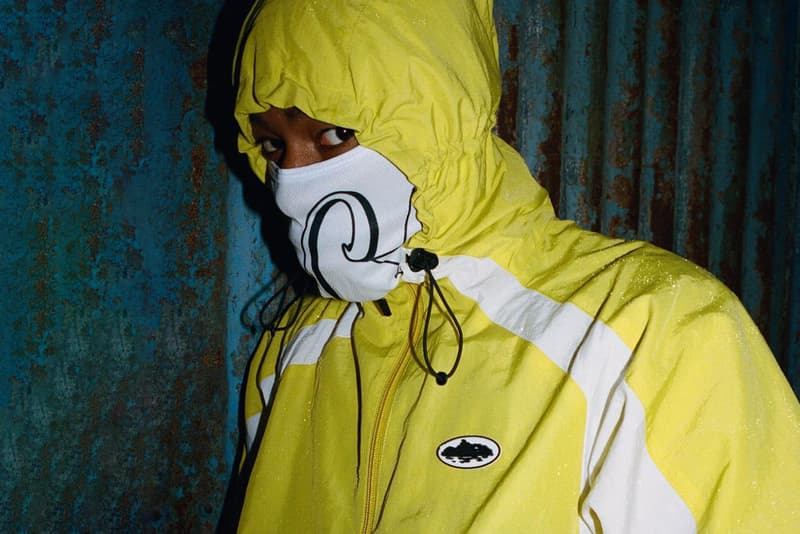 "Inevitable." That was the word the late Virgil Abloh used to describe London streetwear brand Corteiz in issue 50 of Sneeze, the last interview he gave before his death. It was anything but a subtle co-sign; more a nailed-on statement of things yet to come.
If you're from the UK, you'll likely have felt that sense of inevitability surrounding Corteiz. This level of success was always going to come from the brand – but putting its rise down to nods from prominent cultural figures is far too simplistic.
So how has Corteiz become one of the UK's most influential streetwear brands, a powerhouse that now can dictate a Nike collaboration on its own terms?
View this post on Instagram
Since 2018, the energy emanating from each Corteiz drop has continued to be more high-octane than the next. From a budding bedroom-based idea with a handful of followers in 2017 to a certified streetwear powerhouse in 2023, Corteiz's rapid ascension to the top has been nothing short of seismic. Whether you hate or adore Corteiz, its rise, and that of founder Clint, has been impossible to ignore.
So how has Corteiz become one of the UK's most influential streetwear brands, a powerhouse that now finds itself in the position to dictate a Nike collaboration on its own terms?
Founder Clint419's tireless work ethicis the fundamental element of Corteiz's success. Soho Yacht Club founder Ellis Gilbert, a former full-time Corteiz employee, put it simply: "The work rate is unmatched." Formerly a music A&R who rolled with a group of London creatives called Apex, Clint's intrinsic understanding of UK culture and blend of self-awareness, and self-assuredness proved to be the perfect combination for establishing a brand. Nearly two years after he launched Corteiz, selling just 16 hoodies on its first drop, the brand grew exponentially, with its Instagram account growing from 50 followers to 10,000 in just 18 months with a flurry of much-hyped drops that sold out in minutes, each and every time.
There's also a public, tight-knit team who all add to the aspirational appeal of the brand. Manager Kayode, Motherlan skater and artist Ola Olu Slawn, brand film director and photographer Walid Labri, Javel Berlin, and close associates like producer Kwollem and director Gabriel Moses serve as a who's-who of influential London figureheads in their own fields and provide wide-ranging credibility to the brand's mission.
View this post on Instagram
It's not just a well-coordinated infrastructure, either. Corteiz's distinct manifesto is also fundamental to its rise. After a run of crewnecks and T-shirts featuring the brand's instantly-recognisable Alcatraz prison logo and a bullish "rulestheworld" tagline, Corteiz quickly shot to popularity on the streets of London. But this wasn't just another Gildan tee and screen-print hoodie brand. From the start, Corteiz presented a highly-adaptable, self-affirming premise that puts "authenticity" into context by encouraging followers to break free from the "mental prison" (hence the Alcatraz graphic) that was suppressing their authenticity.
The brand has remained totally independent, with Clint forgoing outside investment and regularly turning down mainstream publication interviews – Hypebeast didn't even attempt to reach out for comment, with this being the case. That sense of going it alone and against the grain, or "the man," without sponsored posts, targeted adverts or influencer-fronted giveaways has only helped the brand's rise. In a world full of clout-chasing, this authentic approach to growth is incredibly rare – and only developed their organic and tight-knit relationship with their consumer. For Corteiz, it's always been about keeping things real and fostering a sense of belonging within the community.
View this post on Instagram
That sense of authenticity is at the core of Corteiz's brand ethos. Keeping it real and humble for brands is easy starting out. So how does Corteiz embody and amplify that sentiment as it continues to grow? Through confident, considered, and consistent marketing. Time and time again, Corteiz's marketing tactics have continued to be the most prominent way in which the brand is much more innovative than your average streetwear company.
Corteiz drops are wholesale, hyped-up events, commonly taking place on a password-protected website, the access code to which is shared only minutes before the drop. Despite this intentionally restrictive method, each release sells out in minutes, proof of the fervour and engagement of the brand's community There are occasionally giveaways in releases too, like £50 notes in socks or prizes for those who can whip up Photoshop designs. Clint also regularly calls out resellers on his stories, slating the likes of StockX and Depop, and even creating campaign visuals based on this premise.
View this post on Instagram
Corteiz's real-life activations are also unlike anything else in the UK at the moment. They aren't anything like Supreme queues in Soho back in the day. Like its online drops, the coordinates of these limited releases are only revealed via social media on drop day. Once the pin drops, all hell breaks loose, with thousands descending on the location to try and secure products from the brand in a frenzy of head-loss and hormones. This tactic has been used outside of the UK too, with fans storming the streets of Paris during Fashion Week or Lagos for the chance to score a rare Corteiz piece for free, or close to it.
One of Corteiz's biggest recent drops gave followers a chance to purchase a pair of its signature black cargo pants for just 99p. Along with a viral Labri-directed, POV-shot campaign inspired by the market stalls endemic to the UK, once again, Clint mobilised his brand's community to raucous, festival-level energy, with fans scrambling to convert their pocket change into a highly-hyped product given away at a bargain price⁠.
View this post on Instagram
The packed-out scenes even caused some shocked onlookers to tweet the Met Police and BBC News, as such was their disbelief at what was going on.⁠ By opting into these IRL drops, the CORTEIZ community is made to feel a part of the brand's eternal fight for authenticity.
With time, the quality and breadth of product offerings has grown from standard tees, joggers and hoodies, and Clint's "us versus them" dynamic is now in its fullest form. A full-leather, Avirex-style jacket was produced, but Clint declared Avirex were "too late" to the party for a collaboration. The brand's "Bolo" puffer jacket was in such high-demand people flocked to an exchange point to switch up £700 Nocta jackets in return for them. Recently, Clint took aim at luxury, uploading a video throwing a Goyard card holder in the bin, after unveiling his own version. In the world of Corteiz, it's f*ck you to anyone – and anyone can get it.
That "us versus everyone" attitude is what makes Corteiz's upcoming Nike collaboration so interesting. Nike sneaker collabs remain the gold standard for the majority of sneakerheads – but the sportswear giant has confirmed they've never handed over the amount of creative control as they did to Corteiz, in both marketing and design. It's not a Jacquemus or Tiffany link-up we're talking about here. In-the-know details like the custom OG shoe box and the multiple branding hits on the upper aren't only striking, but bonafide stamps of authority on a silhouette notoriously difficult to disrupt in such a manner.
View this post on Instagram
There may be an inherent hypocrisy of the collab too — the 'no affiliation' ethos doesn't really line up with collaborating with one of the most corporate brands in the world as well. But despite being a maverick, Clint not only recognised the bigger picture with the Nike collaboration – but let his inner child win.
As exposed by the man himself upon announcing the collaborative Air Max 95 model, Nike was the ultimate collaboration for him and his brand, manifested it since he was 17. But it's the way in which the link-up has been executed which is impressive; the 'C' sign-off on the toe box, the Alcatraz logo on the tongue… these are all details that are notoriously difficult to get signed off by Nike. Clint has religiously paired up his Corteiz product with Nike creps in the past, so if he was going to collab with anyone – on footwear, that his brand wasn't currently producing – it was going to be the Swoosh. Nike needed this collaboration more than Corteiz did – but Clint only gave them the cultural cache Corteiz provides Nike on his own, non-negotiable terms.
So what's next for Clint and Corteiz? Expect more and more elevation for the rest of this decade. "The last five taught me a lot," Clint said in a recent Instagram caption. "The next five is when I apply those teachings. I ain't done shit yet."