For Angelo Baque, Community Always Comes First
The Awake NY founder discusses his partnership with UPS and longstanding mission of empowering the Latinx community.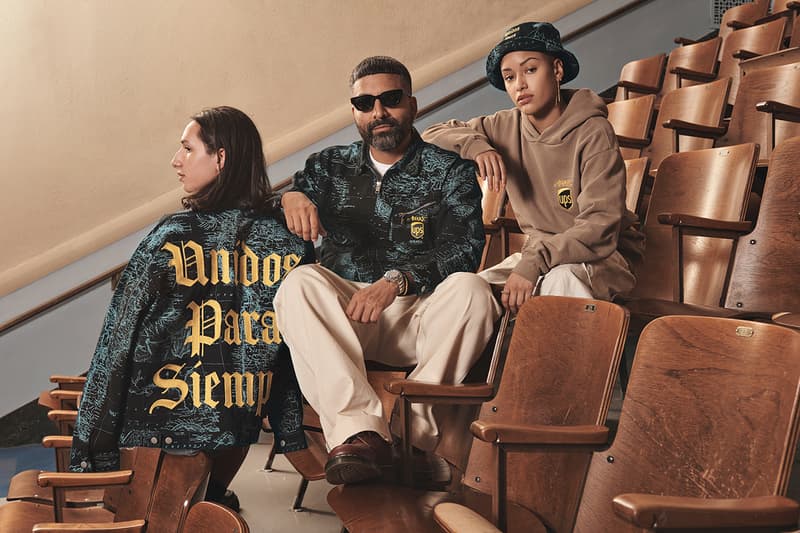 Angelo Baque doesn't have much time for a break. "I need to take a day off and recuperate after New York Fashion Week, but the work doesn't stop," he says. When you're as in-demand as Baque is — he's the founder of Awake NY, Baque Creative and Angelo Baque Studios, and has worked with everyone from ASICS to Fenty — your plate is always full. Besides juggling his ever-expanding Rodolex of projects, the born-and-raised New Yorker's singular talent is tying his work back to his community.
Most of Baque's projects are rooted in community empowerment and raise awareness or funds for causes that are close to his heart, like charitable T-shirts that aided the families affected by January's apartment fires in the Bronx. At New York Fashion Week, however, Baque brought his focus on community to a new level by partnering with UPS for a "La Bodega Baque" installation and a special clothing collection. The former was a raucous celebration of New York's Latinx community and the city's beloved bodegas, stocked full of gear and household products from Latinx creators, while the latter preached a message of unity between cultures from the Americas and the Caribbean Islands. The efforts were more than just a celebration of community and a new clothing release, however. All the proceeds from the collection, plus a $50,000 USD grant went to Manhattan's High School for Fashion Industries to support a scholarship program for Latinx designers and entrepreneurs.
"I wanted to bring intention to this partnership and design with UPS — highlighting our mutual dedication to empowering and unifying the Latinx communities," said Baque. "When Awake NY creates, we do so to bring people together." UPS CMO Kevin Warren echoed Baque's sentiments, stating "UPS is committed to fueling diverse-owned small businesses with the funding and resources they need to thrive, and our collaboration with Angelo and Awake NY did just that."
Baque sat down with HYPEBEAST to discuss the fine points of Awake's partnership with UPS, the importance of his brand being intentional in its storytelling and his passion for making a long-term impact on his community.
What was the design process for this collection like?
The first part was coming up with a new acronym for UPS, and we landed on "Unidos Para Siempre," which means "united forever." After that was locked in, we wanted a design that represented the Latinx community. One of the biggest challenges that that community faces is a fragmented identity, which is a byproduct of everything from post-colonialism to colorism, discrimination and social caste systems, so we wanted to drive a message of solidarity between descendants of the Americas and the Caribbean. It doesn't matter if your people eat tamales and my people eat humitas — we're all part of the same gang, man! [laughs]. That's how we landed on a map of the Americas as a print for the jacket and hat.
La Bodega Baque took that message of unity even further. How did you use that physical space and the events associated with it to bring home the collection's story?
It was important to me to break the typical tropes of what a bodega is. The stereotypes are like "oh, Papi is behind the counter, he's making a chopped cheese, there's a gambling spot in the back …"
A cat sitting on the counter …
Totally. There's so much foolishness around bodega culture on social media and TV. Though some of it is true, the majority of it is almost mythological. During one of our meetings with the UPS team, they asked me what the bodega meant to me, and I said it was like a community center. You can go get the latest news, a line of credit for food and drinks, whatever you need. It's a home away from home, the heartbeat of the neighborhood.
"You never want to dumb down your brand's design, product or presentation to "reach" your audience. You've got to respect their intelligence and taste level."
So that was an experience that you wanted to celebrate and elevate?
Absolutely. One of the biggest lessons I learned during my decade at Supreme is that you never want to dumb down your brand's design, product or presentation to "reach" your audience. You've got to respect their intelligence and taste level. That's why I didn't want to do a surface-level take on the traditional bodega you'd find at 100th Street and Manhattan Avenue or in Spanish Harlem. I wanted to honor bodegas and how much they mean to New York by having La Bodega Baque give you the same feeling you'd get walking into the MoMA gift shop.
How did you curate the selection of products?
The curation goes back to the sense of community I mentioned earlier. A lot of brands in La Bodega Baque were run by young Latinx cats that I've been speaking to over the last five years. Of course, we had a bunch of different streetwear brands in there, but we had things that were less expected too like coffee and healthcare products. It was a diverse selection, just like you'd find at a bodega, and I wanted to shine a light on that young talent that's out here hustling and creating premium products.
Everything Awake NY does seems very intentional. How does the brand remain authentic to its core values while working on a large partnership?
We always want to be giving back, especially when we're playing the David to the Goliath of a much larger partner. Our current goal is to make our partnerships more consistent and longer-term, creating a positive impact that will still be felt a decade from now. That's why my ears perked up when I heard I had an opportunity to work with UPS: I felt like they could really help me bring the long-term empowerment Awake is pushing for to fruition.
On the topic of long-term empowerment, all the proceeds from the collection plus a $50,000 USD grant are headed to support Latinx creators at the High School for Fashion Industries. Tell us about the impact paying it forward can have — how might your life have been impacted if a program like this was available to you in high school?
My older sister actually went to the High School for Fashion Industries. As a kid, I was really inspired by her leaving Queens and heading to Manhattan to pursue her passion. As for me, I had to drop out of the School of Visual Arts in my second year because I couldn't afford it. I never became embittered from that experience or let it hold me back, but I never forgot it either, and I always think about kids that might be in the same boat I was, not being able to have those opportunities due to a lack of funds, or even worse, not bothering to try because they can't see themselves in a position like the one I'm in now.
Being able to help create programs and initiatives that give back is what makes my work fulfilling. Five years ago, streetwear brands weren't heavily involved in giving back or community work, but since then streetwear culture has developed more of a consciousness. I'm proud that Awake has always been at the vanguard of changing the norms in the streetwear industry.
"Awake NY's community can smell bullsh*t from a mile away, and the fact that we've never pivoted from our message resonates with them.
There are a lot of different things at play in this partnership — community empowerment, a deeply personal story and supporting your peers. At the same time, it was a big NYFW moment. How do you balance doing something substantive with something that makes a splash?
There's definitely an element of strategy. We were up against 20 other things when we opened on Friday night, but because the intention and the purposefulness of our project is there, people want to come support us. Awake NY's community can smell bullsh*t from a mile away, and the fact that we've never pivoted from our message resonates with them.
You know you've got a good event going when people stick around instead of running in, taking an Instagram story and leaving!
That was honestly my favorite part of the launch event, how many people showed up and how many people hung around. The space was only supposed to hold 30-40 people, but when everyone was done inside they hung around outside and turned it into a block party. We want all that energy — to experience that in my city is a beautiful thing.
Anything else we need to know about the collection?
I hope that it inspires people from all backgrounds to remember that we're all connected — and, of course that they should go buy it!
---
The UPS x Awake NY collection is available now on the Awake NY webstore. The jacket is priced at $225 USD and the bucket hat at $50 USD.