Jacob Banks on Creating a Modern Soul Classic
The London crooner lives to tell his truth on his latest album 'Lies About The War.'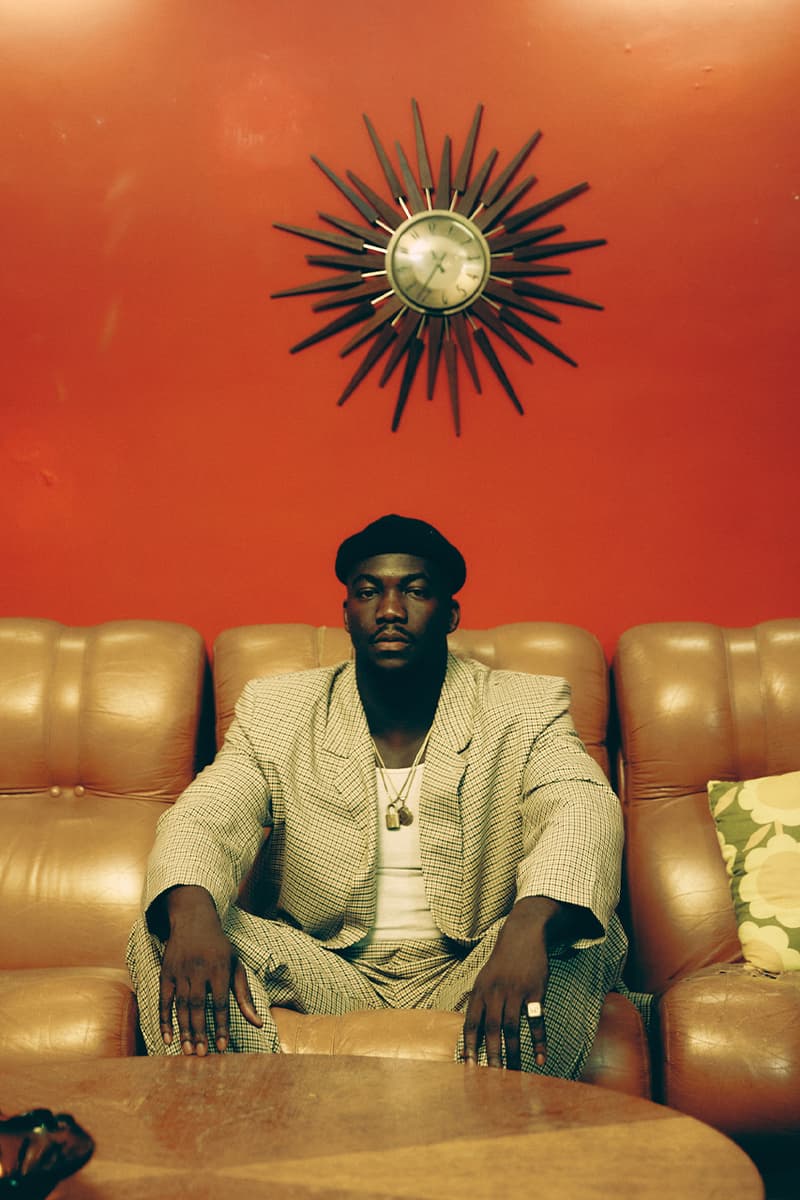 Jacob Banks on Creating a Modern Soul Classic
The London crooner lives to tell his truth on his latest album 'Lies About The War.'
"Whoever comes back from war is the one who decides how the story is told." For Jacob Banks, the Nigerian-born, UK-based artist lives to tell his truth on his sophomore album Lies About The War.
Since his last debut record four years ago, Banks has worked assiduously to crown himself as the hero of his experiences. His velvety baritone vocals and lyrical prowess make a stronger comeback this time around, but his ability to evoke sounds that tug at heartstrings round out his unforgettable talent. By risking it all and tapping into his soul, the London crooner poured inspirations from gospel music and R&B into a powerful delivery of delicate church organs, groovy blues, and poetic piano melodies.
Banks bears a timeless quality and grit in his voice that reverberates with ferocity and conviction. While Lies About The War may be an oversimplified lens into his own journey, the album boasts an air of relatability with themes of love, resiliency, power, and struggle. During a time in the world where solace is needed more than ever, Banks' musical presence has been a gentle reminder of good company and peaceful familiarity.
HYPEBEAST had the opportunity to catch up with Banks before he hits the road later this month. Read on to learn more about how he's made a modern soul classic, how he navigates his creative introspection, and what it was like being featured on Barack Obama's Summer 2022 playlist.
HYPEBEAST: Congratulations on Lies About The War! How do you feel?
I'm chill. I know it sounds weird and it's almost like I'm ungrateful, but I'm fine. I've been through enough releases to know that it's bigger than me. People take from music what they need and I'm just the vessel.
What makes this album different from your previous releases?
I settle more into my role as the soulful guy a lot more. This album wasn't as heavily produced as they typically have been in the past. It's more stripped back and there's a lot less social commentary. Most of my stories were insightful and came from me looking at myself, rather than looking from the outside and writing based on what I've seen.
Could you touch upon the influences you get from soul and gospel music? How do you add your own take?
That's been tough. I find that my voice kind of puts me in a box and I always stayed away from a really soulful moment because I've been so conscious of being aged in my music. I want people to know that I'm more than just my ability to sing even though the voice is what they hear first.
Growing up in a church helped shape my creativity because I believe that delivering an emotion is a skill. There's a gospel singer called Marvin Sapp who has a famous song called "Never Would Have Made It." He's probably my favorite vocalist and biggest inspiration because of his range. He's played a massive role in my approach to music and still does.
Most of your album covers are paintings. Was there a specific story behind this one and how does art influence your music?
Believe it or not, as a musician, I don't like unsolicited attention and don't want my face on album covers. Sometimes I don't even want to be in music videos. That said, I believe making a body of work is a good chance to shine light on some people. Typically I find young, Black artists and use my platform to showcase some of the incredible stuff they do. This album art was done by a genuinely talented artist called Tariq Oliver whose other pieces I already have in my house. I'm just a big fan of art across the board so if I have the opportunity, I usually like to show my support wherever possible.
Did you provide a sort of creative direction you wanted him to take?
This painting actually already existed. If you look closely, the person's name was crossed out to say "Jacob Banks." The whole concept of the album is whoever comes back from war is the one who decides how the story is told. Getting him to scratch out the original name felt as if I'm not only the one being spoken about, but also living to tell my tale.
Since you released the album under your own label Nobody Records, what are some things that people may not know about when it comes to being an independent artist?
It's a luxury. There's a lot of luck involved for me. You won't make any money until after the album comes out. And even then, you're kind of just making back what you've spent. But you have to be in a position to not even need said money.
I think artists often speak about ownership as though everybody can afford that. I was in a major label situation for ten years and luckily for me, I stumbled my way into the right decisions. I was able to invest in real estate early on so now I don't rely on music to pay the bills. I'm able to take my passive income and invest it into my music. But 99% of musicians won't get that chance which is why I don't try to overtly celebrate that I have my own record label. There aren't enough words to explain that I happen to be in quite a fortunate situation.
Your hit track "Found" was listed on Barack Obama's Summer 2022 playlist. What was that like for you?
It was a complete surprise, but also an interesting one. I wrote this song about my grandma's passing on my mom's bed with my sister sat next to me crying, so I'm happy I was able to immortalize her. I'm grateful that that story and her love have been pushed out even more by someone who has influence and power.
The bitter part was that there were some radio stations, particularly in my hometown, who hit me up for interviews and had never asked me for one before despite how much music I had already put out. It didn't really feel like they were validating my craft, rather, they were validating his taste.
Are you excited to be hitting the stage soon?
Yeah, it's been a long time. I just played a solo gig a few weeks ago in Montreal which was my first since everything happened in the world. I was genuinely worried I might not enjoy being on stage anymore because I couldn't remember the feeling, but I killed it. I'm excited to tour because it's my way of saying thank you. The audience could have been anywhere but they chose to be at my shows.
Which songs are you most excited to perform?
Other than this new album, I'm looking forward to performing all the songs on For My Friends because I never toured for that. It's going to be interesting squeezing my last five bodies of work into like an hour set. I've done live versions at home of songs like "Devil That I Know" and "Found" but these have never been sung in front of an audience.
Last but not least, where do you hope to see yourself after this release?
I hope I do good in life. The phrase for me is "do good and hope for happiness." I hope I continue to find meaning and purpose and to pay attention to all the other versions of me, not just the Jacob Banks version. I also hope I continue to be exceptionally good at Call of Duty since I can't afford to fall off. *laughs* As long as that's all there, everything's cool.