Diddy and Dr. Dre Spotted in Studio for Producer's Upcoming Album
"[O]ne of my biggest dreams finally came true," Diddy wrote on Instagram.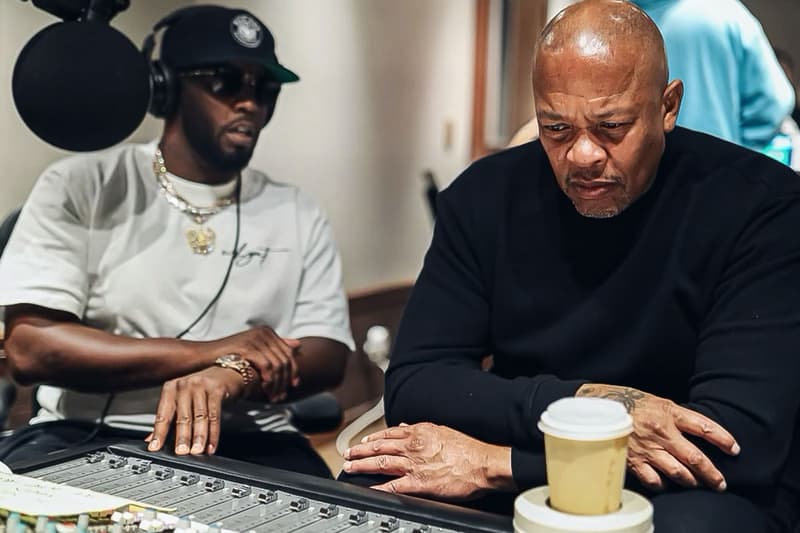 Sean "Diddy" Combs and Dr. Dre were recently seen in the studio together as they get their collaboration ready for Dre's upcoming album.
The highly-anticipated record is being created with Snoop Dogg, who was also at the studio with Diddy and Dre. A press release revealed that producing with the N.W.A stalwart "has been a long-time dream for Mr. Combs," and getting coached on his vocals by Dre added to the magic. In an Instagram post, Diddy opened up about his excitement for their collaboration, "Yesterday, one of my biggest dreams finally came true. I remember the first time I heard @DrDre's production. It gave me clear direction on the level of Producer that I wanted to be."
Diddy continued, "Last night, I got the chance to work with this man and to see his genius as he coached me through vocals. He reminded me of myself, but with a different style and way more focused. I gotta step my focus up! lol But it was a great experience and I thank God for it. I hope one day ya'll get to have the same experience with someone that you always looked up to as a hero."
Rumors about Dre's upcoming studio album — which will mark his first album since 1999's 2001 — have remained rampant over the last few years. In April 2022, there were reports that Snoop may have accidentally leaked the tracklist of Dre's elusive Detox record after eagle-eyed fans spotted a whiteboard with the outline of the album via Snoop's now-deleted Instagram post. Adding fuel to the fire was the Long Beach rapper's caption that read "The Chronic is bac home," alluding that there is a project in the works.
Elsewhere in music, Kendrick Lamar's Mr. Morale & the Big Steppers is the first hip-hop album of 2022 to hit 1 billion Spotify streams.