Take a Look at the Initial Reactions to Brad Pitt's 'Bullet Train'
Critics are divisive with how they feel about the upcoming release.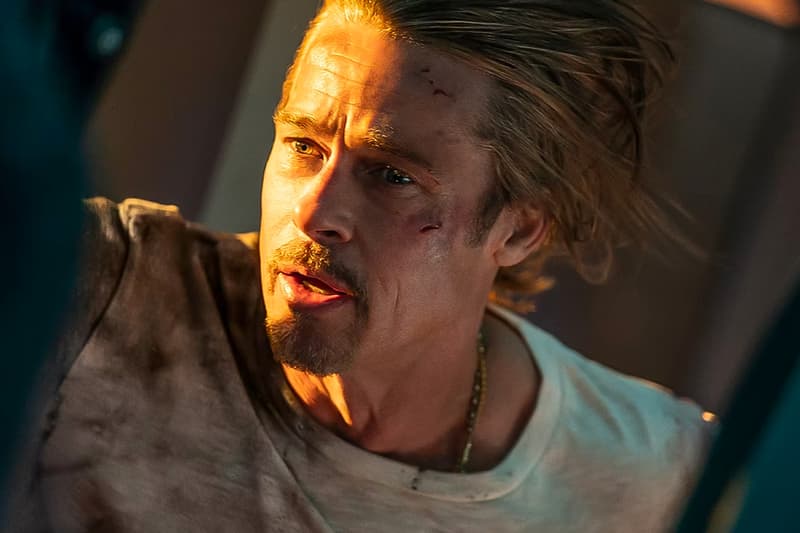 Brad Pitt's summer blockbuster with Sony Pictures is set to release later this week. David Leitch's highly anticipated adaptation of Kōtarō Isaka's novel Bullet Train has received its first round of critiques, sharing whether or not they think the film is slated for a smooth ride ahead or heading for a potential train crash.
The synopsis of the film sees five assassins who find themselves in a fast-moving bullet train before they realize that they each have individual assignments connected to one another. Pitt stars opposite of Sandra Bullock as well as Joey King, Bad Bunny, Brian Tyree Henry, Aaron Taylor-Johnson and more in this thriller-action adaptation. Critics have mostly had positive reviews for the film so far, calling the film a "ticket to fun!" Ross Bonaime said that "it's also impossible to not have fun with a movie that has samurai Michael Shannon and half the cast of Atlanta." Another critic called the movie "chaotic," but praised it for being "so fast-paced" and "funny & really outrageous. The general consensus is that the film brought forward "wild energy" and great chemistry from the cast.
While positive notes were mainly seen, some have thought the opposite. Scott Mantz calls the film a "mess that goes off the rails fast" due to it being "overlong, overly complicated." Another critic, Jason Bailey called the film "Big SMOKIN ACES energy," but clarified that it is in fact "not a compliment." Take a look below at the first reactions to the film. Bullet Train arrives at the station on August 5.
#BulletTrain is chaotic and fucking fun!

The chemistry on the train and every single actor that shows up is phenomenal! NOW I just really want to read the novel that it's based on. https://t.co/8p67YEam5p

— Kate Sánchez⁷ ? #CrunchyrollExpo (@OhMyMithrandir) August 2, 2022
This movie is chaotic, but in a way that makes sense bc it is so fast paced. It's funny & really outrageous. Everything has a reason in this film. Everyone has their moment too & the fight scenes are pretty cool. Lots of surprises too that left me in stitches.#BulletTrain pic.twitter.com/SBqomcPJpp

— Laura ลอร'า 劳拉 (@lsirikul) August 2, 2022
Once I turned off my brain and let myself go for the ride, I really enjoyed #BulletTrainMovie — but it's also impossible to not have fun with a movie that has a samurai Michael Shannon and half the cast of Atlanta.https://t.co/7obXl7G5Am

— Ross Bonaime (@rbonaime) August 2, 2022
#BulletTrain is a bomb-tastic comedy of errors designed to invigorate, entertain, and astound. Heart-pumping (and stopping) action is set to a kickass soundtrack that will leave you vibrating with excitement. Grab your bucket hat & hold on tight! @BulletTrain is a ticket to fun!

— Maggie Lovitt (@maggieofthetown) August 2, 2022
BULLET TRAIN is a BLOODY, TWISTING, WILD ride from start 2 glorious finish! Seriously, it never gets boring.

The cast is brilliant, the action is over-the-top in the best ways, creative camerawork, & it's f*ing hilarious.

Give me another ticket to ride the #bullettrain asap! pic.twitter.com/hNma71D7rN

— Ashley Saunders (@ThatAshleyErin) August 2, 2022
Well holly smokeroonies!!!

I dug #BulletTrain ! It's fast paced, quick editing, nonstop action. SUPER fun cast WITH CAMEOS! It weaves multiple stories into the movie and moves them closer throughout. Lulls here and there but loads of fun!

— Leo Rydel – Geekly Goods (@GeeklyGoods) August 2, 2022
BULLET TRAIN has wild energy & a great sense of gory humor. Really enjoyed Brad Pitt's reformed assassin, and Brian Tyree Henry's Lemon is constantly entertaining. The fights are plentiful & the tone is over the top for sure, but it's never boring & the story is always evolving pic.twitter.com/UZtniD14Nd

— Erik Davis (@ErikDavis) August 2, 2022
Bullet Train: Fun action and everyone is clearly having a blast! Too bad about the rest. Really smothered by my least favorite brand of humor — smug, clunky, and way less clever than it thinks it is. The bad, unfunny bits are truly interminable. pic.twitter.com/wEkhovCHuW

— Jeff Zhang 张佶润 (@strangeharbors) August 2, 2022
BULLET TRAIN is a mess that goes off the rails fast. Overlong, overly complicated, over the top for 2 straight hours. It has its moments: stylized action scenes & some cool cameos. I suppose you could turn off your mind and enjoy the ride, but I was bored & exhausted. pic.twitter.com/uUCsa0JSQ5

— Scott Mantz (@MovieMantz) August 2, 2022
BULLET TRAIN: Big SMOKIN ACES energy. (Not a compliment!)

— Jason Bailey (@jasondashbailey) August 2, 2022
Elsewhere in entertainment, watch the first official trailer of Hulu's Legacy: The True Story of the LA Lakers.