Dissecting Beyoncé's 'RENAISSANCE' Samples
From Big Freedia and Robin S. to Donna Summer and Moi Renee, these are the tunes that made Queen B's house album.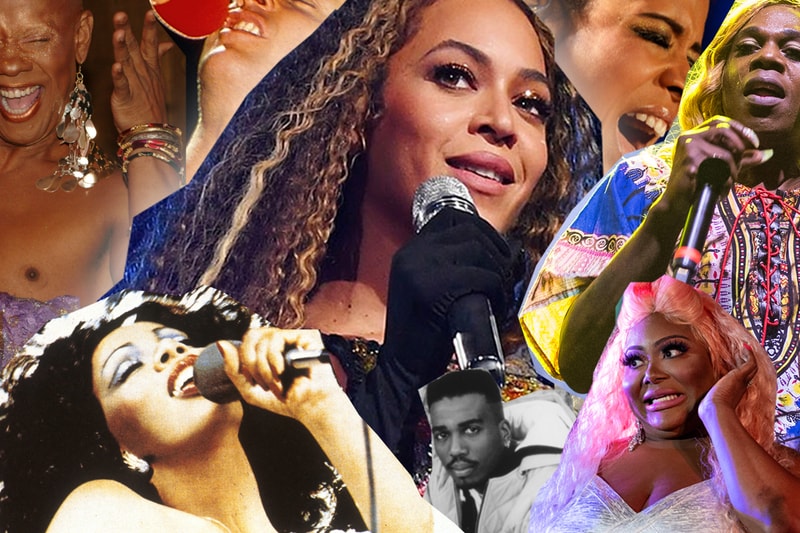 Last Friday, Beyoncé released her seventh studio album, RENAISSANCE. Since, it has broken the Spotify record for the most-streamed album in a single day by a female artist in 2022 and has caused a fair share of controversy thanks to a reported sample "theft" and for the use of an ableist word in "Heated."
Alas, RENAISSANCE's innate passion for inspiring a groove comes with plenty of representation. It sings to the Black and queer communities, bringing people together through their shared love for, and histories with, house music via way of sampling.
Now that we've all (hopefully) heard the album, Hypebeast has dissected each track's core samples and dug deeper into their history – revealing how Chicago house, funk and soul, viral YouTube clips, gospel songs, New Orleans Bounce music and so much more has played a part in the album's formation.
"I'M THAT GIRL"
Beyoncé kicks off her renaissance period with a manifesto in the form of "I'M THAT GIRL".unning throughout the inaugural track is Tommy Wright III, Princess Loko and Mac T-Dog's 1994 single "Sill Pimpin'" – a track centered around a distorted lo-fi beat that became a signature of Mac T-Dog's sound and is also heavily influential in Memphis' underground trap scene. Loko was one of the greatest rappers of her genre and time, known for spitting bars in an almost breathless manner as she fired one after the other – and this rings true for the pace of "Still Pimpin'." Beyoncé uses Princess Loko's underlying vocals to back up her self-assertive bars, which offer a taste of what's to come in the rest of the album.
"COZY"
RENAISSANCE is packed with dance tunes, and underpinning many are references to Black culture and its history with house music. House music was birthed in Chicago, and was an evolution of disco. For "COZY," Beyoncé combines Lidell Townsell and M.T.F.'s "Get With U" with "Unique" by Danube Dance ft. Kim Cooper, while littering in a legendary quote from T.S. Madison's viral YouTube video "Bitch I'm Black." Together, Beyoncé serves her signature confident energy alongside a backing beat that's equally bold – resulting in an homage to the Chicago house culture of the '90s and Madison's pride in being a Black trans woman.
"ALIEN SUPERSTAR"
The Foremost Poets, now known as jOHNNYDANGEROUs, is known for having built a strong sound in the New Jersey underground club scene, and for doing it with a penchant for mixing genres to create a unique sound. Spoken word is mixed with a vibe of '80s electronica and a dazzle of funky house for a sound that, in 1999, was perhaps one of the founding sounds of modern techno. Bey has mixed this with Right Said Fred's 1992 hit "I'm Too Sexy," which has gone from a cheesy wedding song in the mid-noughts to a song that was sampled by Drake and Future's "Way 2 Sexy." Completing the compilation of samples are "Do It Your Way" by Mood II Swing, which itself sampled "Black Theater Speech" by Barbara Ann Teer, thus seeing the latter make an appearance in this anthem of empowerment.
"CUFF IT"
Teena Marie's 1988 "Ooh, La La La" is one of the oldest samples in RENAISSANCE. When it launched, Marie had the '80s teenage lovers in the grip of her soulful voice, and now it acts as inspiration for "CUFF IT," a song that's injected with a disco feel thanks to Nile Rogers' writing credit. Likewise, "Ooh, La La La" has a funk-disco sound, and sees its "La La La" and "I'm falling…" lyrics become part of Beyoncé's lyrics and bars.
"ENERGY (Featuring Beam)"
While "ENERGY" and "CUFF IT" are vastly different – one is a hard-hitting club banger, the other is a love song – Beyoncé still manages to carry in the "Ooh" and "La" lyrics from the previous track. "ENERGY" samples Kelis' "Milkshake", which debuted in 2003, and was written by Pharrell Williams and Chad Hugo. The pair reportedly gave Beyoncé the right to use "Milkshake" without notifying Kellis, which has – in turn –caused controversy and a rift between the two singers. As Hypebeast previously reported, Kelis has said, "My mind is blown too because the level of disrespect and utter ignorance of all [three] parties involved is astounding. I heard about this the same way everyone else did. Nothing is ever as it seems, some of the people in this business have no soul or integrity and they have everyone fooled." Kelis also responded to a fan who commented that a collaboration between them is what "the world really needs," replying with, "It's not a collab it's theft."
Regardless, electronic drum beats and "La, La, La" lyrics make an appearance in "ENERGY," bolstering the song's ability to gear the listener up for what's to come next.
"BREAK MY SOUL"
"BREAK MY SOUL" is the most successful and recognized song from RENAISSANCE, partly thanks to it dropping as the lead single. However, its popularity also comes courtesy of an incredible Big Freedia "Explode" sample. Big Freddia is the self-proclaimed "Queen of Bounce Music," and when "Explode" dropped in 2014 it set to put bounce into the spotlight. Bounce is a style of New Orleans hip-hop that originated in the 1980s from the city's housing projects, and subsequently became the sound for these neighborhoods. For "BREAK MY SOUL," "Explode" injects the club, house, and bounce notes that have made RENAISSANCE Beyoncé's most party-ready studio album to date. Unlike Big Freedia's infrequent bars in Lemonade's "Formation," which hears her say "I did not come to play with you hoes/I came to slay, bitch," "BREAK MY SOUL" puts the energy on pretty much all of the original song, from it's "Yak, yak, yak, yak, yak, yak, yak, yak" and "Release yo', release yo', release yo' wiggle" bars to the "Release ya anger, release ya mind" lines, all while Beyoncé sings and raps on top. And of course, Robin S.' "Show Me Love" plays a small part in the song.
"CHURCH GIRL"
The Clark Sisters' "Center of Thy Will," DJ Jimi's "Where They At" and James Brown ft. Lyn Collins' "Think About It" all have a considerable part to play in "CHURCH GIRL." Beyoncé spits lines such as "Church girls actin' loose," which plays into the gospel sounds of The Clark Sisters, while a final line that plays on Nelly's infamous tune "Tip Drill" hears her rap "Must be the cash 'cause it ain't your face," something fans think could be about JAY-Z. However, this line is also a play on a bar from "Where They At," which also sees its twerk anthem become the backing beat for "CHURCH GIRL." This combination of church gospel, rap, "good girls acting bad" and the singer's final harmony mix with Lyn Collins' feature in the well-sampled James Brown song "Think About It," which opens the song for Beyoncé but also sets the tone throughout.
"AMERICA HAS A PROBLEM"
Once again, Beyoncé looks to pioneering Black-made music from the 1990s to help form her album. For "AMERICA HAS A PROBLEM," Queen B pulls heavily from Kilo Ali's "Cocaine (America Has A Problem)," using the track's signature "Freaknik" sound for her intro. This leads into a soulful, soothing RnB track – acting as a slight diversion from the rest of RENAISSANCE. However, the synthy keys from "Cocaine" are littered throughout the song, while the 808's subby-ness plays throughout "AMERICA HAS A PROBLEM" alongside '80s tones.
"PURE/HONEY"
Moi Renee's "Miss Honey" is one of the most legendary voguing songs. The song rose to fame in YouTube's formative years after a clip surfaced of Renee performing it on The Sybil Bruncheon Show in the '90s. It's known in the industry as a "bitch track," with a "rat a kak kak!" and the Ballroom scene's use of the MC's repetition frequently appearing in "PURE/HONEY" rendering it a perfect contemporary vogueing song (at least for the intro).
Words like "hunty" originate in Black slang, queer culture, and specifically within the Black queer community and the drag queen and trans activists of the '80s and '90s who paved the way for many others to be represented and heard – however, "hunty," "c*nty" and the "rat a kak kak" undertones are actually taken from another vogue powerhouse tune featured on this track, Kevin Aviance's "C*nty."
"SUMMER RENAISSANCE"
The last track from RENAISSANCE is an undeniable bop and references the icon that is Donna Summer. Notably, her song "I Feel Love" rounds off Beyoncé's newfound disco-club-house combination of sounds, with the '77 track serving as the underlying beat of the entire song. Beyoncé later repeatedly crones "It's so good," again drawing from the lyrics of Summer's "I Feel Love."