Saweetie Promises "A Lot of Soul" on Her Debut Album 'Pretty Bitch Music'
HYPEBEAST spoke with the Icy Girl at Liquid I.V.'s House of Hydration during Coachella weekend.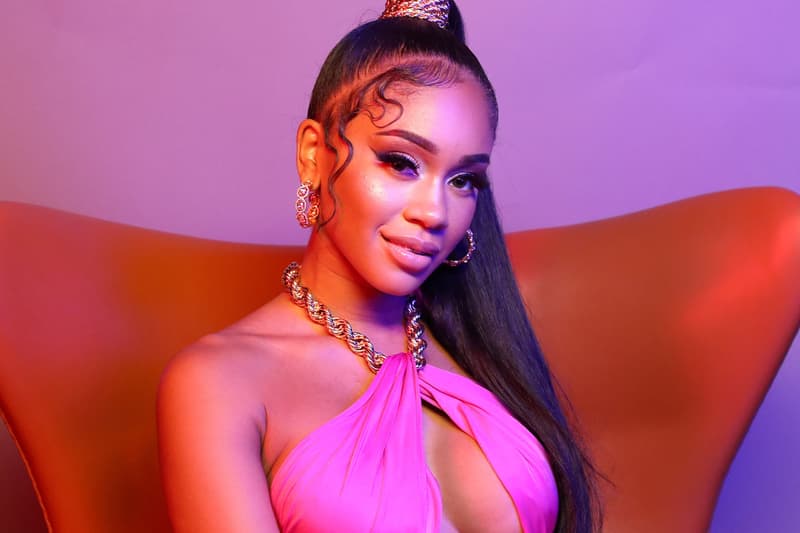 Since going viral for a rap freestyle over Khia's "My Neck, My Back" and landing a Warner Records deal in 2017, Saweetie has been focused on building her own empire. Between dominating charts with hits including "My Type" and "Tap In;" receiving two 2022 Grammy nominations for Best New Artist and Best Rap Song for her Doja Cat collaboration "Best Friend" and even creating her very own McDonald's meal, the "Icy Grl" singer has certainly made her mark. Now, the music world awaits the 28-year-old's debut studio album, Pretty Bitch Music.
"You can expect me to be in the studio for the next month," Saweetie told HYPEBEAST of her progress on the upcoming record, ahead of her performance at Liquid I.V. House of Hydration during Coachella weekend.
"This album is the first time I'm working with real musicians. It's fun, there's a lot of soul going on."
While she remains quiet on further album details, Saweetie has previously promised that Pretty Bitch Music will be released "before this summer." And with February's debut of one of the record's lead tracks, "Closer" featuring H.E.R., it's safe to assume that the elementary stages of her album rollout are already underway.
As for what to expect for the record's unveiling, Saweetie's business-minded strategy for previous releases gives listeners some clues. While she has captivated social media with several viral hits, the singer regularly looks to her brand partnerships as alternative promotional launch pads for new music. Saweetie first utilized this tactic in October of 2020, when she offered up a brief preview of her Jhené Aiko collab "Back to the Streets" during a livestream with Tennessee whiskey label Jack Daniels. Additionally, she appeared in a Beats by Dre commercial in which she was listening to her not-yet-released single "Get It Girl," and last month, she put the same track as the backdrop to her latest Champion ad campaign.
Alongside her commercial, which spotlighted 12 female collegiate athletes in the label's latest designs, the hitmaker was named Champion's first-ever Global Culture Consultant, a title which allows her to "help empower women to be their own champion," according to the brand.
"We have several activations coming out," Sweetie confirmed of her ongoing role at the company. "I have a soft spot for young people, young women, young boys, young girls. So it was such a pleasure to be on set with them for the 'Get It Girl' campaign, answering their questions and seeing a younger version of me, going out there to conquer their goals."
While finishing the album and strengthening her brand magnet, Saweetie has her eyes on more than just the top of the charts for 2022 — specifically, she envisions herself standing before a classroom full of business students at her alma mater, the University of Southern California. Later this year, she plans on returning to USC – where she graduated in 2016 with a bachelor's degree in communications and a concentration in business – to teach a brand and marketing course.
"USC is interested, and I am as well," she said. "I love teaching the kids."