HYPEGOLF Invites You to Explore a Modern Approach to Golf at the NYC Clubhouse
Celebrate HYPEGOLF's retail experience with golf activities and culturally-driven brands.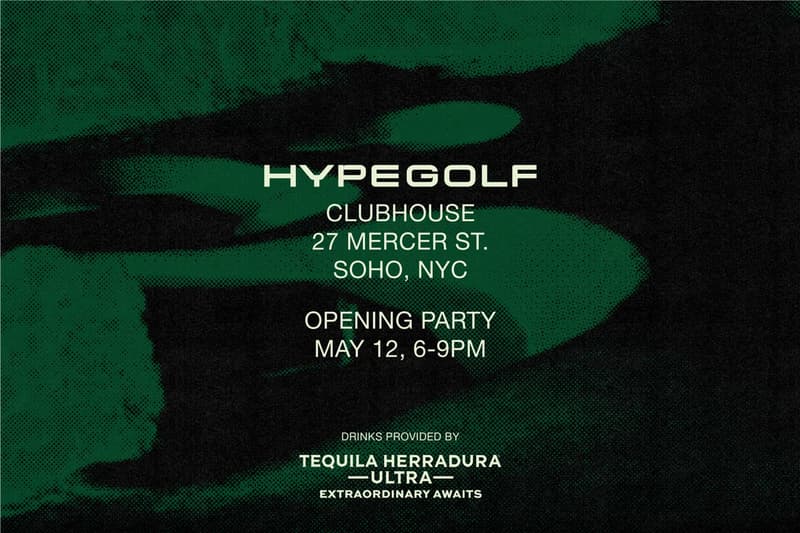 After an exciting experience at HYPEBEAST Country Club in the West Coast, HYPEGOLF is launching a new Clubhouse in New York City. Taking place in the city's SoHo area, the HYPEGOLF Clubhouse is a dynamic pop-up store experience that presents a modern reinterpretation of the sport. To celebrate our culturally-driven golf community, the HYPEGOLF Clubhouse is hosting an opening party on May 12 from 6 to 9PM ET. RSVP here for your chance to attend the first look of the new store before doors officially open later in the week. Please note space is limited and entry is not guaranteed.
By combining fashion, music, art and technology into the HYPEGOLF Clubhouse, people from all levels of experience with golf will find something that resonates with them. Powered by technology from ASUS, the Clubhouse brings a modern edge to all things in the realm of golf. There will be an advanced golf simulator provided by and in partnership with Five Iron, and expansive indoor putting greens by LA Golf within the space. After exploring the immersive golf installations that run throughout the Clubhouse, guests can meet fellow golf fans with a special toast honoring Extraordinary People within our diverse, creative community by Tequila Herradura Ultra, music and giveaways from JBL and food by chef Jeremiah Stone of Contra and Wildair.
There will also be a curated selection of rising sportswear and lifestyle brands that exist at the intersection of golf and streetwear. Guests at the opening party will have early access to offerings from brands like Malbon Golf, JLindeberg, Five Iron Golf, Bogey Boys, as well as exclusive HYPEGOLF merchandise. For those that like to accessorize while golfing, guests can browse from a curated selection at a watch display from Tag Heuer. There will also be visionary cross-cultural collaborations like a capsule from Michelob ULTRA and Devereux. By surveying how these brands are redefining the aesthetics and culture around golf, guests will see the potential the time-honored sport as their next favorite social activity.
RSVP here for the opening party for the HYPEGOLF Clubhouse will take place at 27 Mercer Street in New York City. Starting on May 14, the pop-up store will be open daily to the public. The Clubhouse will be open on Monday to Thursday from 11AM to 7PM, on Friday to Saturday from 10AM to 8PM and on Sunday from 11AM to 6PM. Stay tuned to HYPEBEAST for upcoming announcements about the HYPEGOLF Clubhouse's programming.
DISCLAIMER: Please Drink Responsibly.