Riccardo Tisci's Next Steps for Burberry
The famed designer talks to HYPEBEAST about Web3, diversity and sustainability.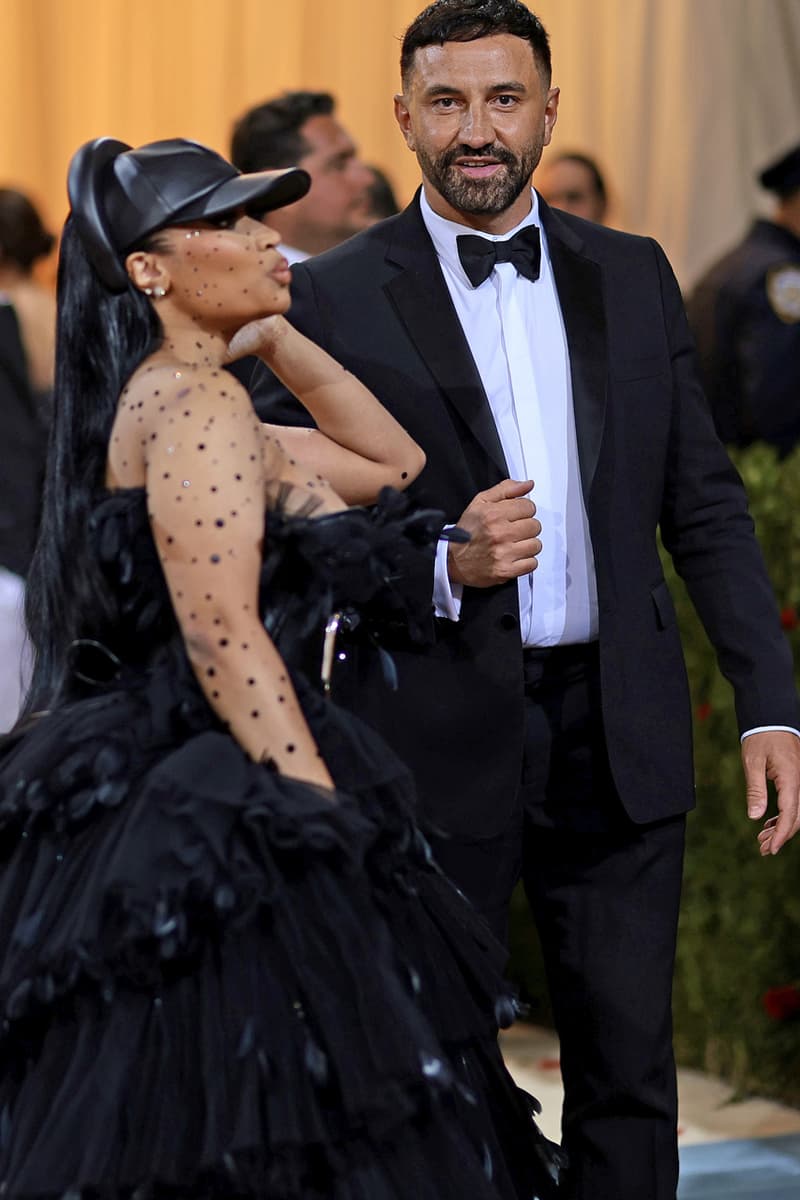 Riccardo Tisci's talent centers on his ability to transform a luxury fashion house from top to bottom – not just throughout his tenure, but beginning as soon as he steps foot in the door. "I think when you join a brand there is always a level of expectation," he tells HYPEBEAST while getting ready for the 2022 Met Gala in New York City. "It is a healthy part of life to come across roadblocks and navigate your way around them. The trick is not to let them stop you from fulfilling your dreams."
His design profile soared when he took the reins at Givenchy and propelled the brand into a renewed success, and the world is again witnessing his successful design approach as he now presides over the ateliers of Burberry. "At the beginning, when I was working to establish my name in the fashion industry, there were natural obstacles like having the right connections and funding to deliver on my ideas," he says. "But truthfully, I have been very lucky to be able to see so many of my ideas come to life."
Having joined the prestigious British label in 2018, Tisci's plan for Burberry involves pushing the brand into a more modern direction while still maintaining its legacy and rich history. And within two years of his reign, he not only had to navigate the terrain of a new job but also face the challenges of 2020's global pandemic and its overall effects on the brand. As the fashion world begins to reignite – with industry events and runway shows being placed back on the calendar – so has Tisci, along with his outlook for Burberry.
"The pandemic, of course, put many exciting projects on hold," he says. "There is a lot that we've been working on and developing that is still to come." While the pandemic may have affected brand product releases and restricted consumer access to designer items, it has allowed a renewed lens to be focused on street style and the trends that trickle up – and across – from it. This is a factor that has been at the helm of Tisci's design approach since the start of his career. "I have always been passionate about the creativity behind street style and expressing individuality. Both are really a part of my DNA and will always come out in some way in my designs," he says.
"I also think as a modern brand, you can't just do one thing anymore. Your customer has the freedom to wear a T-shirt and trainers one minute, and then a beautiful evening dress the next, and a brand's offering should reflect that duality." Tisci witnessed the impact of duality early on and it influenced his approach to design. "Growing up in a poor family in Italy with a single mother and eight sisters, I have a deeper understanding of the aesthetic of people from all walks of life, as well as the duality of femininity," he says. "My sisters have always been very glamorous women and they love to express their sexuality with clothes and beautiful make-up, but they're also not afraid of me saying that they are quite masculine in a way. I mean this in the sense that when they go out, they transform into these warriors, whereas at home they express themselves differently, watching television in pajamas with no make-up."
"My Burberry woman and my creative approach are very much inspired by how I see my family. She's a fighter with a mix of two different elements; a warrior with a beautifully feminine side," he adds.
"I was so fascinated by the idea of making clothes and objects that would help anyone to be themselves. It was about making clothes that would make people feel powerful, confident, and entitled to show their most inner selves with elegance."
As Tisci recalls the days of his youth, he's keen to point out the role his family played in his choice of career. "For me, my goal has never been to be a designer," he remembers. "The women of my family were the ones who made me realize I wanted to be a designer. I was a young boy and I remember being around them when they would get ready and dressed."
It's this memory that offers insight into Tisci's selection of guests that accompanied him to represent Burberry at this year's Met Gala. His female guests included Naomi Campbell, Kate Moss, Nicki Minaj, Bella Hadid, Irina Shayk and Lila Moss. Each woman was dressed in a custom-made design that harkens back to the influence of Tisci's mother and sisters. "I was so fascinated by the idea of making clothes and objects that would help anyone to be themselves," he says. "It's about making clothes that would make people feel powerful, confident, and entitled to show their most inner selves with elegance."
As a graduate of Central Saint Martins, Tisci paired his affinity for youth culture and street style with applied techniques and started as a designer for Puma. He subsequently landed at Antonio Berardi and later joined Ruffo Research before starting his brand in 2004. His breakthrough came in 2005 when he became the creative director for Givenchy, overseeing the brand's menswear, womenswear, haute couture, accessories and leather goods – a role he held until late 2017.
The following year, Tisci became Burberry's Chief Creative Officer and has been primed to expand the company's business since taking the job. He immediately implemented a logo change for the house and laid out a plan for exponential growth. "For me, recreating the logo was about paying homage to the brand," he says. "But also, creating something that symbolized the beginning of a new era."
Along with corporate changes, Tisci has also focused on diversity and individuality to play a role in the brand's success. "There should be no barriers because of race, sexuality, or other parts of identity, and enforcing this throughout my career – whether at Burberry or Givenchy – has always been so important to me," he says. "I have always believed that individuality should be celebrated and that boundaries should be broken. I think we all have a responsibility to enact change and to empower each other."
"When I see diverse castings, such as transgender models on the covers of magazines, it makes me happy. It also fuels my creativity, working with so many different types of people and personalities. In the end, we are all human and deserve to be celebrated, no matter what our differences are," he adds.
Tisci is also passionate about sustainability and helping to steer the fashion industry in a more eco-conscious direction. Since 2016 the company has cut its market-based emissions by 92%, and began developing a sustainability framework with Sustainalytics – an analytical environmental, social and governance company – in 2020. "Sustainability is very much at the heart of what we do at Burberry and is a huge part of our brand culture," he says. "As a company, we plan to be Climate Positive by 2040, and last year, we also announced a new biodiversity strategy to support conservation efforts across the world – it is not easy, it requires commitment and long efforts."
Keeping with his forward-thinking outlook, Tisci seems poised for Web3 innovations at Burberry and will institute ways to launch the brand into the metaverse. "At Burberry we like to experiment with new technologies and innovations, to open spaces for our communities all over the world, and the metaverse will certainly play a part in that for us," he says. "The metaverse presents unlimited opportunities for creativity and expression, and there's so much for us to explore."
Considering Burberry's heritage and status as one of the most iconic luxury fashion houses in the world, any designer would dream of leading its artistic and creative direction. That sentiment has not been lost on Tisci. As he looks outward, he feels satisfied that his positioning of the brand is beginning to take shape and is showing reward. "I am fortunate to say that I already feel very settled in my role in London, and as a real part of the Burberry family. We've definitely moved in a direction that I am very proud of and that our followers are positively resonating with," he says.
"But we have many plans for Burberry across our product categories, our stores, our partnerships, and beyond – so watch this space."