Doja Cat Drops Out of The Weeknd's Tour
To recover from her tonsil surgery.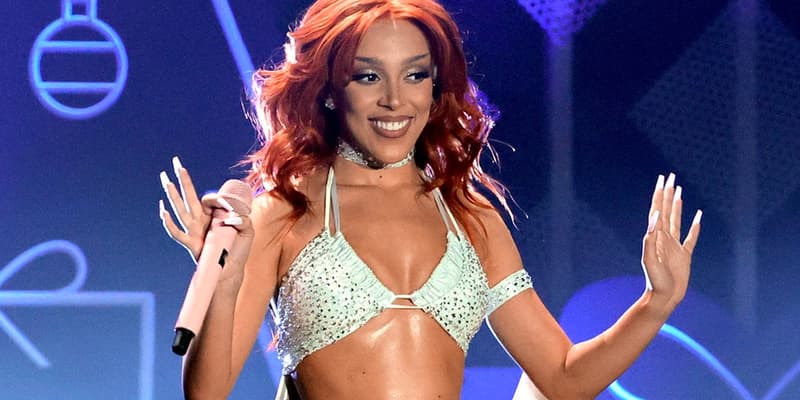 1 of 2
2 of 2
Doja Cat will no longer be The Weeknd's opening slot for is summer tour due to the need for recovery after tonsil surgery. The "Kiss Me More" artist took to her Instagram Story to tell her fans,
"Hi guys, I wanted you to hear it from me first. Unfortunately I have to have surgery on my tonsils ASAP. The surgery is routine but the recovery is going to take awhile due to swelling. That means I have to cancel my festival run this summer as well as The Weeknd tour. I feel horrible about this but can't wait for this to heal and get back to making music and create an experience for y'all."
Doja is not only dropping out of The Weeknd's tour, which runs from July to September but she is also scheduled to perform at several festivals in the next few months. Based on her current recovery timeline it is possible she will not be performing at the Hangout Festival in Alabama or the U.K.'s Glastonbury Festival next month. She previously hinted at potential "bad news" earlier this week when she detailed her tonsil surgery on Twitter claiming that "it hurt a lot but im ok."
In the past, Doja has teased fans she wanted to quit music. It remains to be seen when the artist will be ready to go on the road again.
— throatussy era (@DojaCat) May 20, 2022
dr. just had to cut into my left tonsil. i had an abscess in it. my whole throat is fucked so i might have some bad news for yall coming soon.

— throatussy era (@DojaCat) May 19, 2022
nah so my tonsils got infected before bbmas and i was taking fuckin antibiotics but forgot that i was taking them and then i drank wine and was vaping all day long and then i started getting a nasty ass growth on my tonsil so they had to do surgery on it today.

— throatussy era (@DojaCat) May 19, 2022
he poked up in dere with a needle twice and then sucked all the juice out and then he took a sharp thing and cut it in two places and squoze all the goop out in dere. i cried and it hurt a lot but im ok.

— throatussy era (@DojaCat) May 19, 2022
Elsewhere in music, Lil Durk has dropped 7220 (Reloaded) extended album.