George Russell Embraces Mercedes Formula 1 Team Free of Pressure
The British driver speaks to HYPEBEAST about his transition to the sport's most elite team.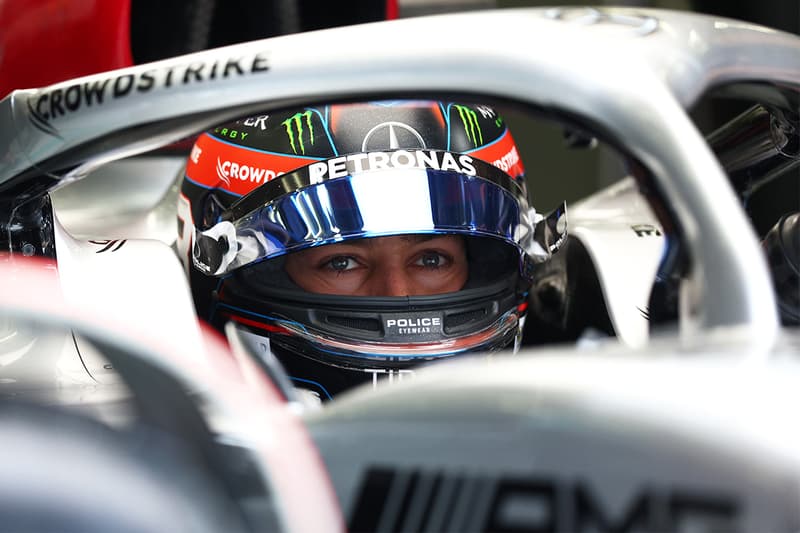 George Russell has become one of the most promising young Formula 1 drivers for Britain at just 24 years old. Since his Formula 1 debut back in 2019, the Norfolk native has proven himself to be an exceptional competitor for the Williams race team, consistently out-qualifying his teammate Nicolas Latifi and earning him the title "Mr. Saturday."
With a reputation for pushing Williams' car beyond its limits, Russell finally had a chance to show off his true pace when he subbed in for Mercedes driver Lewis Hamilton at the Sakhir Grand Prix in 2020, leading the race multiple times and nearly winning despite some technical issues with the car.
With his rookie days at Williams over, Russell will have to adjust to a different level of performance expected from him at Mercedes – a move that many in Formula 1 predicted following his performance in Bahrain. Not only will he be racing for a team that has won the past eight consecutive constructor's championships, he'll also be stacked up against Hamilton, a seven-time world champion holding the world record for number of race wins.
Speaking to HYPEBEAST, Russell shared his experience so far with Mercedes, his developing relationship with Hamilton, the team's strategy for prioritizing its drivers and the revolutionary design of Mercedes' 2022 car.
Congratulations on your move to Mercedes. It's still early days, but how has your experience been so far joining such an esteemed paddock? 
It's been brilliant to be honest. You really understand why this team has been at the top of the sport and why they've been so competitive, winning so many championships over these past eight seasons. Coming in, seeing the culture and seeing how people go about their business is really exciting, and I just can't wait to go racing.
You'll now be racing alongside a seven-time world champion Lewis Hamilton. I'm sure there's a lot of pressure coming from the team, and the media in general, for you to perform well. Do you put pressure on yourself and how do you cope with it all?
I'm pretty relaxed, to be honest. Obviously this year is going to be a big challenge and I'm not naive to that fact, but I'm just going to go about my game just like I do every single year. I'll work on myself, work with my group of engineers and try to understand how I can improve, to go faster, and not worry too much about anyone else. It is a big year, an exciting year, but I'm going in with the same mindset, no additional pressure, and as relaxed as always.
Is there anything you've already managed to learn from Lewis? How's your relationship with him thus far?
Our relationship has been great. We've got very similar views on how the car needs to improve and how we can work better as a group, and I think it's brilliant that we're on the same page. I think there's a great mutual respect between the two of us. We're both obviously fierce competitors but we're at very different stages of our career and we recognize we need to work together if we want to improve as a team, because this year is quite different from all the previous ones in the sense that we have such a big regulation change.
There's no question that Mercedes would love for Lewis to win that record-breaking eighth title, but as we've seen in 2020 for the Sakhir Grand Prix, you've proven to be exceptionally quick in a Mercedes car as well. How will the team balance the two drivers? Will we be seeing a prioritization of one over another?
Not at all, we're both on equal terms, and that's how it has always been. There's been cases where Mercedes have prioritized one over the other but it's only when it's clear that one is in a favorable position to win the championship. But as I said, I'm not even thinking about that, I'm thinking about how to be as fast as possible.
Toto Wolff played a major role in you being in the Silver Arrows, and your relationship with him goes back to when you were 15. Now that you're racing directly with him, how has that relationship evolved? 
We've always had a great relationship and we've always been close. We always spoke on a weekly basis, and naturally we have grown even closer over these past few months. I see us growing even closer again as the season progresses. It's only natural because we're now working directly with one another. It's brilliant to be working with Toto and seeing on a daily basis how he operates and seeing how this team is what it is today. He's always been my boss but you see it more now, because we are working daily together.
Turning to the 2022 car, there's been a lot of anticipation around how they'll perform on track. We've had a glimpse during Barcelona testing and Mercedes have done exceptionally well, topping the time sheets at the time. How confident are you in the car for this year?
I think the time sheets don't tell the full story in testing. Everybody's on their own programs and running different tires and engine modes. We did top the time sheets but we don't believe we were the fastest in Barcelona. We obviously had quite a different package here in Bahrain which is probably more of our foundation for the season ahead and we'll have to see how it plays out, but there seems to be some very competitive teams and drivers out there. Ferrari, especially, looks really strong in all conditions. We can't get carried away with one test or with our history. Despite the championships Mercedes has secured over the past, we all start from zero now. Points don't carry over and we have to go out there and do it all again.
As some technical commentators have pointed out, the original W13 seemed to take a little more of a conservative approach on the new regulations when you compare its design to the likes of Red Bull or Ferrari, but you've come out with a revolutionary design in Bahrain. Do you think that's an advantage for Mercedes? And how much can we expect the car to change over the course of the year?
Fans can expect changes, it's only natural when everybody's starting from scratch again and we're all learning the direction we need to go. Obviously we've brought quite a different design to Bahrain and we need to verify it on track, and if it's not performing as we expected, maybe over the coming races we will go down a different direction, maybe not. But it's a constant evolution, and the race to development is huge at the moment. I think it'll probably be another year until teams truly get on top of the new regulations and things start to stabilize, so there is going to be constant progression over the course of this year.
Creating better racing and overtaking opportunities has been key to the 2022 regulation changes. Now that you've had a little time on the track, how does it feel to follow another car with the W13 compared to the previous years?
I haven't been extensively able to test this because obviously during pre-season testing, only half of the cars are on track, and then it's very unusual to have more than five cars on track at any given time, so I've not found myself in that position very often. The time I did, the following was definitely improved. On the flip side, the slipstream effects were less. You've got to follow a car closely to be able to overtake, but you also need that slipstream down the straights to propel you past the car, so let's see how this pans out.
Are there any aspects of the car you think need significant improvement compared to the cars we've seen in recent years? Porpoising seems to be quite a big issue right now.
Absolutely, that's the main thing the teams have to get on top of. It's certainly the biggest challenge we are facing with these new cars and I don't think anybody saw it coming because the tests we did in the wind tunnel and simulations were very different when we put them together. There was never an issue previously, but now there is, and that is going to be a gamechanger whether you're able to get on top of it or not.
Looking forward now to the Bahrain GP, can we expect Mercedes to hit the ground running? 
There's no expectations. We go in with an open mind – I go in with an open mind. We're here to win the championship at the end of the season, and be the fastest team and fastest driver on average across all 23 races, not just here in Bahrain, so that's the goal.