LV x Nike Air Force 1 by Virgil Abloh Collection Sells for Record-Breaking $25.3 Million USD
The 200 pairs of sneakers smashed auction expectations.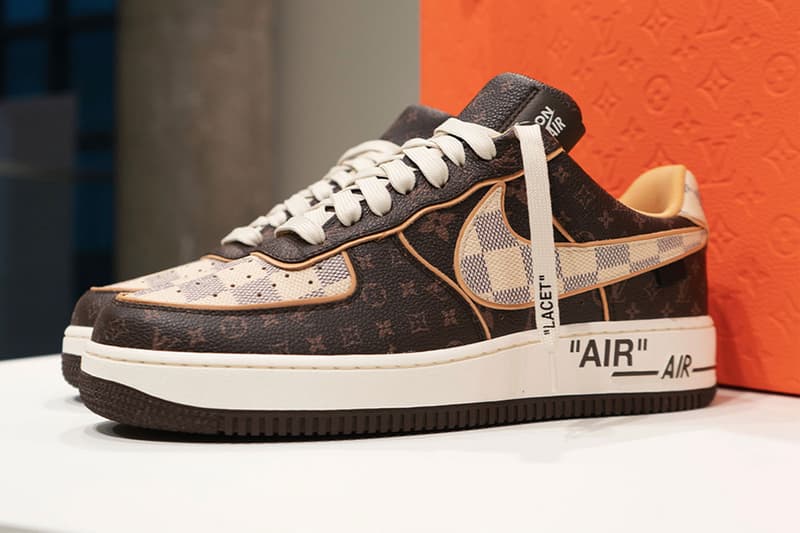 Sotheby's has reported that its highly anticipated auction for the first-ever release of the Louis Vuitton x Nike Air Force 1 by Virgil Abloh has hit a record-breaking total of $25.3 million USD.
The lot of 200 pairs of sneakers achieved a total sale value that was eight times more than the auction's overall $3 million USD high estimate. The feat marked the highest known public record for the most valuable sneaker and fashion auction. The auction was also labeled the most valuable charity at Sotheby's in the past decade. One of the top blockbuster sales came from the first pair of sneakers, a size US 5 pair which reached a hammer price of $352,800 USD. The price it sold for was 23 times higher than its $15,000 USD estimate. The highest value shoe in the collection was a size US 9 which sold for $3.4 million USD across 26 lots. The most competitive sizing was for size US 8 which garnered over 1,400 bids while a size 11 shoe received the highest number of bids of 68.
The auction also recorded the most bidders in any sale at Sotheby's with a widespread global interest of more than 1,200 bidders. Each lot had an average of 52 bids with bidders from over 50 countries. Young collectors are made up of more than two-thirds of all bidders under 40, with more than half of the buyers under 40. All proceeds from the sale will be donated to the Virgil Abloh "Post-Modern" Scholarship Fund.
In other footwear news, the New Balance 550 is releasing in a stealth all-black colorway.