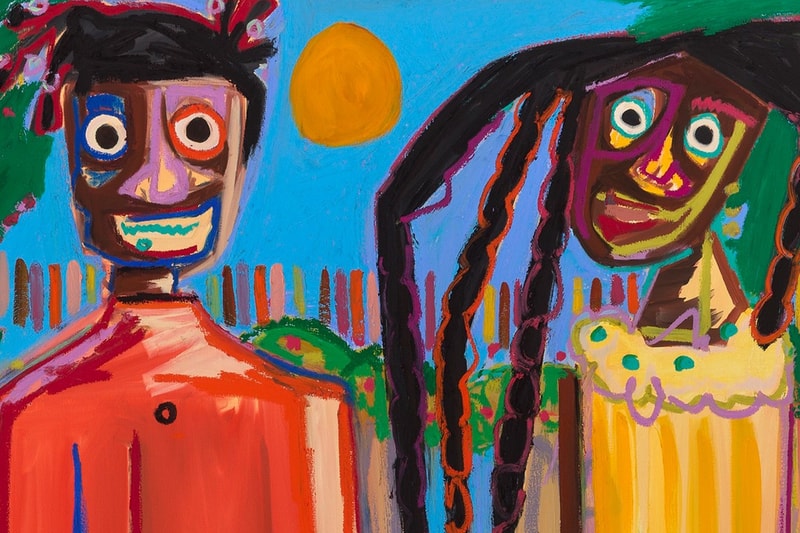 10 Must-See Exhibitions by Prominent Black Artists
From Toni Morrison and Roy DeCarava, to Jennifer Packer and Nathaniel Mary Quinn.
---
Whether you want to call it Black History Month or as Ye has suggested, Black Future Month, we'd like to take each and every day to promote the incredible work being made by Black creators from around the globe. From the legendary prose of acclaimed novelist, Toni Morrison, Lubaina Himid's theatrical compositions, to Nathaniel Mary Quinn's disruptive portraiture — we picked our top exhibitions by prominent and emerging Black artists to see in 2022.
Check out the list below and let us know your thoughts. Be sure to also check out and support the range of Black-owned galleries and museums near you.
"Toni Morrison's Black Book"
Toni Morrison is revered for her influential novels that comment on the complexities of the Black experience. As the first Black woman to win the Nobel Prize in Literature, many of her books, including The Bluest Eye (1970) are taught across the U.S. as a benchmark in race relations.
Curated by Hilton Als, "Toni Morrison's Black Book" is a new exhibition at David Zwirner New York which shows her lesser-known 200-page panorama which was made during an an 18-month period in which Morrison, alongside collectors of Black culture, compiled a visual scrapbook documenting a 300 year history of Black life — from the Transatlantic slave trade, racism in the U.S. school systems, to Black Cowboys and the storied legacies of Black musicians and athletes.
The show demonstrates the resounding influence the "Black Book" has had on artists, such as Julie Mehretu and Kerry James Marshall, amongst many. The exhibition is currently on view until February 26, 2022.
David Zwirner
525 West 19th Street
New York, NY 10011
Adeshola Makinde's "Is where it's at!"
Growing up in the suburbs of Chicago, Adeshola Makinde always felt a disconnect. On one end, there were the predominantly white schools that he'd attend that rarely taught any African history; on the other were the proud traditions of his immigrant parents who came from Nigeria.
Makinde developed into an artist by retracing the dots through extensive research that draws on the far throes of culture. Chicago's Anthony Gallery is currently showcasing his latest body of work, "Is where it's at!" — a show which references Nina Simone's hit performance, Young, Gifted and Black at the 1969 Harlem Cultural Festival and draws on a range of sourced material, such as clippings from EBONY and JET Magazines. The exhibition is on view until February 27.
Anthony Gallery
470 N Milwaukee Ave,
Chicago, IL 60654
"Roy DeCarava: Selected Works"
Roy DeCarava was a lifelong New Yorker who was early to understand the artistic capabilities of photography. Rich in tonality, DeCarava's work sought to inquire into the shadowed parts of a photograph — showing a rich tonality that often depicted daily life around Harlem, along with various Jazz legends, such as John Coltrane and Billie Holiday.
David Zwirner's London outpost is currently exhibiting a selection of DeCarava's iconic street photography. Chief to his aesthetic was the ability to imbue a deeply human treatment to overlooked daily occurences. "My photographs are subjective and personal―they're intended to be accessible, to relate to people's lives.… People―their well-being and survival―are the crux of what's important to me," he said in a past statement. The exhibition is currently in its final week and will conclude on February 19.
David Zwirner
24 Grafton Street
London
"Jeannette Ehlers: Black Bullets"
Jeannette Ehlers is a Danish-Trinidadian artist who creates cinematic universes that address the history of colonialism and structures of racism. In May, the Copenhagen-based artist will present Black Bullets (2012) at the Espoo Museum of Modern Art (EMMA).
The video installation is a tribute to the Haitian revolution where slaves rebelled against the colonial government in 1791, setting the foundation for Haiti's independence in 1803. The walking human figures and their reflections in Black Bullets have been pictured against the sky on a historic fort in Haiti on top of a mountain. The exhibition will be on view from May 10 to August 14, 2022.
Espoo Museum of Modern Art
Ahertajantie 5,
02070 Espoo, Finland
Clotilde Jiménez "Un Nouveau Monde"
Clotilde Jiménez is a Black-American artist best known for creating colorful collages that are sourced from wallpaper, popular clothing brand names, magazine clippings and papers of Mexican craft. Born in Hawaii and now based in Mexico City, Jiménez is displaying a new exhibition at Paris' Mariane Ibrahim Gallery, titled "Un Nouveau Monde."
Rather than simply creating for creation's sake, Jiménez has said in a past interview that his work was sparked out of an ultimatum. "I grew up in Philadelphia, in a low-income area, and the school in my area was really bad. My mom did some research and found this new school for architecture and design, and they had a program for at-risk youth. She said, 'Look, this is your only way to not end up like everyone else. If you go [to the other school], you'll get into trouble.' And I applied."
Each element in Jiménez's work is an exploration into identity. As a bisexual Black and Puerto-Rican man, he struggled to find images and iconography that he could relate to, so he sought to create his own visual lexicon. In "Un Nouveau Monde," the artist comments on the interplay between companionship and spirituality by guiding the viewer on a journey of self-reflection. The exhibition is on view until March 5, 2022.
Mariane Ibrahim Gallery
18 Avenue Matignon,
75008 Paris, France
Nathaniel Mary Quinn
Nathaniel Mary Quinn is currently showcasing his first solo exhibition in France at the Consortium Museum in Dijon. Known for his striking mixed-media portraiture, Quinn's fictional subjects are constructed through a combination of magazine and art historical references, along with drawing on his own memories growing up in the Southside of Chicago.
For the show in France, the Brooklyn-based artist presents 15 large-scale paintings that unfold around The Director (2019). Quinn's compositions are created intuitively, where the artist has noted that he often surprises himself in the process when recollecting certain erroneous figures from his traumatic childhood.
Disjointed and mashed together, each portrait reflects the very jumbled nature of the subconscious — melding the legacy of early modernism with the reality of our post-internet age. Witness Nathaniel Mary Quinn's eponymously named exhibition at Consortium Museum until May 22, 2022.
Le Consortium
37 Rue de Longvic,
21000 Dijon, France
Lubaina Himid
London's Tate Modern recently lifted the veil on a highly anticipated retrospective exhibition on British artist, Lubaina Himid. Having been an instrumental figure in the UK art scene for over 40 years, Himid recently became the first Black woman and oldest-ever recipient to win the Turner Prize back in 2017.
Known for her alluring cutouts and installations, Himid's recent figurative works explore the overlooked and invisible aspects of history and of contemporary everyday life. Considering herself just as much a cultural activist as she is a painter, Himid's fantastical scenes are partly influenced by her background in theatre. Lubaina Himid is on view at the Tate Modern until October 2, 2022.
Tate Modern
Bankside,
London SE1 9TG
Milo Matthieu's "Flowers Beyond the Sunset"
Milo Matthieu is a Brooklyn-based artist best known for gestural portraits that ruminate on identity and self-perception. As his first exhibition in Belgium, Matthieu presents "Flowers Beyond the Sunset" at Sorry We're Closed.
The exhibition focuses on Matthieu's experience visiting the Colombian city of Cartagena. Through 13 paintings and two sculptures, the artist injects the traditions of the Creole storyteller, where a number of disparate themes are composed to question the interrelationships between cultures, people, language, and landscapes.
Sorry We're Closed
Rue des Minimes 39,
1000 Bruxelles, Belgium
Jennifer Packer at The Whitney
Jennifer Packer's paintings stress the importance of representation. Drawing on observation, memory, and improvisation, the New York-based artist creates intimate renderings that float between loose figuration of her friends and families and abstracted motifs that draw on art-historical genres of portraiture and still life.
The Whitney Museum of American Art is showcasing the largest survey on Packer's work to date in an exhibition titled The Eye Is Not Satisfied With Seeing. "My inclination to paint," Packer said in a statement, "especially from life, is a completely political one. We belong here. We deserve to be seen and acknowledged in real-time. We deserve to be heard and to be imaged with shameless generosity and accuracy." The exhibition features over 30 paintings is currently on view until April 17, 2022.
Whitney Museum of American Art
99 Gansevoort St,
New York, NY 10014
Black American Portraits
As Kehinde Wiley and Amy Sherald's The Obama Portraits currently display in Los Angeles, LACMA is complementing the offering just adjacent to the space with another exhibition titled "Black American Portraits." Comprising of over 140 paintings, the collection spans over two centuries — from early uses of studio photography and the Harlem Renaissance to the Civil Rights Movement and the multiculturalism of the 1990s.
At the core of the exhibition is a vivid chronicle of the ways in which Black Americans have used portraiture to envision themselves in their own eyes. Countering a visual culture that often demonizes Blackness and fetishizes the spectacle of Black pain, these paintings highlight love, family and community at the core of each Black American subject. The show will be on view until April 17, 2022.
Los Angeles Museum of Contemporary Art
5905 Wilshire Blvd,
Los Angeles, CA 90036
In related news, Library Street Collective will launch an ambitious public arts campus.