8 British Brands to Keep on Your Radar
Community-led labels tipped for a big 2022.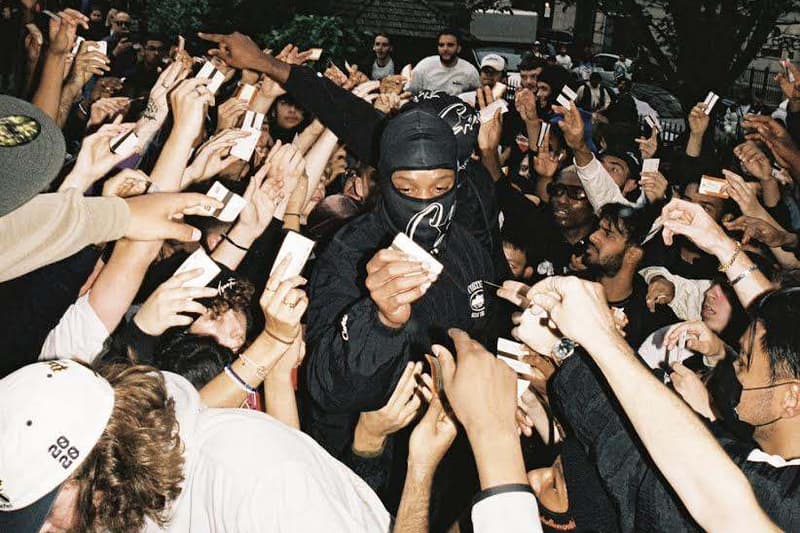 In recent years, the crossover between streetwear and mainstream culture has been well-publicized, blurring the boundaries with the worlds of high-street fashion and luxury. Combined with easy access to design software, screen printing machines and endless hours of YouTube tutorials, the market is arguably more packed than it's ever been.
However, streetwear's origins and essence lie as a global community-driven force, with future trends still dictated by the people in the mix. Within that world, U.K.-based streetwear-inclined brands such as Palace or more sustainably-led labels like Story mfg. have gone from strength to strength, proving that a space for the next generation of movements is flourishing.
To go alongside the 10 brands to look out for in 2022, HYPEBEAST now spotlights the grassroots brands hailing from the U.K.
Corteiz
You may already have seen Corteiz's landscape of the notorious Alcatraz prison plastered onto garments or heard about the brand's viral community-led activations. With an ethos centered around authenticity, the London-based label, founded by Clint has laid a path to creating its own lane in the fashion industry. Through its innovative marketing methods — including its recent BOLO exchange — Corteiz has built an audience and community around its drops. Whether sported by the late-Virgil Abloh or in LV shows with Central Cee, the brand is embodying its RTW (Rules The World) slogan and living its military revolution-inspired design.
Clints
Footwear connoisseur Junior Clint and his eponymous label has gained a reputation for its conceptual sneakers. Built from Clint's love of design and dissatisfaction with the saturated streetwear market, Clints initially started as a sneaker-inspired apparel brand and swiftly expanded to include footwear. The brand's signature rounded uppers crafted from premium materials as well as its platform EVA midsole and branded outsoles give wearers a Clints trademark imprint in every step. Despite being an industry some may find daunting to tackle, it's paying off, having recently teased an upcoming Patta collaboration.
Drama Call
Having captured its home city's music community, Manchester-based Drama Call has touched base from Harlem to London. Reworking recognized slogans in iconic typography, the brand celebrates its roots and the North's distinct dialect. From raising over $32,000 USD to pay bail bonds of protesters and help rebuild vandalized black-owned businesses to donating profits to Human Aid's on-the-ground-support in Gaza, founder Charlie Bows has shown he isn't afraid of speaking up and will continue to be "a brand that is constantly offering a representation and spreading awareness of the 'DRAMA' we deal within today's society."
Last Pick
As the name suggests, Last Pick is embarking on a mission to create high-quality garments that withstand the test of time — aiming for each piece to be the last item you'll ever need in your rotation. Having released its debut collection for Spring/Summer 2020, the brand has continuously evolved and elevated its aesthetic. Founded by brothers, Koen and Tayler Prince-Fraser, Last Pick operates at the intersection of luxury and streetwear, releasing staggered drops that focus on the intricacies of craftsmanship, sourcing quality fabrics and the timelessness of its designs.
Jehucal
With the likes of Pi'erre Bourne, Emile Smith Rowe and Hero Fiennes Tiffin known fans of the brand, Jehucal is gaining an audience for garments that sit between the realms of sportswear and luxury wear. For founder, Emay, there is no limit to the brand's growth with a focus on timeless designs to celebrate its "Till Forever" ethos. The vast design range shows the brand's versatility, with key motifs including interlocked initials and utility silhouettes. The brand recently extended its reach to include womenswear, a selection of homeware staples and accessories including the latest Mirrors bags.
AELIZA
Following his role as art director during the formative years of A-COLD-WALL*, Jack Harper branched off and began perfecting his craft through several high-profile projects before launching AELIZA. Built to serve a complete lifestyle as opposed to a standalone fashion brand, AELIZA is positioned as a "dialogic study of the autonomous individual." Inspired by the AI technology which innovated psychotherapy in the 1960s, the brand juxtaposes a dystopian aesthetic with contemporary design, giving a glimpse into the future using psychedelic lookbooks and gender-neutral pieces.
Gramm
As well as a co-founder and resident DJ of Habitat MCR — one of the hottest nights in Manchester — multifaceted creator Ak Williams also runs the city's burgeoning clothing brand Gramm. Featuring neon colors and bold graphics, the label's signature aesthetic is an ode to the unique style of the city both past and present. Inspired by his surroundings, Williams designs pieces for local people, instead of recycling ideas that work elsewhere, garnering the label acclaim from those close to home before expanding.
Soho Yacht Club
Soho doesn't see many yachts, but the affluence, exclusive venues and unique subcultures thriving within the central London district inform the foundations of Soho Yacht Club. Known for its corduroy, racing-inspired headwear and relaxed-fit cozy tracksuits, founders Che Shariff, Ellis Gilbert and Harry Clements aim to breathe new life into London's streetwear scene. Despite only releasing a handful of products, the brand is ringing bells across the underground circuit boasting several sold-out drops, most recently partnering with Corteiz for a sought-after collaborative collection.
In more British fashion news, check out Martine Rose's FW22 presentation at London Fashion Week here.