Essentials: SAMBYPEN
The artist shares his everyday staples ahead of his 'QUIZ' exhibition in Seoul.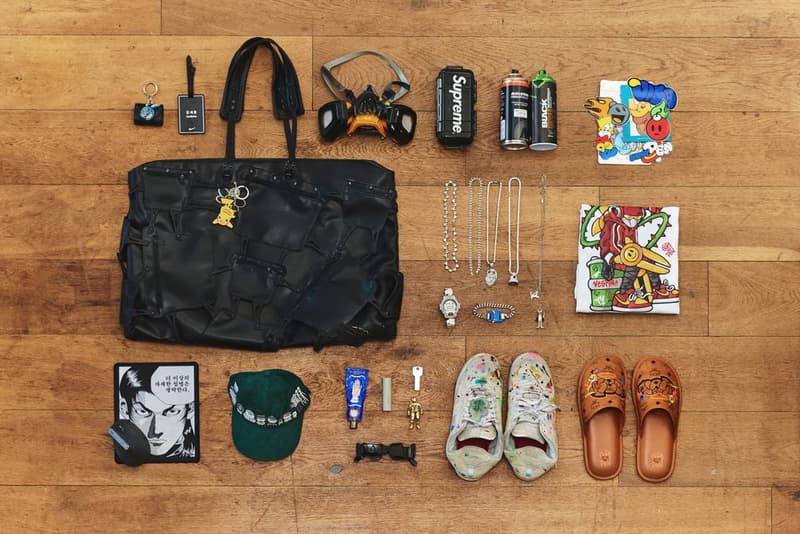 For the latest installment of Essentials, HYPEBEAST Korea spoke with artist SAMBYPEN ahead of his seventh solo exhibition titled QUIZ at the 10department gallery in Seoul.
SAMBYPEN is a self-described parody artist who reinterprets brands and culturally significant objects in a way that he hopes viewers can relate to. His signature style involves cutting and painting wood pieces that serve as outlines for his characters. The pieces are glued onto a canvas and painted over with acrylic paint layer by layer to achieve a unique three-dimensional look.
Following his first exhibition titled TIRED in 2015 which received a great deal of positive feedback with its distinct "fake art" theme, SAMBYPEN has gone on to present solo exhibitions around the world and collaborative works with brands such as Nike, MCM, and Adobe. Follow us below as we dive into SAMBYPEN's Essentials picks featuring work tools, custom accessories, and more.
SAMBYPEN x MCM AirPods Case, Slippers
1 of 4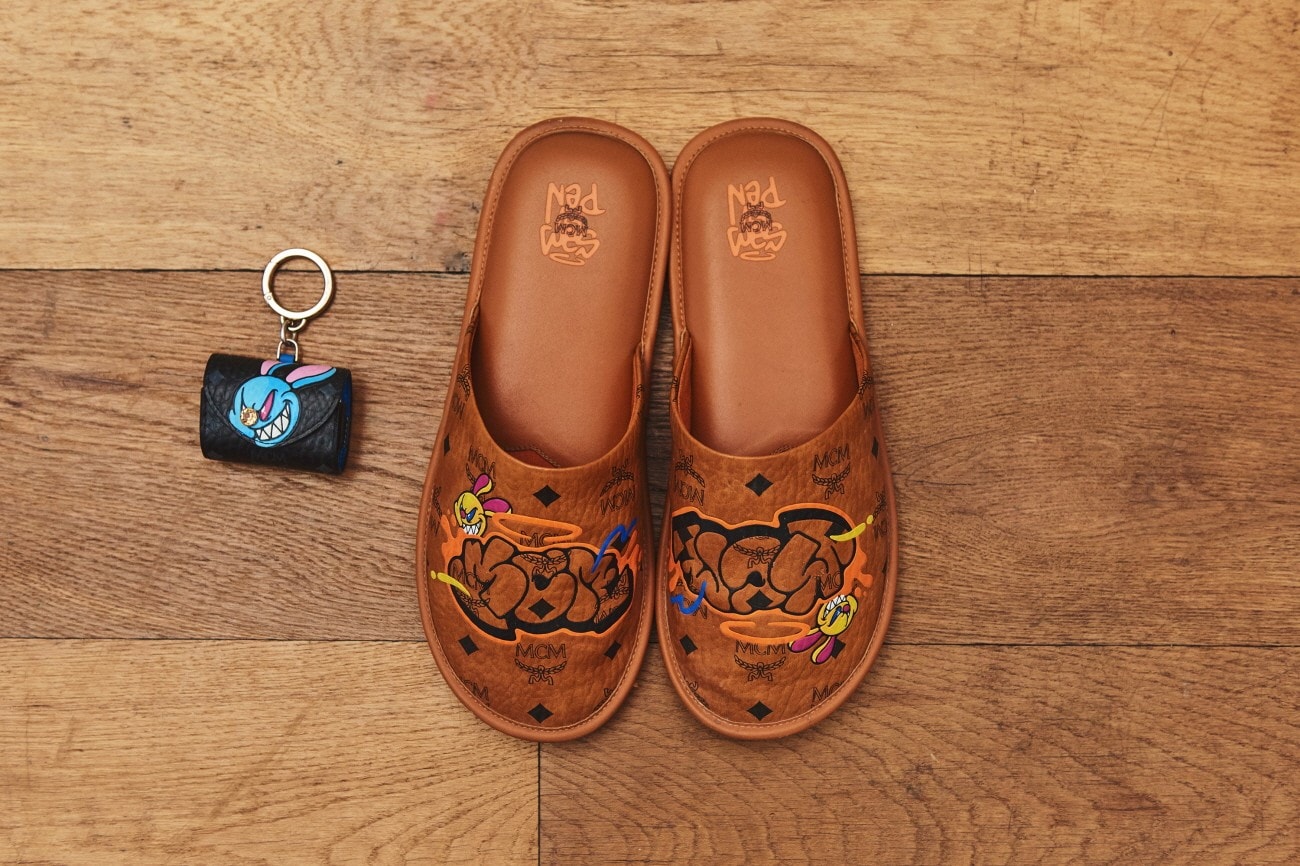 2 of 4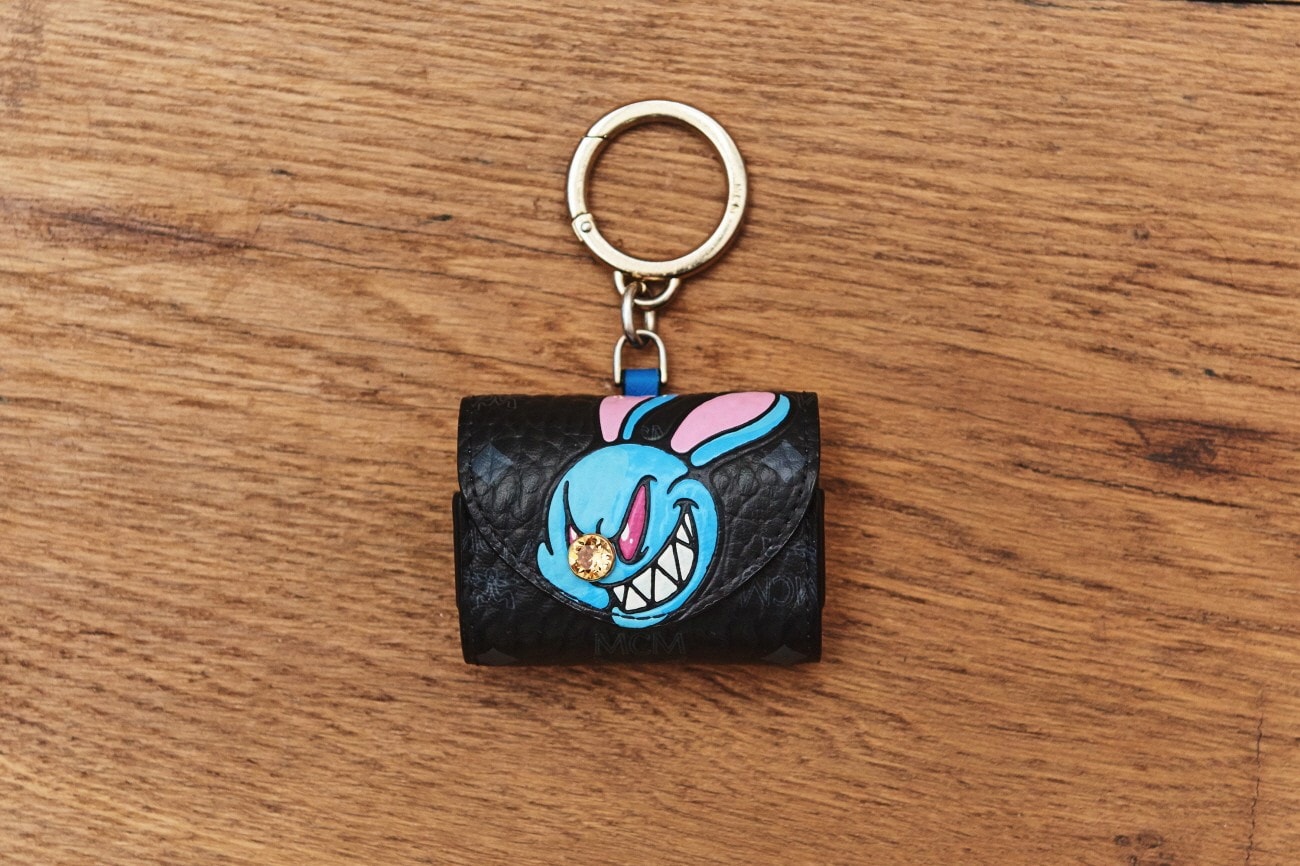 3 of 4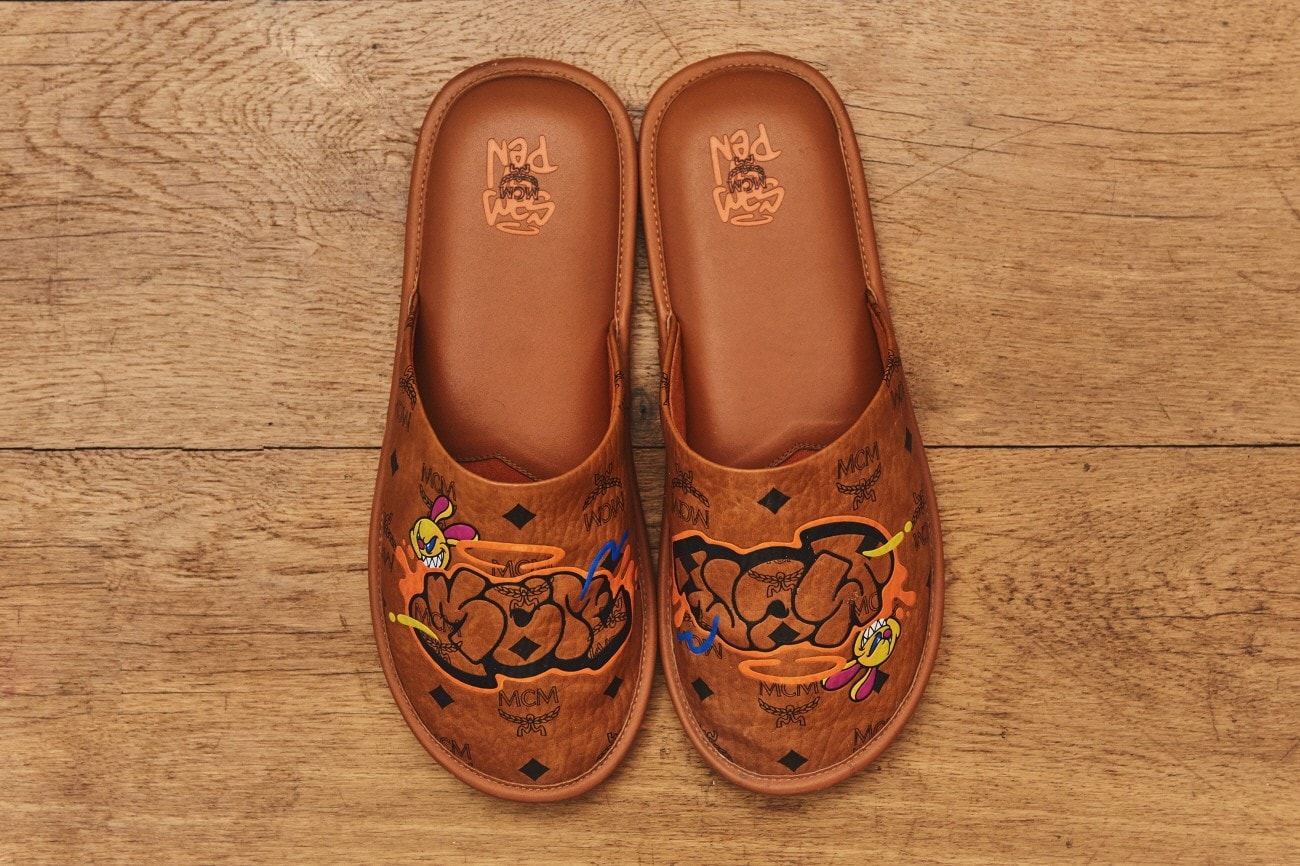 When I go out, I usually have earphones plugged in. I primarily use three headphones, the Apple Airpods, Nassing Ear One, and Bang & Olufsen Bioplay E8 2.0. The latter two are used in my office and at home. The case is a product I made when I collaborated with MCM, and it's kind of embarrassing since I'm not the type to use a product I've been working on myself, but I still use the case since it's not too burdensome. The slippers were also made during the same collection, and I wear them in the studio.
Nike Name Tag
1 of 2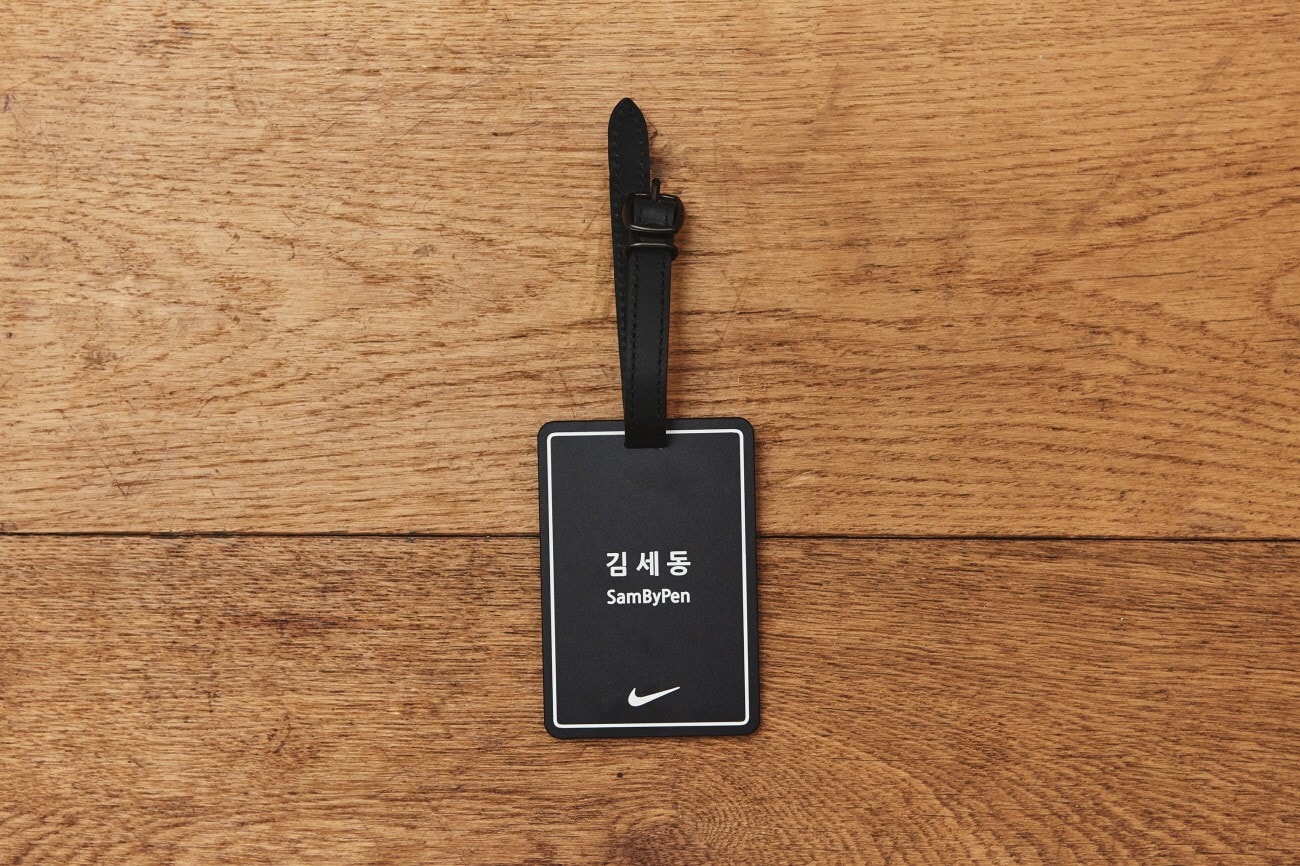 This is a name tag made by Nike. When traveling or going to the golf course, you can attach it to your bag. I believe it's not for sale and only given to a few people. It's made of metal, so it's sturdy and easy to use.
South Park Cap
1 of 3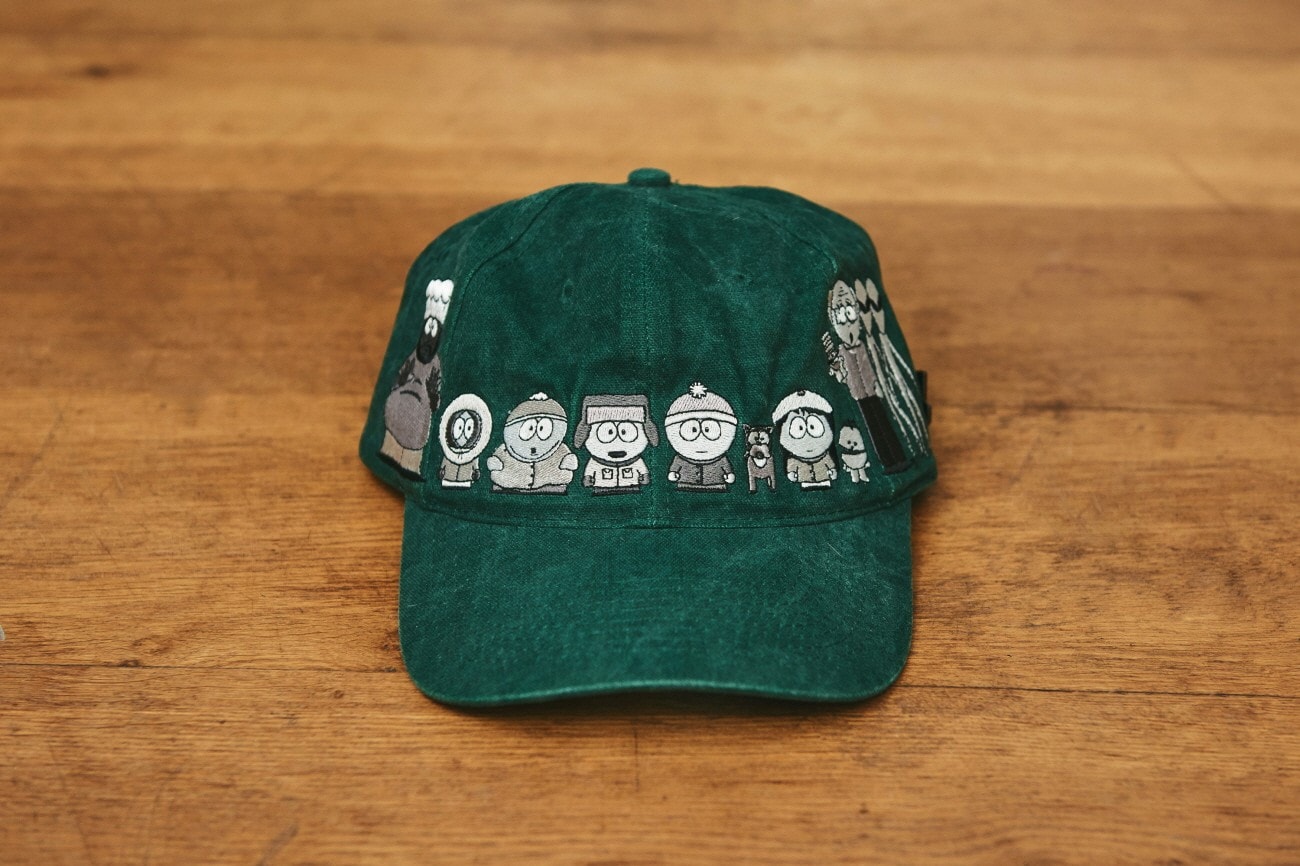 2 of 3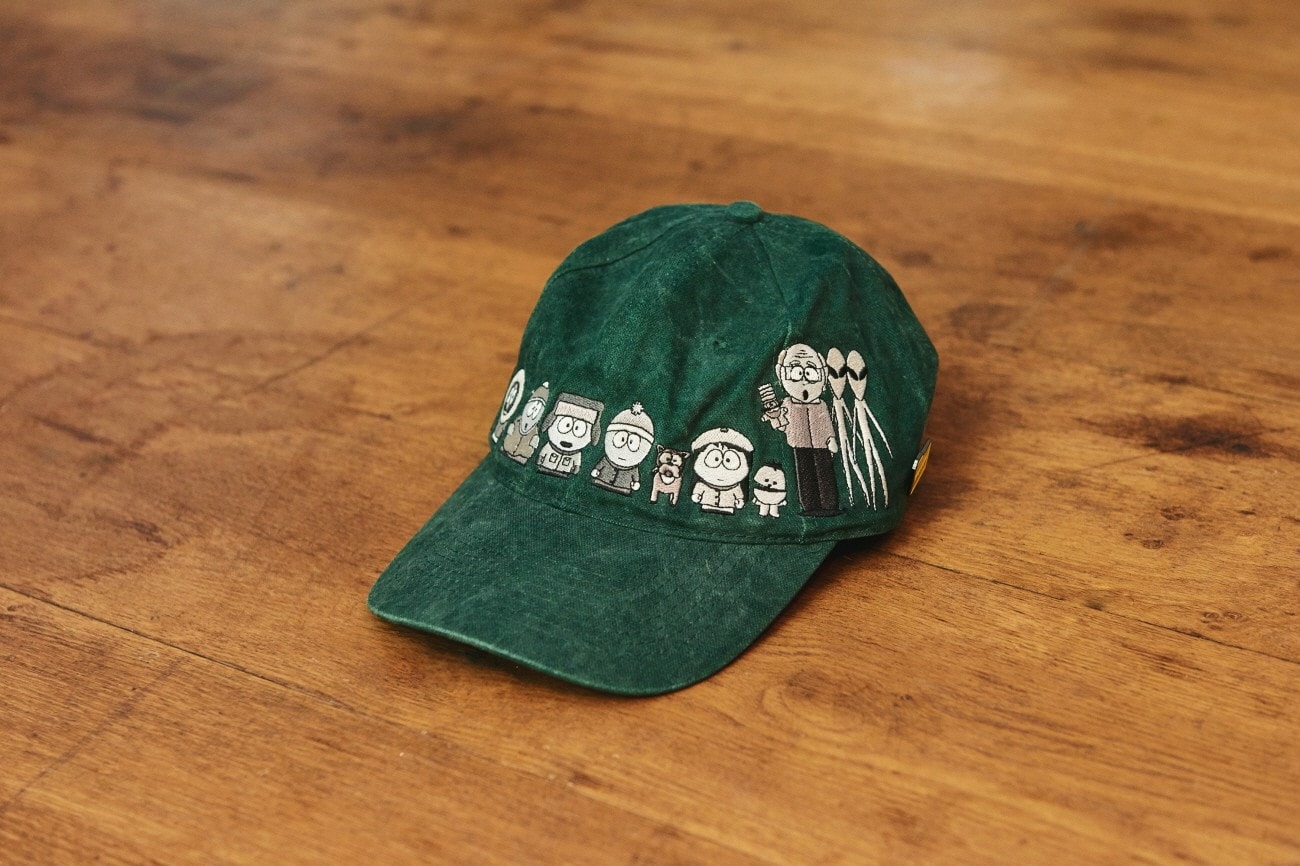 A few years ago, I found Lee Scott's song What If Lee Was A Lil Rapper? Wow, OMG and it was fun and good, so I looked up the music video, and he was wearing this South Park hat. I did a search on eBay, and there was something for sale, so I bought it right away. It looks like South Park's official merchandise, and I like the fit, so I wear it often.
Sungmo Kim Mouse Pad, Logitech MX Vertical Mouse
1 of 2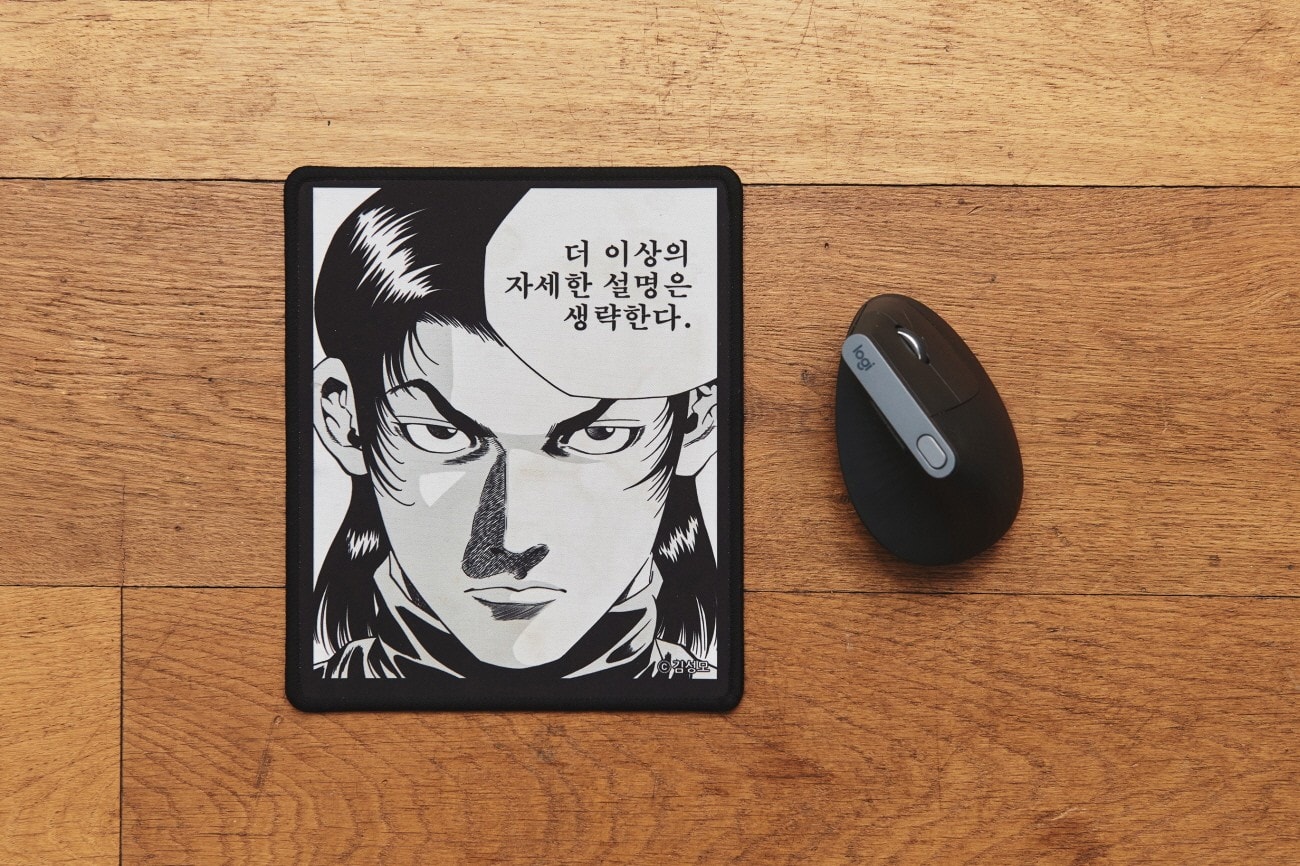 The mouse pad is an official release from artist Sungmo Kim. I've liked Sung mo's cartoons since I was little but forgot about it for a while. One day I saw his works in an ad and bought it right away. The mouse is a Logitech MX Vertical mouse. Now I'm accustomed to it, it's the only mouse I can use.
Buly 1803 Hand Cream, Off-White x Amorepacific Lip Balm
1 of 2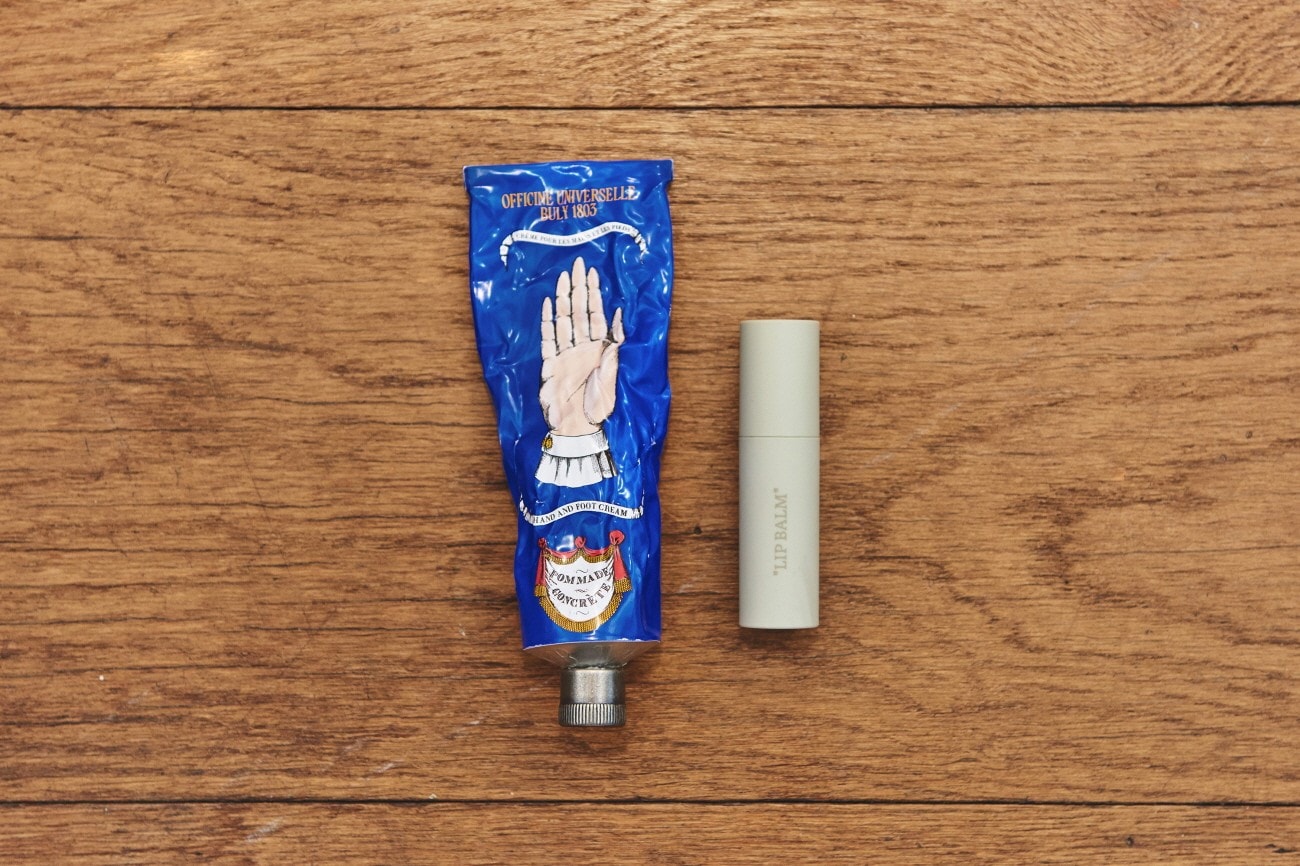 I've tried several hand creams, but this one from Buly is the best. Since I work with my hands a lot, they get really rough. Someone who saw and knew of the product gave it to me as a gift. I don't usually put things on my hands, but after receiving the gift, I've been paying more attention little by little. I received the Off White x AMOREPACIFIC Protection Box as a gift as well, and I'm still using the lip balm in it.
Off-White Sunglasses
1 of 2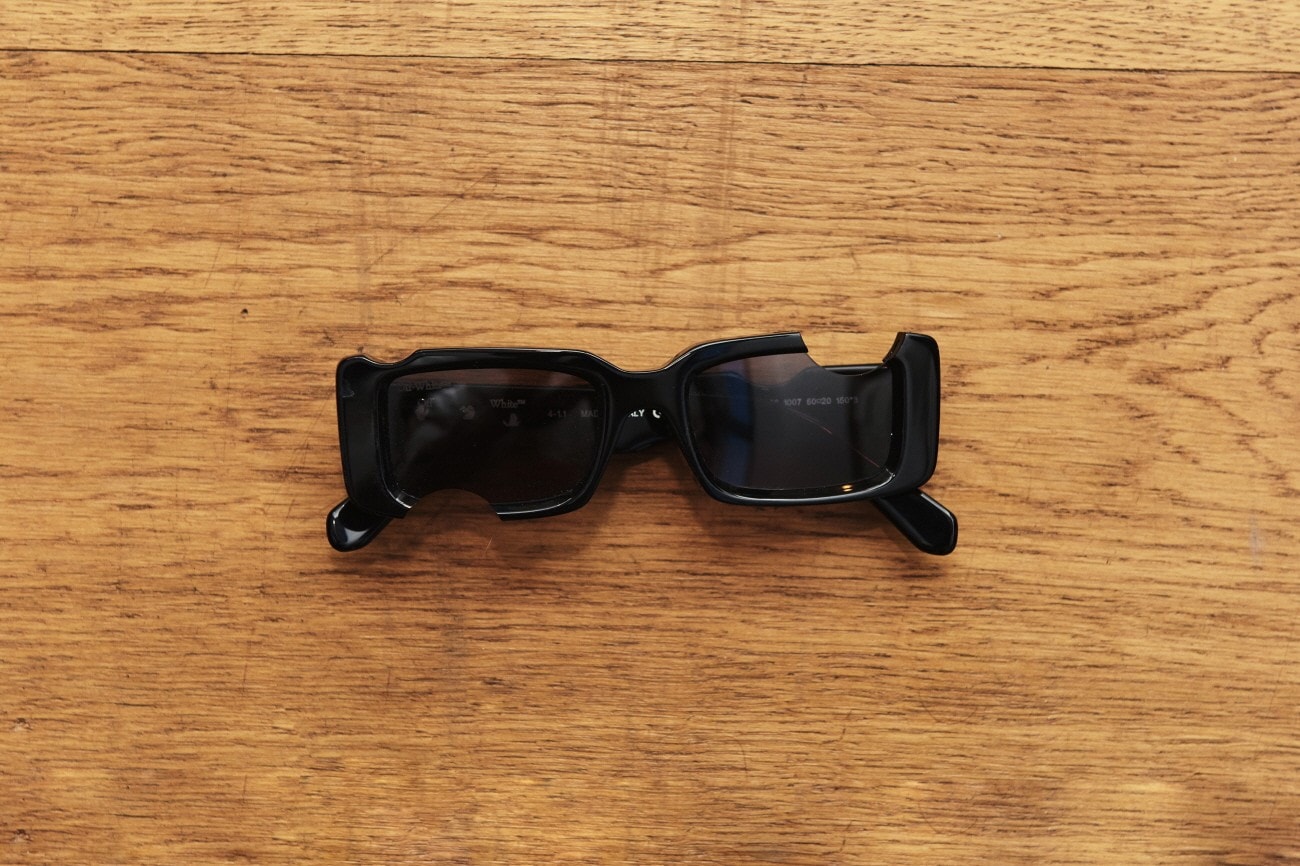 I bought these off-white sunglasses because they looked unusual at first glance. At first, I was like, "How do I use this?" I bought it out of curiosity, and I don't wear it often but on days when I want to look stylish, I put it on.
Jewelry from Quantez, David Avalon, Louis Vuitton, 1017 Alyx 9SM
1 of 4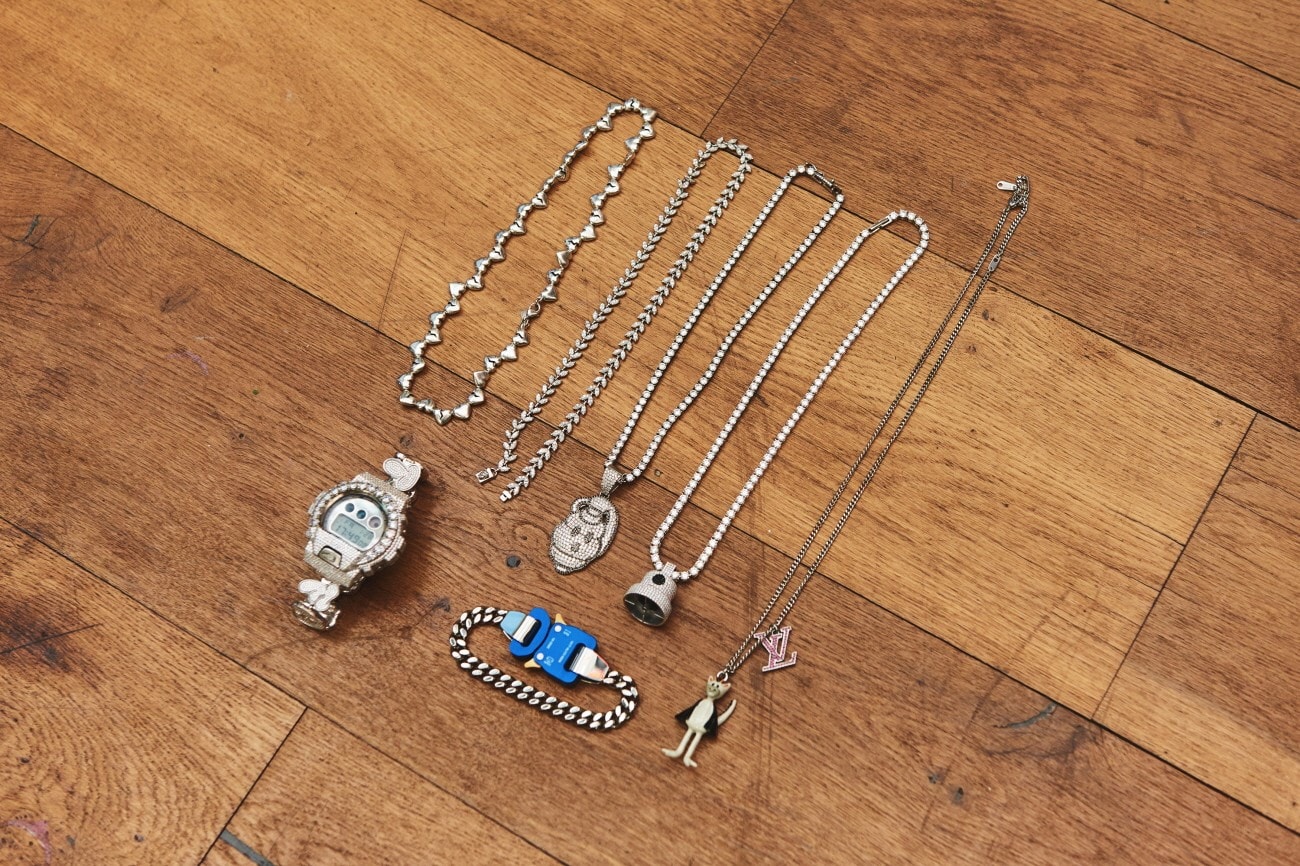 2 of 4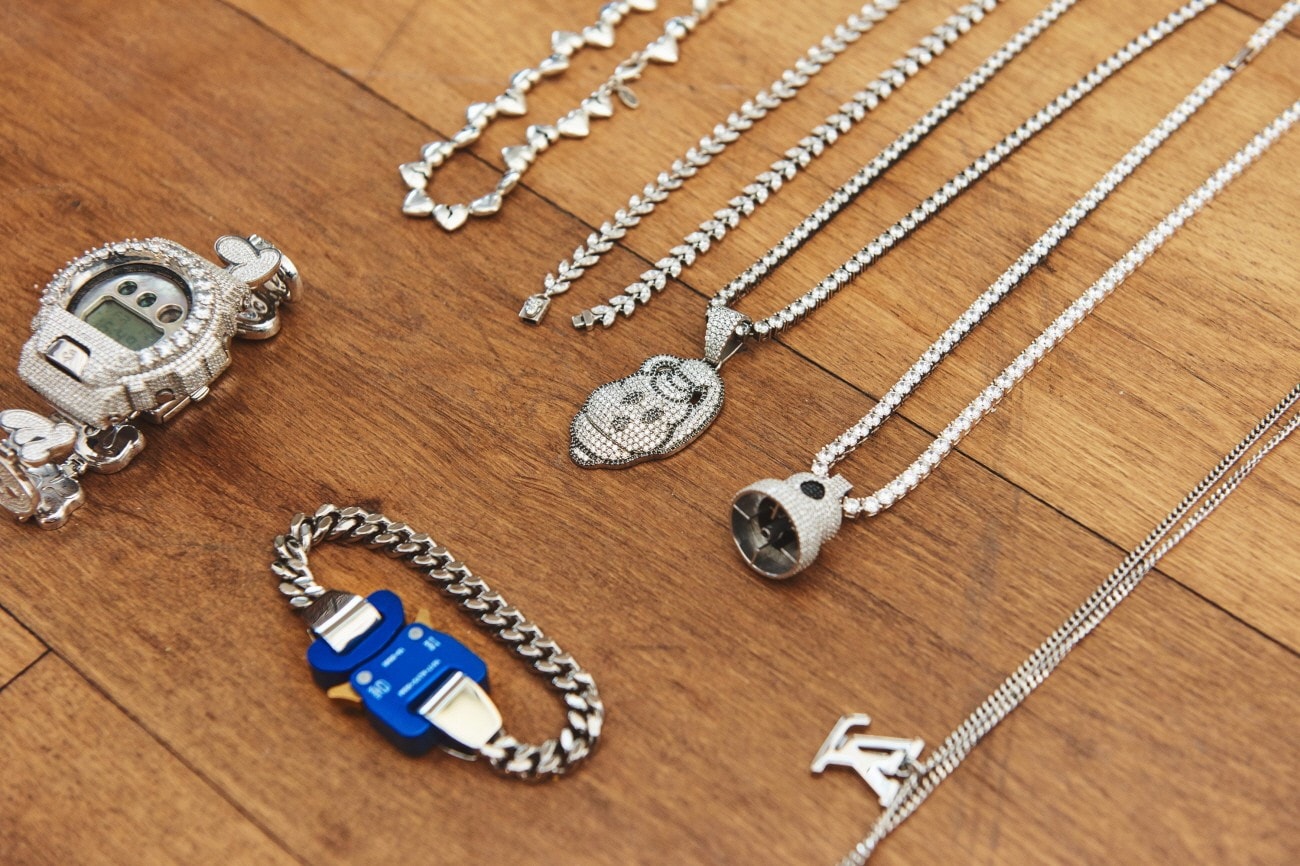 3 of 4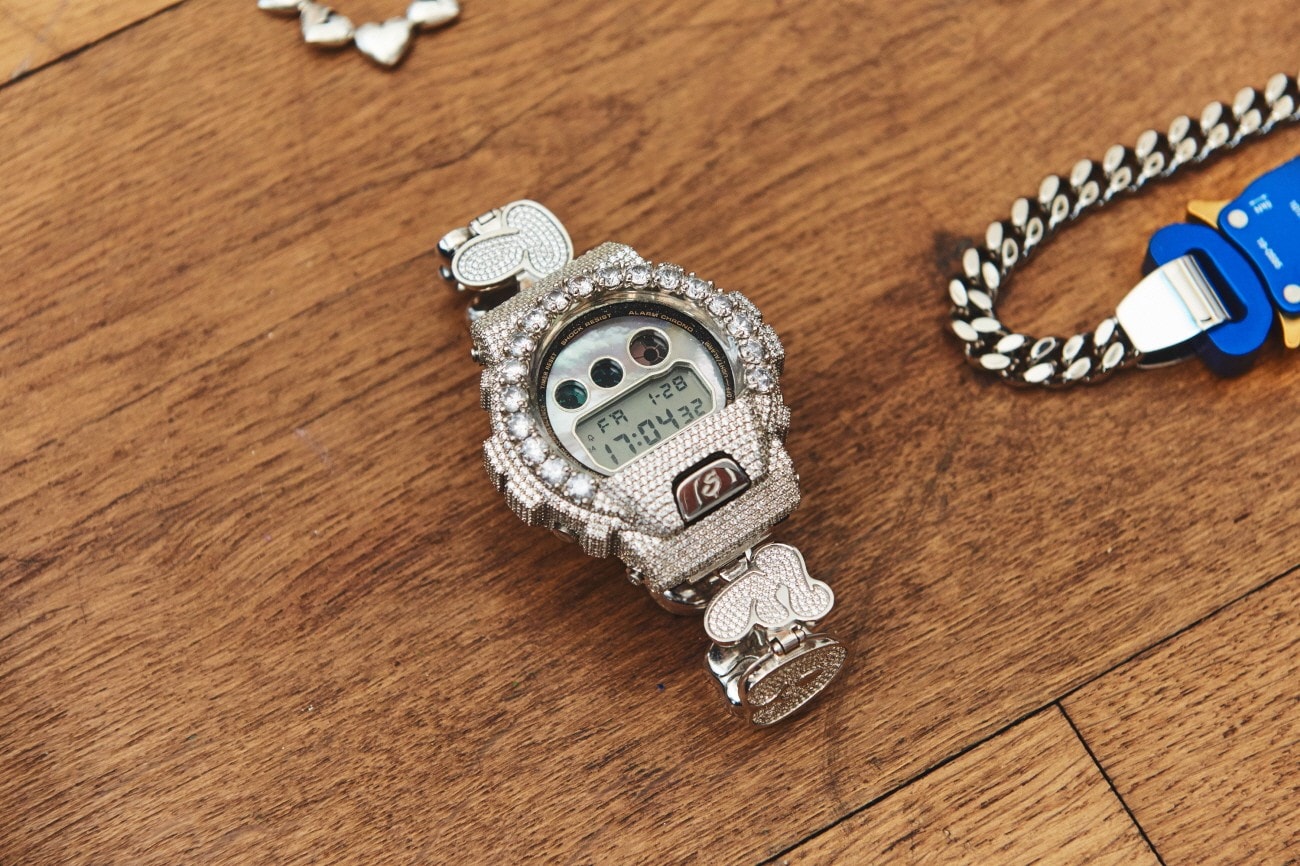 Usually, colorful jewelry is worn by rappers, but I thought it would be good for artists to wear cool things as well, so I started making custom jewelry. I'm usually quiet and introverted, but wearing jewelry gives me unknown confidence and makes me feel proud.
The pineapple grenade necklace and the spray nozzle-shaped necklace were made by me and Quantez. The heart jewelry was given to me by a jeweler named Two Jays, and David Avalon's signature laurel necklace was a gift. I also made a G- Shock watch with David, which was a challenge for both of us since it was our first time working on a watch. The 1017 Alyx 9SM was not my taste, but my girlfriend gave me her bracelet, so I tried it and liked it more than I thought. I also love the Louis Vuitton necklaces with cute character pendants.
Black Scale USB, Omega USB
1 of 2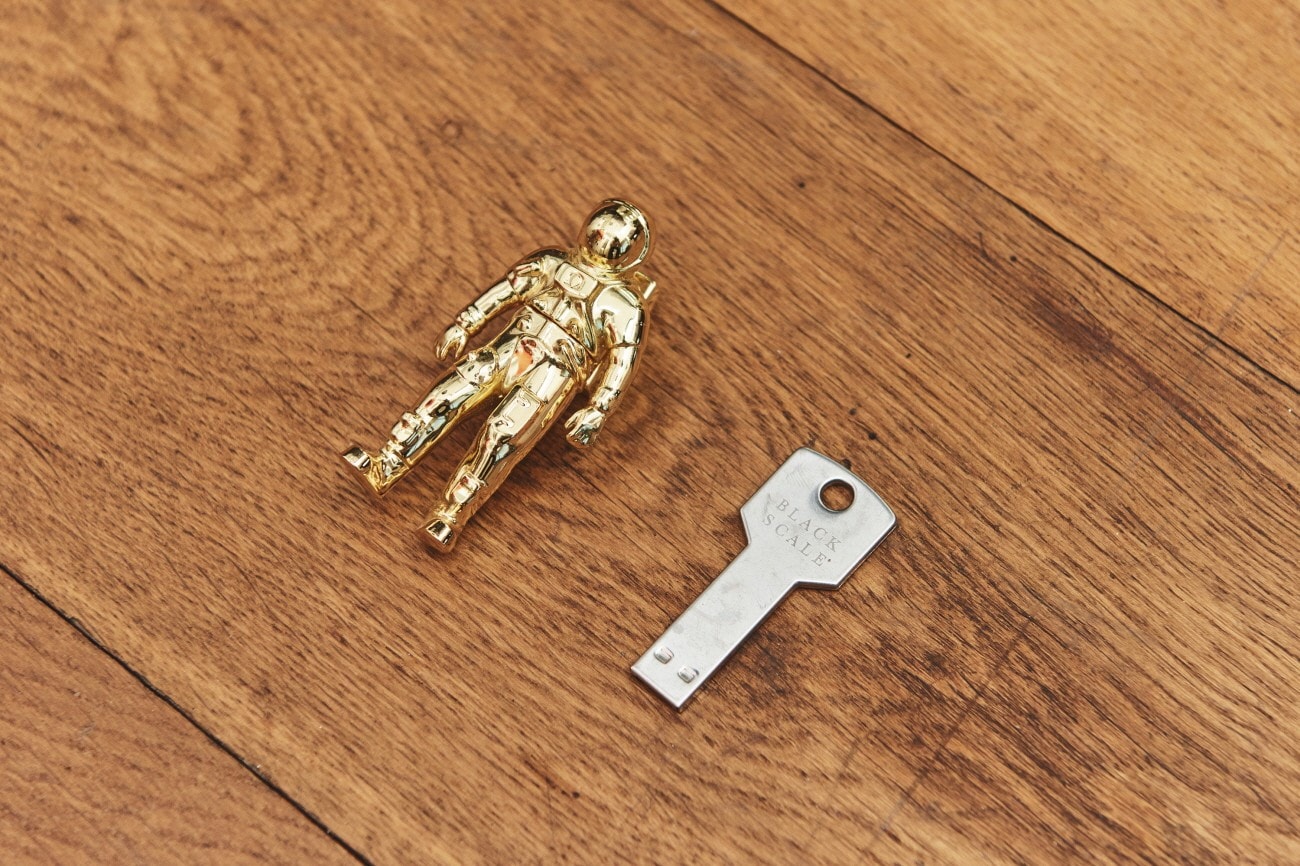 The key-shaped USB is a gift from a brand called Black Scale. I remember it as a brand I wore often when A$AP Rocky was in the spotlight as a rookie. I bought clothes there and they gave the USB to me as a gift. It's old, but it works. The gold-colored astronaut figure USB was acquired at Omega's pop-up event. It's good for decoration, and I also use it often as a USB.
Ineraum Bag, Pokémon x thisisneverthat Keyring, KAWS x Dior Keyring
1 of 3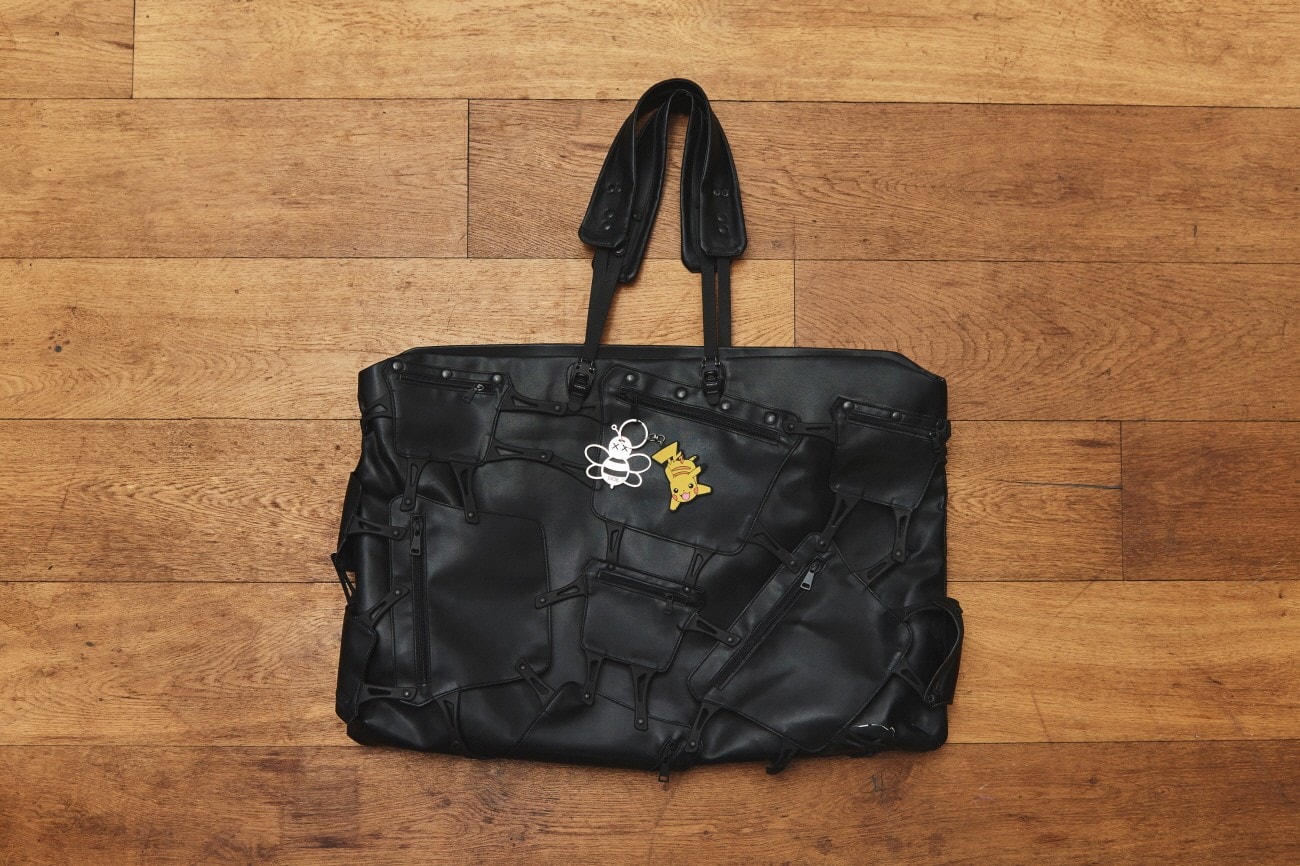 2 of 3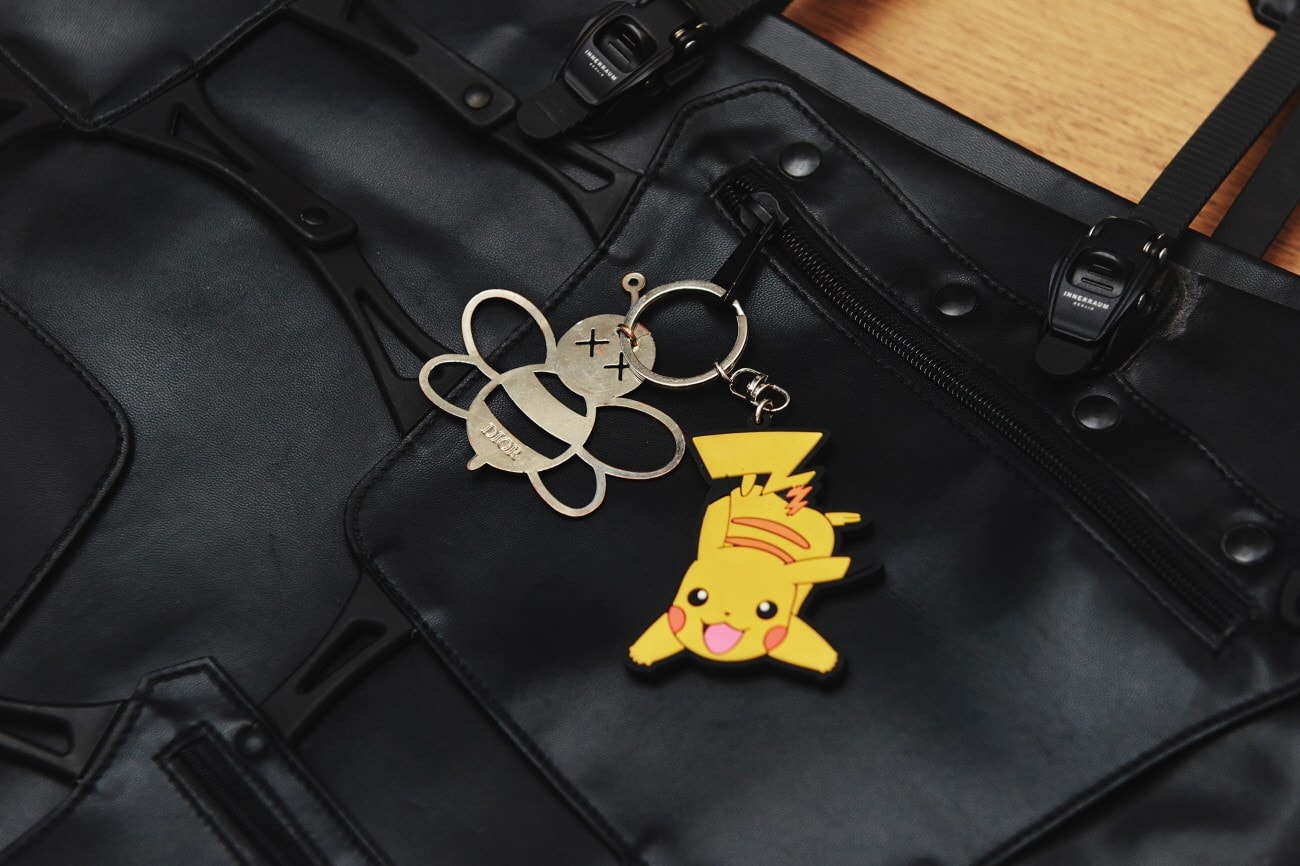 I bought this while shopping online because the design of the external pocket was so unique. I don't use the external pockets often because there's a potential of not being able to find where you put things in them. To work, I usually have a lot to bring, so I often have to use a large bag, but this size is good too.
Mask, Spraypaint, Supreme Case
1 of 3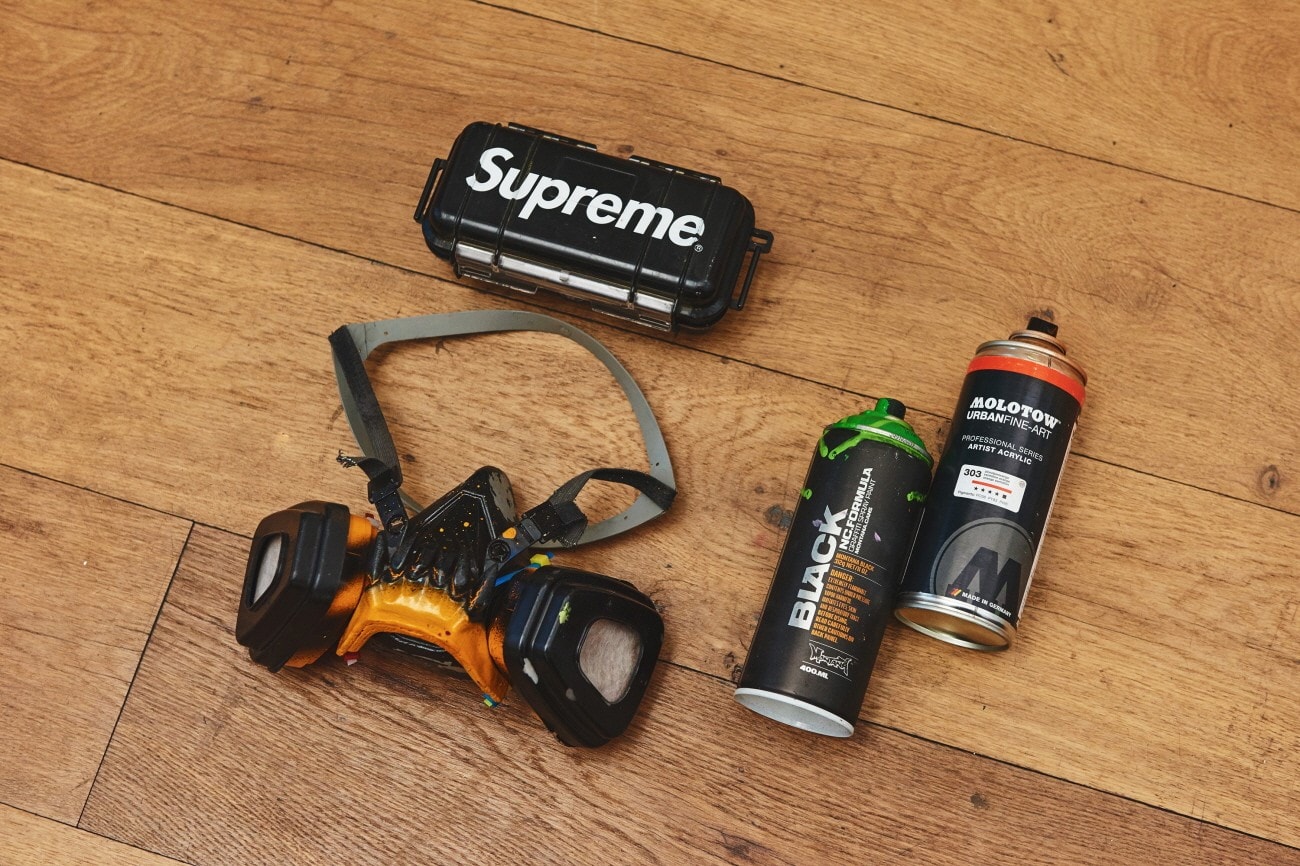 2 of 3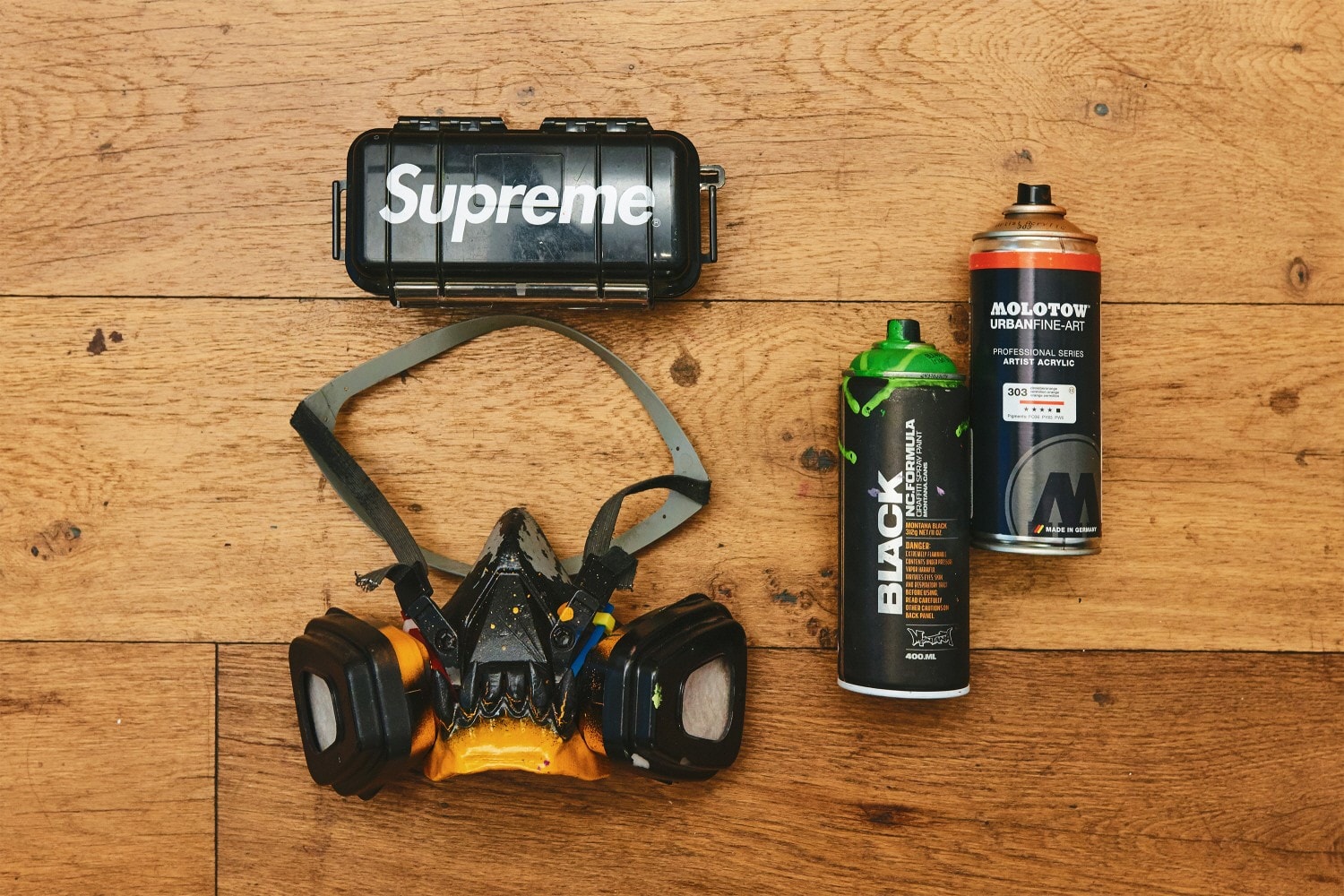 Spraypaint is often used for my paintings as well as for graffiti works. There are about three or four masks that I wear when spraying, and in this case, a protruding teeth decoration is attached to the chin. I can't remember exactly, but a graffiti artist made and sold teeth decorations for work masks on Instagram. I bought it, put it on my mask, and painted it. I bought the Supreme Case when I was in school in New York in 2014, and it was hard to find a suitable use for it for a while until I started graffiti in earnest, and now I use it for storing spray caps and nozzles.
Travis Scott x Nike Air Force 1
1 of 2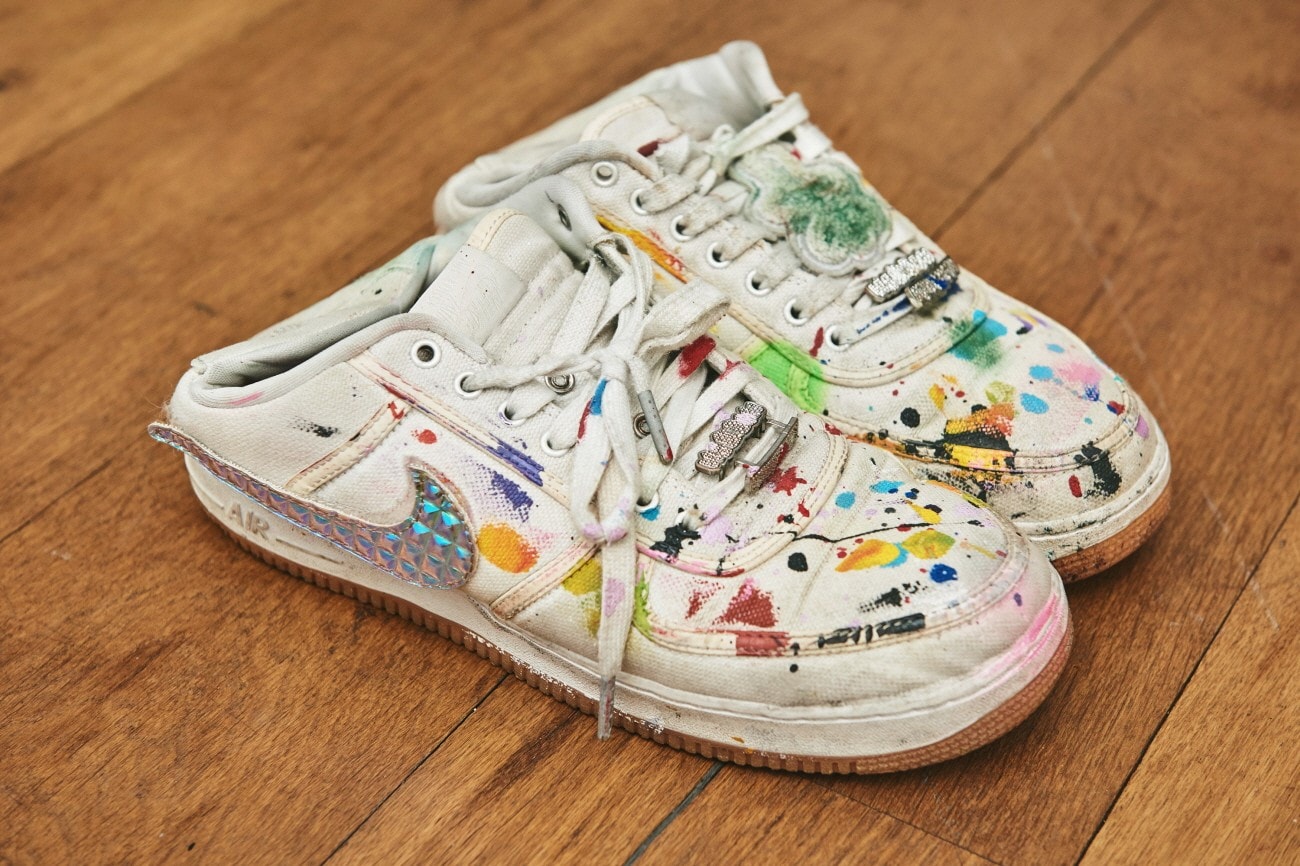 I didn't intend to make it a work shoe in the beginning. When I went to work on the mural for ESteem's office building, I should have worn work shoes, but I wore these shoes. When I started working I stopped worrying that the paint was on, and from that moment it became a work shoe. Naturally, it can be said that it's custom made. After that, I bought another pair of the same shoes and wear them cleanly. I'm quite tall, so I actually prefer Dunks with a lower heel.
Nike x T1 x SAMBYPEN T-Shirt
1 of 3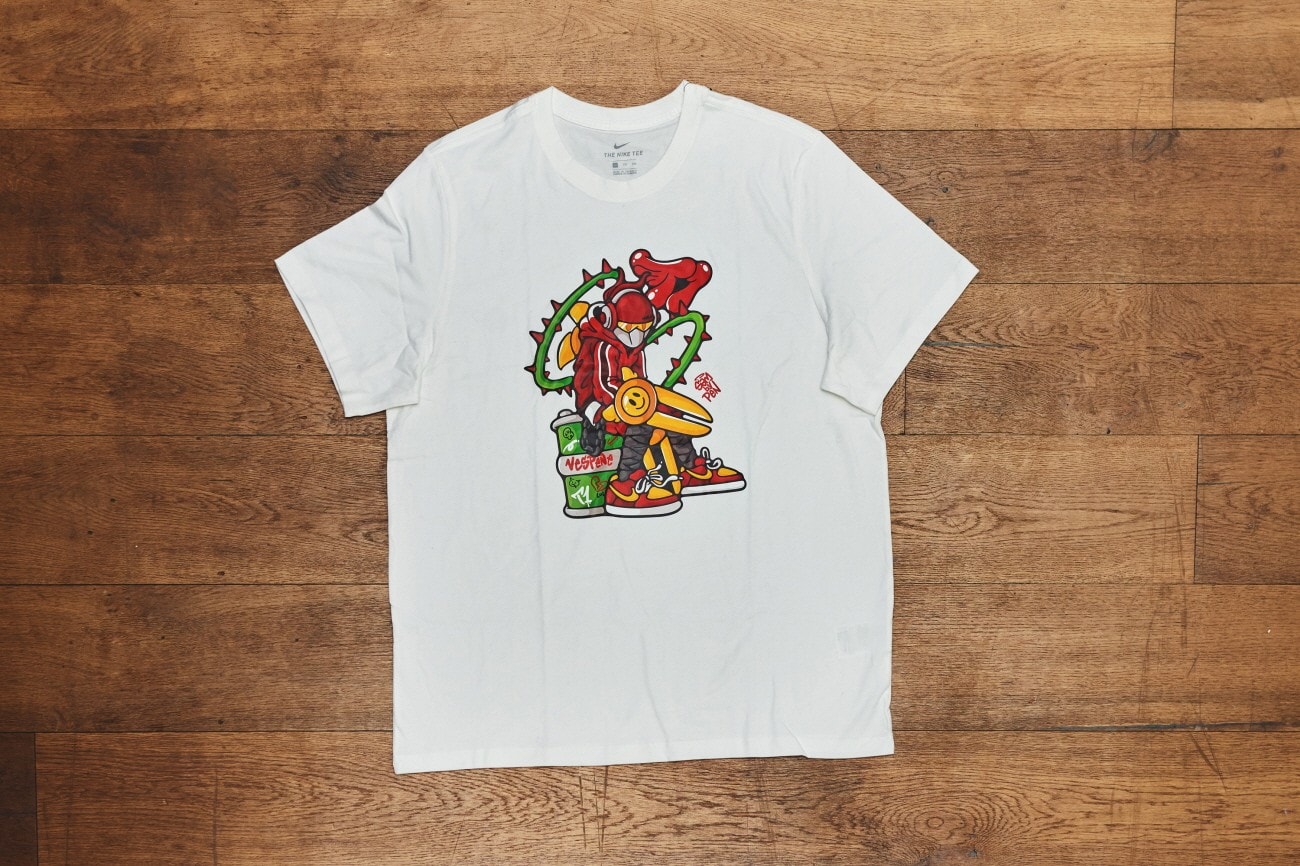 2 of 3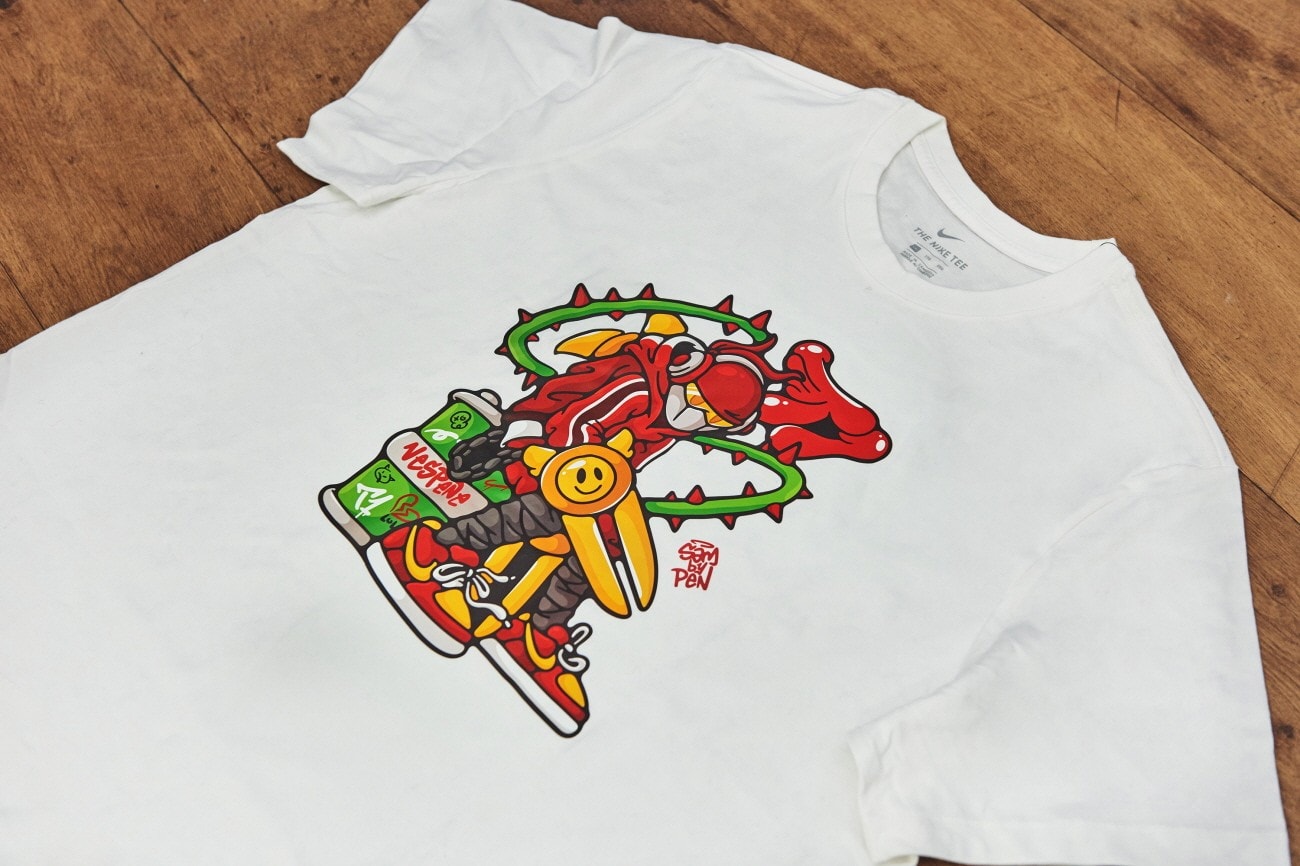 This was a meaningful collaboration for me because I used to like playing games. Both T1 and Nike are teams and brands that I really like. The design itself is based on Faker's League of Legends Zed skin, and it contains various elements of T1 including a drawing of Gaston, who symbolizes StarCraft pro gamer Lim Yohwan that people from my generation know.
Sticker Collection
1 of 2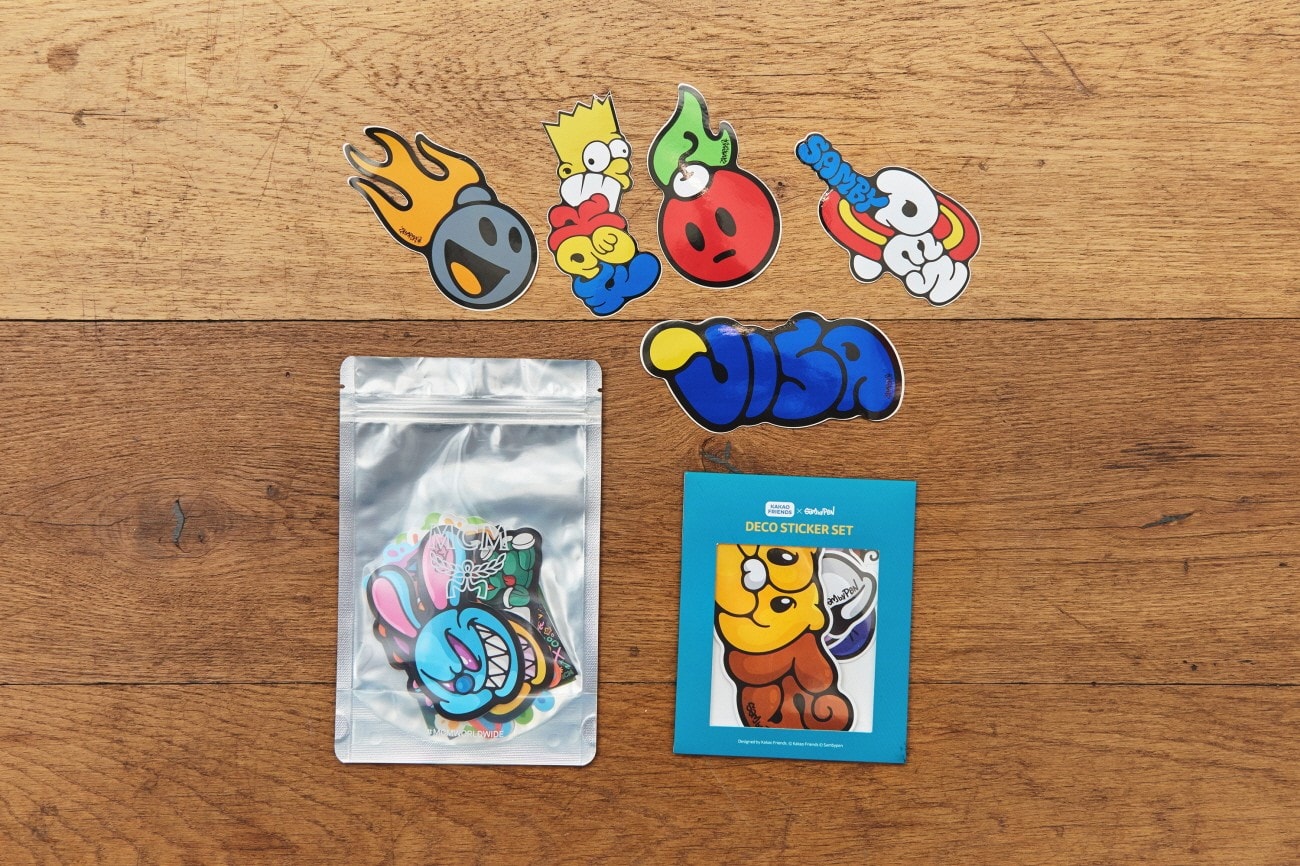 Stickers are usually made for collaborative projects or solo exhibitions, and stickers of my personal works are only sold in solo exhibitions. I like original stickers, so I carry them with me every day, and when I see places I can put them on while walking, I put a lot of them here and there.
Take a look at SAMBYPEN's product spread above and stay tuned for more Essentials pieces in the coming weeks.
In the meantime, we recently featured Albino & Preto founder and BJJ blackbelt Arvie Gimeno.