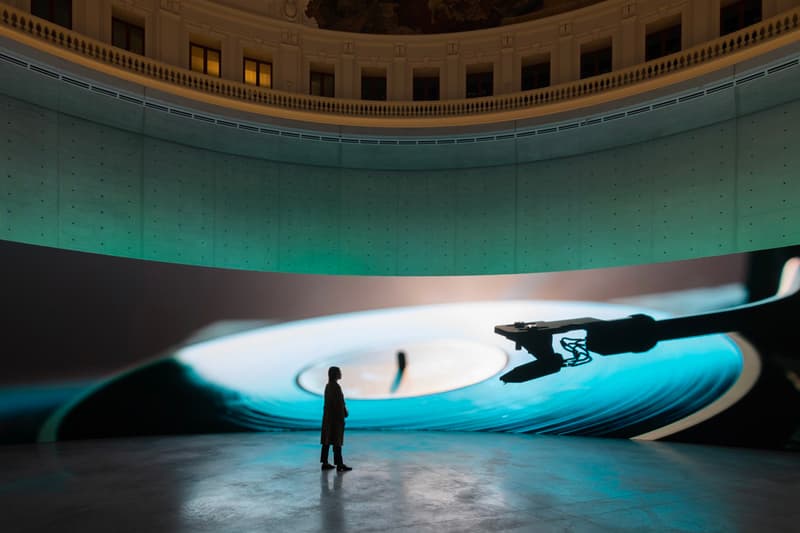 Top Art Moments of 2022
From climate activists targeting museums to artists rallying behind Iran and Ukraine, we break down the art moments that defined 2022.
---
2022 saw the art world spin in a number of directions. Some expected, some entirely unforeseen. While blue-chip heavyweights cemented their presence across growing scenes in Los Angeles, Dubai and Seoul, a number of promising new galleries in the U.S. are showcasing work that faithfully reflects today's cultural zeitgeist.
Art, as it recurrently has shown across history, continued to reflect the the socio-political tensions across the world and the hope from many artists to the aid of those most at risk. Museums across the world also became the battlegrounds for protest as climate activists began to glue their hands to sculptures and toss food at paintings to raise awareness to the cause.
There was an exorbitant amount of events to look at, but HypeArt broke down the top 10 art moments that defined 2022. Read the full list below.
Climate Activists Target Museums
No series of events shook the art world more in 2022 than the museum incidents regarding climate activism.
What at first seemed to be a strange one-off incident involving a man smearing cake over the glass protecting the Mona Lisa, would be the first of many similar events where climate activists would target masterpieces around the world to galvanize attention to the climate emergency.
From tomato soup being hurled at Vincent Van Gogh's Sunflowers to hands being glued to sculptures. "What is worth more?" asked a member of Just Stop Oil, "Art or Life? Is it worth more than food? Worth more than justice? Are you more concerned about the protection of painting or the protection of our planet and people?"
While there are many within art and non-art communities who share concern for climate change, a number of directors at some of the world's biggest museum's believe that targeting art simply brings the wrong attention and is extremely damaging to the works they look to preserve.
The US group that backs the protestors, the Climate Emergency Fund, states that the movement is only growing and "more protests are coming."
Frieze Seoul 2022
Seoul became one of the cultural epicenters this year. An influx of clothing labels and galleries set up shop in the South Korean capital and the cherry on top was none other than the inaugural Frieze Seoul.
Housed at the COEX exhibition center, located in the Gangnam district, the first edition ran concurrent to the city's longstanding KIAF art fair and featured over 110 galleries from around the world, including a special Focus Asia section.
Highlights of Frieze Seoul 2022 ranged Park Hyun-ki's meditative installation TV & Stone at Gallery Hyundai's booth, Tavares Strachan's cosmic "Galaxy" series of paintings to a number of happenings around the city, such as the Osulloc Tea House at Pace's expanded art complex.
MSCHF 'ATM Leaderboard'
On the topic of fairs, MSCHF won the crown for the most talked about installation at the latest Art Basel Miami Beach and perhaps of any art fair in 2022.
Long-known as a playground for the rich and famous, festival goers were put to test to flaunt their actual wealth in a simple yet brilliant installation entitled ATM Leaderboard.
Housed at Perrotin's booth, the ATM saw droves of people insert their debit card, which subsequently triggered the machine to take their picture and rank their balance amongst contestants.
"ATM Leaderboard is an extremely literal distillation of wealth-flaunting impulses," said MSCHF co-founder, Daniel Greenberg, in an interview with NPR. "From its conception, we had mentally earmarked this work for a location like Miami Basel, a place where there is a dense concentration of people renting Lamborghinis and wearing Rolexes." Diplo, a Miami and Art Basel mainstay, would ultimately record the highest balance with over $3m USD, Meanwhile the ATM itself sold for $75,000 USD to an undisclosed buyer.
Blue-Chip Galleries Head West
Los Angeles is a city of many associations. Highways, celebrities, juice bars, the list goes on. Over the years, the city has also cemented itself as a breeding ground for the arts as countless fairs, studios and galleries that have set up shop West.
To add to the list, blue-chip heavyweight Pace Gallery acquired Kayne Griffen Gallery in Hollywood to have a permanent presence in the City of Angels. Similarly, Marian Goodman took over a 1920s warehouse near the Highland Corridor that features 5,000-square-feet of pristine skylit galleries as well as a landscaped garden, viewing rooms, office space, and dedicated parking.
Additionally, Hauser & Wirth, which already occupies a massive reconverted flour mill in the Arts District, announced plans to open a new showroom in West Hollywood at an old automotive showroom that will be redesigned by architect Annabelle Selldorf of Selldorf Architects. The new location is slated to open in February of next year.
New Beginnings
While blue-chip galleries and massive institutions will always have the means and resources to showcase great works of art, many of the smaller galleries are quicker to reflect what is actually happening at the pulse of culture and the ideas and concerns that lay just under the surface.
Hannah Traore, FRANCHISE and ALLCITY were several of the many new galleries in 2022 that are ones to watch in the years ahead.
Heavily inspired by her father's African heritage, Hannah Traore sought to champion voices from marginalized communities through her namesake gallery, located in New York's Lower East Side. Photographer Camila Falquez, Jamaican-American artist Renee Cox and Welsh-Ghanaian artist Anya Paintsil were amongst the many who showcased work throughout the year.
Just over the bridge, acclaimed Brooklyn design agency Doubleday & Cartwright entered the art world with their own gallery entitled ALLCITY. When it comes to the intersection of sports and art, Doubleday and by extension the Victory Journal has been a global leader in unearthing the stories that revolve around our favorite pastimes and much of the artwork presented at the new gallery follows suit — from the imaginative collages of Nikkolos Mohammad to Kellen Hatanaka's reflection on his Asian identity.
On the opposite coast, Justin Montag of FRANCHISE magazine took his love for basketball and music and turned it into a community space in LA's Chinatown that serves as part gallery, clothing brand, record label and kick-it spot. Though within its first year, the list of exhibitions have already been special — highlights including a recent show with Jacob Rochester, as well as a solo show by Sissòn.
Biden Reinstates Arts and Humanities Committee Dissolved by Trump
Back in October, U.S. President Joe Biden reinstated the nation's Arts and Humanities Committee that was largely disbanded by former President Donald Trump.
The effort was made to reiterate the importance of the arts as "essential to the well-being, health, vitality, and democracy of our Nation," according to a statement from the White House. The committee was first started in 1982 by Ronald Reagan to oversee federal spending and to preserve cultural heritage.
Many of the members within the organization resigned in 2017, including author Jhumpa Lahiri, actor Kal Penn and artist Chuck Rose, as a response to President Trump's support of White supremacist groups in the wake of the events at Charlottesville.
"Reinvigorating our civic education and supporting American excellence in the arts can and must be a part of your efforts to unify our country," the statement added.
Drake Looks to Save Luna Luna
Imagine a fair where you could ride sculptures specially made by Keith Haring, Jean-Michel Basquiat, Salvador Dalí, David Hockney and Roy Lichtenstein. That actually happened in the 1980s through an ambitious project led by Austrian artist André Heller.
Known as Luna Luna, the art fairground opened once in Hamburg back in 1987 and has largely been lost to history since. Legal and financial setbacks were amongst the many reasons that nixed Heller's dream to tour the park around the world, but thanks in part to Drake, Luna Luna looks to reopen soon. "When I first heard about Luna Luna I was blown away," said Drake in a past statement. "It's such a unique and special way to experience art. This is a big idea and opportunity that centers around what we love most: bringing people together."
The works in the fair are undergoing restorations and a global tour is tentatively slated for 2024.
The Tolkien Estate Unveils New Arts Archive
2022 was a special year for Lord of Rings fans. In addition to The Rings of Power prequel series which saw Middle Earth dialed back nearly two-thousand years before the original films, The Tolkien Estate unveiled a website containing a wealth of unseen drawings and sketches from the author.
Much like many fantasy novels and films, world building is one of the hallmarks of LOTR and Tolkien's maps and illustrations show why his settings were rich with detail. As a professor at the Universities of Leeds and Oxford for nearly 40 years, Tolkien's epic tale was heavily inspired by Old Norse and Gothic tales, along with the Old English epic poem, Beowulf.
Take a deep dive and explore the writings, photographs and artworks that inspired Middle Earth.
Artists Rally Behind Ukraine and Iran
Gerhard Richter once said that "art is the highest form of hope." This belief certainly echoed from one end of the world to the other as artists rallied in support of both Ukraine and Iran amidst the Russian invasion and the current humanitarian crisis in both countries.
Banksy, Marina Abramović, Robert Del Naja and Cindy Sherman were amongst a long list of artists who have sold artworks throughout the year in aid of Ukraine. "These events are tragic and incomprehensible," wrote Izabela Depczyk of Her Clique, a group that held an benefit auction earlier this year. "This war should have never happened and my heart is aching for millions of people affected, including my Ukrainian and Russian friends and family," the statement added.
The past three months have also galvanized artists and activists around the world around the humanitarian crisis happening in Iran. In September, Iranian protestors took to the streets to voice concern over the death of Jîna 'Mahsa' Amini, a 22-year-old Kurdish-Iranian woman who was killed at the hands of the country's morality police, along with the mandatory hijab rule for women, amongst many prevalent issues.
Since that time, there are a number of reports inside and across the global diaspora noting of internet blackouts, along with the death of at least 432 men, women and children, including a public execution of two Iranian protestors Majidreza Rahnavard and a death sentence to footballer Amir Nasr-Azadani.
Shirin Neshat, Hank Willis Thomas, JR and many more have rallied the creative community to raise awareness to the situation in Iran, that although has surfaced only recently across global airwaves, has long persisted since the Iranian Revolution of 1979.
The aptly titled Eyes on Iran is a series of art installations that was recently made to coincide with the efforts of the U.N.'s ongoing 16 Days of Activism against Gender-Based Violence.
Anri Sala: Time No Longer
In a year filled with emphatic exhibitions and traumatic world events, one of the last to go on view, Anri Sala's Time No Longer, was a fitting cap to a moving and melancholic year.
Currently on view in the heart of Paris at the Bourse de Commerce – Pinault Collection, the multi-floor exhibition revolves around the ghosts of time. At the center rotunda, the Albanian artist presents a massive curved LED screen showcasing a Technics record player as if floats sporadically to two haunting melodies that were meticulously overlaid by the artist to reference the horrors of the Holocaust and the explosion of the American space shuttle Challenger in 1986. "This fleeting encounter," wrote a release, "between a music that has existed beyond horror and another that defies the border of the beyond, brings together several types of solitude: that of prison, that of the cosmic void, that of dead."
"It's a kind of letting go," Sala added. "These works are not there to be seen as content, but rather to cultivate within everyone this potential for interval, this discrepancy, loss of balance. I think that if these works succeeded in cultivating this, if they invited us not to be on the beat all the time, in permanent synchronization with what we are given to see or listen to, that would already be something. If I had to give advice, it would be this: cultivate this relationship of syncope within oneself."
Anri Sala: Time No Longer is on view in Paris until January 16.