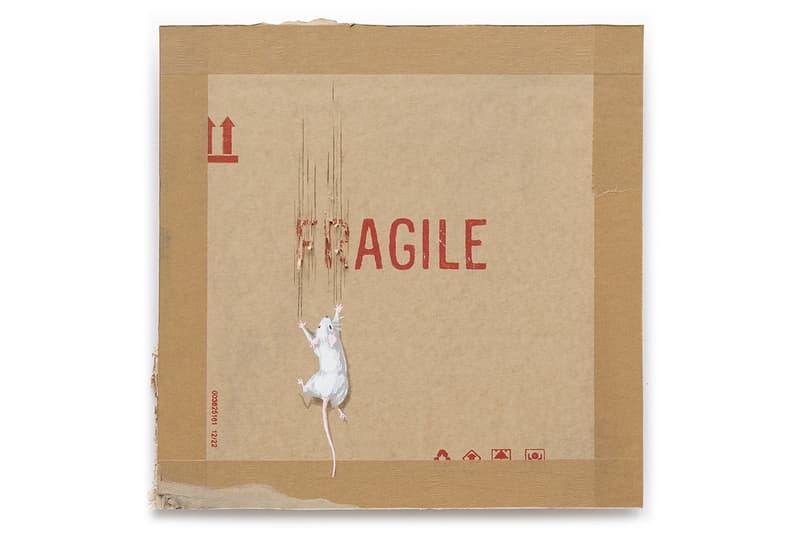 Banksy To Sell 50 Rare Rat Screen Prints To Raise Funds for Ukraine
Partnering with the non-profit, Legacy of War Foundation.
---
Following the confirmation of seven new murals in Ukraine, Banksy has announced the release of 50 new unique screen prints with all proceeds made from the sale going directly to the people of Ukraine.
In partnership with the Legacy of War Foundation, Banksy announced the project on Instagram alongside images of the pieces which depict a white rat scratching out the word "FRAGILE" on what appears to be a cardboard box. Each print will be signed and numbered and will go for £5,000 GBP. With each sale, the funds will go to purchasing vehicles to evacuate the citizens of Ukraine from the war-torn country, while also providing heating to communities facing a harsh and difficult winter. The non-profit organization's website reads that each print is "unique" since Banksy took a "sharpened pizza cutter" to each piece to create the scratching effect, meaning each of the prints will differ slightly from the one pictured.
In a statement provided to the Legacy of War Foundation, Banksy says,
"In Ukraine I saw a Legacy of War team sweep in and provide medical attention, heaters, fresh water and a friendly face to some very desperate people in a bombed out building. They also lent me one of their ambulances to work from, which turned out to be extremely useful when an angry babushka found me painting on her building and called the Police. I feel the least I should do is raise enough money to replace the number plates on the ambulance I hotted up.."
Each print is float mounted in a wooden frame and each customer is limited to purchasing only one. Those who are looking to purchase the piece can register by Friday, December 16 at 12 p.m. GMT online. Only one entry is allowed as multiple entries and bots will be disqualified.
In case you missed it, DRIFT unveils first Asian exhibition in South Korea.