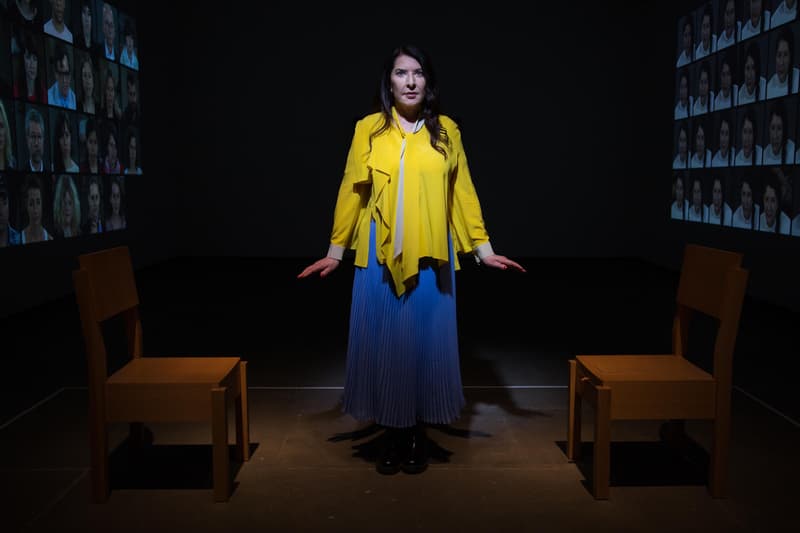 Marina Abramović Hosts Ukraine Benefit Auction
Three winners will be photographed in the artist's current exhibition, "Performative" at Sean Kelly Gallery.
---
Marina Abramović has joined the growing list of artists protesting Russia's invasion of Ukraine. In conjunction with Sean Kelly Gallery and photographer Marco Anelli, the acclaimed Serbian conceptual artist is holding a benefit auction with 100% of proceeds benefitting Direct Relief's Ukraine repsone effort.
Hosted by Artsy, the two lots will feature a unique opportunity to be photographed sitting with Abramović at Sean Kelly Gallery on Saturday, April 16, the final day of her current exhibition, "Performative." Amongst her countless barrier-breaking performances, Abramović is best known for her historic 2010 performance at MoMA in which she sat silently in a chair as visitors to the museum took turns sitting across from her for eight hours a day, over nearly three months.
Each of the two winning bidders will be photographed with the artist by renowned photographer Marco Anelli, who documented every sitting at that iconic MoMA performance. Each sitter will also receive a framed copy of the photograph signed by both Abramović and Anelli, along with a signed copy of Anelli's 2021 publication, Portraits in the Presence of Marina Abramović.
To enter, please register with Artsy. The auction will run until March 25.
In related news, art marketplace Her Clique is highlighting female artists who are selling works to aid Ukraine.