According to Pharrell, There's No Place Like Miami
The culture-shifter talks opening Billionaire Boys Club's new flagship in Wynwood and championing the city's influential design scene.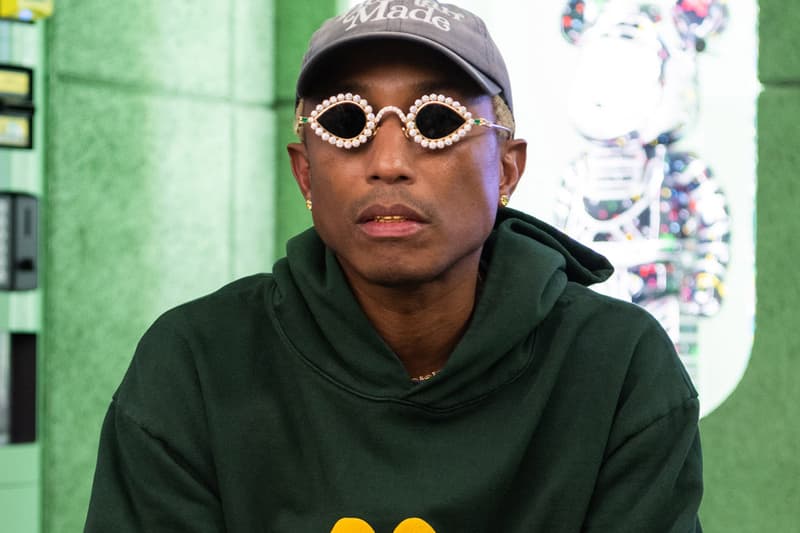 "Man, it's beautiful," Pharrell told Hypebeast, scanning the interior of his newly-opened Billionaire Boys Club flagship in Miami's Wynwood neighborhood. "Miami is a beautiful, beautiful city. There's no other place like it in the world."
Pharrell sees a future in the Magic City. In 2018, he opened a two-floor, 13,500-square-foot dining haven called Swan in Miami's Design District; two years later, the megaproducer purchased a $30 million USD mansion that spans 3.3 acres in the waterfront town of Coral Gables; and in 2021, he opened The Goodtime Hotel in South Beach with hospitality maven David Grutman. With an ever-expanding presence in the city — and his longstanding, omnipresent cultural influence — Pharrell has contributed greatly to Miami's reputation as a leading design center, a title that the city has earned through decades of dedicated, art-focused expansions. So naturally, Billionaire Boys Club needed an outpost in the Floridian metropolis.
Pharrell founded Billionaire Boys Club with Nigo in 2003, and it has since blossomed into a globally recognized clothing, accessories and lifestyle imprint, seated comfortably at the intersection of streetwear and luxury. Under its intentionally ironic moniker, the brand's DNA is fueled by Pharrell's motto: "Wealth is of the heart and mind. Not the pocket." And as it has evolved over almost two decades, BBC has expanded to create its own universe, with a bevy of inspired labels including ICECREAM, Bee Line and Billionaire Girls Club.
"It's my first brand," Pharrell said. "It just continues to grow and evolve. We just keep pushing."
To most, the brand is most easily identified by its signature Moon Man motif, which oftentimes takes center stage across its collections. For Pharrell, that iconography denotes more than just his footprint in fashion; it's a representation of his people.
"If man can make it on the moon, then my friends and people who look like me and people in marginalized communities can make it out of their current circumstances and elevate," he said.
"That's what the Moon Man is about," he added. "To think that it's been 19 years, and it's going to be 20 next year, that premise still stands."
In the center of the store, a massive astronaut sculpture, crafted by Daniel Arsham, reminds visitors of that ideology. Arsham, who represents one-half of New York's renowned installation studio SNARKITECTURE, played a key role in designing the new space with his partner Alex Mustonen. The duo, who also conceptualized Billionaire Boys Club's New York City flagship, reinvented the traditional retail experience for the Miami store, replicating the interior layout of an art studio to prioritize creative endeavors and social engagement.
Notably, SNARKITECTURE constructed the store with materials and finishes inspired by the Everglades National Park. Across its open-concept layout, designs and installations are made from recycled plastics, glass and wood panels. "We're in 2022, and anything less would be disrespectful," Pharrell said of the store's sustainable design.
As friends of his, Pharrell calls Arsham and Mustonen "the brightest and the best." "The more clarity and vision, the better the project will turn out," he added. "There has to be a focus. And so to have that focus, you've got to have the right guys on the team."
Also on the team is the founder and creative director of the revolutionary (and sadly now-closed) Parisian concept store Colette, Sarah Andelman, another close friend of Pharrell's. "That's my sister at this point," he said. "I've known her for … I can't even count the years. I don't do anything without her." As chosen family, Andelman will play visionary for the imprint's collaborations, specifically with Human Made, Comme des Garçons, Bamford, Yellowpop, Baggu, Bunny Shapiro, Krink and Humanrace, which will exclusively reside at the Wynwood outpost.
The Miami store is a sizable feat, but Pharrell is already thinking ahead. He finds himself inspired to continue building up the BBC empire, and at the top of his vision board is one word: individuality.
"It's an amazing realization," he said. "And it's such a gift when one realizes that they have the birth right to exercise that understanding, which is that you deserve to be an individual on all levels, not just your body, gender or no gender, not just your mind, but your spirit. You deserve to exist. That is such a beautiful notion."
"That's exciting to me because that's becoming expressed in fashion," he continued. "Not in terms of what's masculine or what's feminine or more unisex, it's less about that for me. It's more about the existence of one's spirit and the honesty of one's spirit and having the courage to be, and not pretend, but to be."
"That's your job as a human. You're a human being. You are a human that is being. Being in spirit. That shit to me, that's the greatest thing to happen in fashion."
It's safe to assume that individualist design codes will define forthcoming Billionaire Boys Club drops, but for the brand at large, the future is comfortably unknown. "It's continuing to evolve," said Pharrell. "Two years from now, we might be completely unrecognizable. But I mean, if you think about it, won't you?"
Visit Billionaire Boys Club's new Miami flagship at 2545 NW 3rd Avenue. The shop will be open from 10 a.m. ET to 6 p.m. ET on Monday through Thursday, 10 a.m. ET to 7 p.m. ET on Friday and Saturday, and 12 p.m. ET to 6 p.m. ET on Sundays.