General Mills Enlists Celebrity Roster for Limited-Edition Cinnamoji Toast Crunch Cereal
Including Olympic snowboarder Chloe Kim, Spongebob Squarepants and more.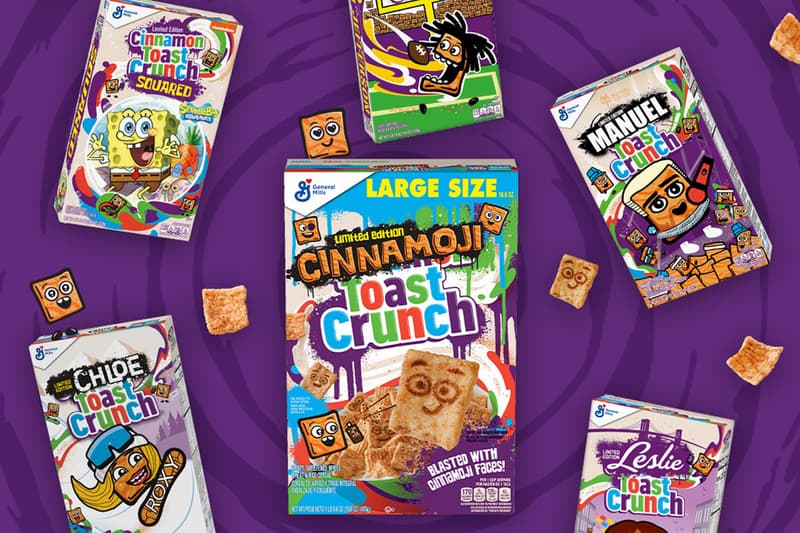 General Mills is launching its Cinnamoji Toast Crunch cereal for a limited time only.
General Mills' popular Cinnadusted breakfast staple releases the first of its kind cereal with a spoonful of emoji-inspired square bites. The new campaign features an impressive celebrity roster, including snowboarder and Olympic gold medalist Chloe Kim, professional footballer Justin Jefferson, actress and singer-songwriter Leslie Grace, and international superstar and aquatic, seafaring survivalist SpongeBob Squarepants.
Chloe Kim's box will kick off the online-exclusive release on January 27 with 10,000 custom boxes and a limited-edition Go-GURT offering, appropriately renamed SNO-GURT in assorted fruit flavors. Kim recently won the women's FIS World Cup halfpipe event at Laax, Switzerland and now is looking to serve up mischievous wheat-based bites with a celebrity twist.
Cinnamoji Toast Crunch will feature celebrity-approved boxes, featuring exclusive swag and a Cinnamoji sweepstakes, where fans can enter to win a fully-custom cereal box and personalized Cinnamoji of their choosing. The boxes will unveil in late February and will be announced on CinnamonToastCrunch.com and Instagram.
Fans can hop on the flavor train online to find the exclusive boxes with instructions on how to enter the sweepstakes. Serving a healthy portion of mirth and whimsy, the Cinnamojis find themselves in good company and your milk of choice later this month, starting at $2.99 USD.
In other food and beverage news, foodies are excited to see Oreo's limited-edition, Batman-inspired packaging, featuring the Dark Knight himself.