A Different Kind of Sportswear Is Coming to the Fore
A new generation of designers are hoping to democratize the sports they love.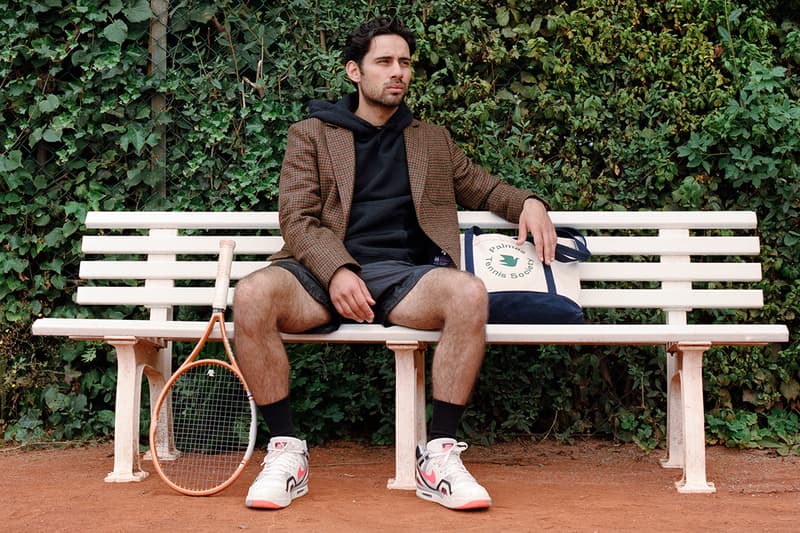 When we think of 'sportswear', what do we think of? For the last several years in menswear, the word was taken to mean tracksuits and sneakers — or, at best, a couple of football-inspired pieces. Yet nowadays, those boundaries are shifting. Earlier this month, GQ wrote about "the new American sportswear," looking, partly, at how lifestyle designers such as Fear of God's Jerry Lorenzo and Aimé Leon Dore's Teddy Santis had taken prominent roles at major sportswear brands (adidas and New Balance, respectively).
Although those appointments were eye-catching, they are set against a wider shift in the relationship between sportswear and fashion. Brands and designers across the world are looking to the cultures that surround sports for their collections, as the boundaries of what 'counts' as sportswear are redrawn. While football, athletics and basketball are still frequent reference points, increasing numbers of designers are also looking to other, overlooked sports for inspiration.
"We are broadening the scope of tennis by combining it with outside influences to emphasize the idea that tennis as a sport and culture is, and should be, for everyone."
Specifically, they are looking towards activities considered preppy, a style that hasn't entered fashion in any significant way since the mid '00s. The preppy influence was widespread, and the style was adopted by figures including Andre 3000, Kanye West and Fonzworth Bentley as it reached a saturation point. Back then, it was defined by a playful adoption of the dress codes lifted from typically exclusionary sports: polo, tennis, rowing, riding. At that time, the trend was largely built around polo shirts, pastel colours, and knowingly over-the-top accessories (bowties and equestrian gear were common). Arguably, West's pastiche of prep was the nail in its coffin. Now, though, it's reemerging — still influenced by the aesthetic codes that have governed these predominantly white, upper class sports, but challenging the exclusive reputation that each one has, historically, upheld.
The Copenhagen-based Palmes Tennis Society is part of a new wave of tennis-inspired brands, which draws influence from the classic iconography of the sport. "I started playing tennis a year ago, having only played sparsely through my youth," says founder Nikolaj Hansson. "I had never really felt that tennis as a sport was approachable to me from a sociocultural perspective."
In Hansson's eyes, he was far from alone in feeling like this. "I think most people have always been fond of tennis culture and how the sport looks when viewed from afar; the traditional tournaments, the clay courts, the iconic shoes that have become mainstays in popular culture, the epic rivalries on the elite level. But I feel like many people have always run into this socio-cultural barrier of entry, where only a few people fit the profile."
Tennis isn't the only sport with those perceived barriers. The widespread view of golf is that it is just as exclusive as tennis, potentially putting off millions of players. In recent years, however, new brands such as Whim Golf and Manors have put forward a more inclusive and diverse representation of the sport. While this image may contrast with how golf is perceived, it actually aligns with its reality. "When you go to a driving range in downtown Chicago or wherever, you see how many people the game touches," says Colin Heaberg, co-founder of Chicago's Whim Golf.
For Heaberg, and his co-founder Will Gisel, the brand offers the perfect opportunity to share the sport they know and love. "Our goal is to democratize the game, to present our view of the game as a terrifically rewarding challenge that is for all," Heaberg continues. "By simply showing that diversity and producing clothing that doesn't completely align with the rest of the market, we have created a new image for the game. Our hope is that more people identify with what we are presenting, and it inspires them to try."
"When you go to a driving range in downtown Chicago or wherever, you see how many people the game touches."
Both Whim Golf and Palmes Tennis Society are using clothing as a way to communicate the benefits of their chosen sports. "The overarching aim for Palmes is really to show the world of tennis in a broader and slightly contemporary scope," says Hansson. "It's tying in elements and emotions from the spheres of art, architecture, design and even skateboarding, to create something that people who've never stepped onto a tennis court can identify with, and hopefully they will fall in love with tennis from there. We are broadening the scope of tennis by combining it with outside influences to emphasize the idea that tennis as a sport and culture is, and should be, for everyone."
Few brands have the sportswear pedigree of Rowing Blazers, which was founded by former US National Rowing Team member Jack Carlson. The brand's roots, and name, come from the blazers worn by rowing clubs across the world, which Carlson first came into contact with while competing at the Henley Regatta. Experiencing this rarified world began the process that would lead to the foundation of Rowing Blazers, which Carlson describes as "timeless, classic, but inclusive, irreverent, a bit subversive."
Despite having its origins in the exclusive world of rowing, Rowing Blazers also incorporates other influences and collaborations, helping to diversify the image of the sport. In recent years, the brand has worked with Noah on a charitable collection, Umbro on a football-inspired release and the NBA for a basketball-inspired collection. "Rowing is an important part of the brand's DNA but of course the brand goes way beyond rowing now," Carlson adds.
While the label's collections offer a new vision of rowing, Carlson is also involved in other activities that aim to democratize rowing. The 2018 collaboration with Noah raised money for Row New York, an organization Carlson serves on the board of. "It's a rowing and academic program for kids in New York, mostly from under-resourced communities. They are doing a lot to change the face of the sport," he says. "I think what we're doing as a brand is helping with that effort too."
Although Rowing Blazers is aiming to foster a more inclusive approach to rowing, the heritage of the sport is also important. "The most important thing we do with rowing are the blazers we make for rowing clubs and teams — from Harvard to Cambridge to Washington to the US and German national teams," Carlson explains. "I think we are stewards of that tradition."