Kanye West's Post-Apocalyptic Style Is a Reflection on Reality
Breaking down the rapper's shift from YEEZY-beige to Balenciaga-black.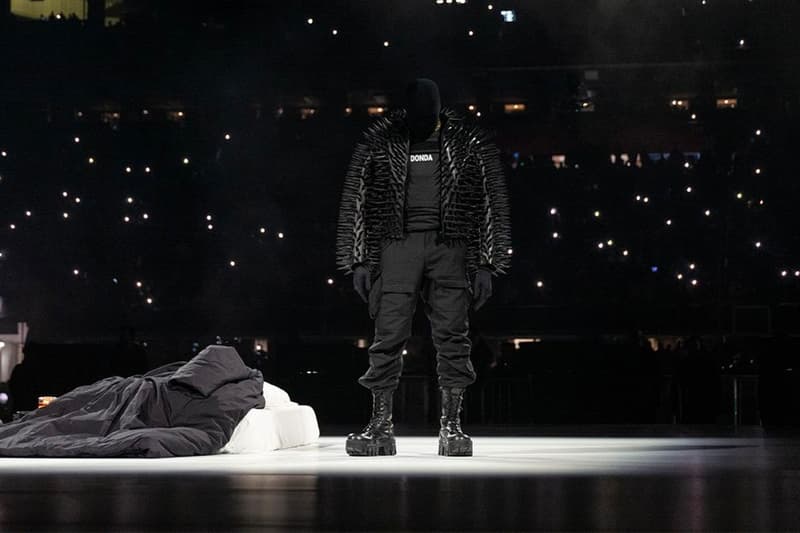 Kanye West's visual style seems to evolve and shift into a new era in line with the release of each of his albums. From the College Dropout years of preppy pink polos to the neo-futurism of Graduation (which briefly made shutter shades into a worldwide phenomenon), to single-handedly turbo-charging the sales of Riccardo Tisci's Givenchy during Watch the Throne, each release has seen 'Ye change not only his aesthetic, but the visual cues of a generation of fans. 
Divisive he may be, but there's no denying that he influences trends like almost no one else in music today. His looks filter down into the mass market one way or another — whether it's his normcore dad rig or neon hues, we've all (often regrettably) been there.
Most recently, then, has been the YEEZUS era, which was defined by a utilitarian look (in keeping with the style of his YEEZY brand). Desaturated camel, khaki, and gray hues combined with combat boot-like YEEZY 950s on foot, which soon pivoted towards more retro-tech sneakers such as the 500 and 700 matched with workwear-inspired pieces in a wider range of tones. 
But as he enters a new era (backed by the delayed release of DONDA), everything 'Ye has been up to these past few weeks feels as though it's shifted into a darker, broodier, more post-apocalyptic phase.
It reached its zenith at last week's DONDA listening party, where he appeared decked in the likes of Balenciaga and Bottega Veneta (with creative direction from the former's leader, Demna Gvasalia, who dressed the rapper in Balenciaga's porcupine-spiked jacket). It's an interesting transition; metamorphosing from low-key, under-the-radar looks and his notoriously minimal-chic home with Kim Kardashian into a more bombastic — if bleakly dystopian — approach to dressing and living. 
It's a shift that's reflected in the wider menswear sphere, too. For Fall/Winter 2021, Rick Owens delivered a collection that was as post-apocalyptic as 'Ye's new visual identity. Set against brick walls and smoke, models were clad in full-face coverings, heavily padded garments, pleaser-esque boots, and sunglasses that wouldn't be out of place in The Matrix. Elsewhere, Matthew M Williams' Givenchy and Daniel Lee's Bottega are united by a predominantly black, subculturally-inspired leather-heavy aesthetic. And while the sub-label of Gvasalia's former brand, VTMNTS, experimented with color for its inaugural SS22 collection, the entire collection was marked by an angstier mood. The sparse offerings from West's own collections for Gap have also been defined by a harder-edged, more synthetic look.
Arguably, it's a shift that was precipitated by Balenciaga. The brand's Fall 2020 show, which took place pre-pandemic (and provided West's spiked jacket), was a reflection on climate apocalypse, and featured an almost entirely black menswear offering in leather, rubber, and synthetic fur. It's a mood that was carried through to the brand's Afterworld video game, which featured a similarly dark approach.
What does it all mean? Well, we expect Bottega Veneta's hugely-imitated, heavy-soled boots to remain on every designer's mood board of inspiration. Leather pants — a longtime West staple — look set to become ever-more popular (for proof, look to Frank Ocean's just-released Financial Times cover), and minimal brands from The Row to noir kei ninomiya are set to experience a boom. 
As for Kanye West, his DONDA-era look leaves room for speculation. It's iconoclastic and devilishly Hellraiser, but a stark contrast to the apparent domestic focus of the album itself. Yet we know already that the album will broach more religious themes — a mood-driven home by the videos of West ascending into the darkness of the Mercedes-Benz Stadium. So is this West's end-of-days era? Maybe the rapper knows something we don't.