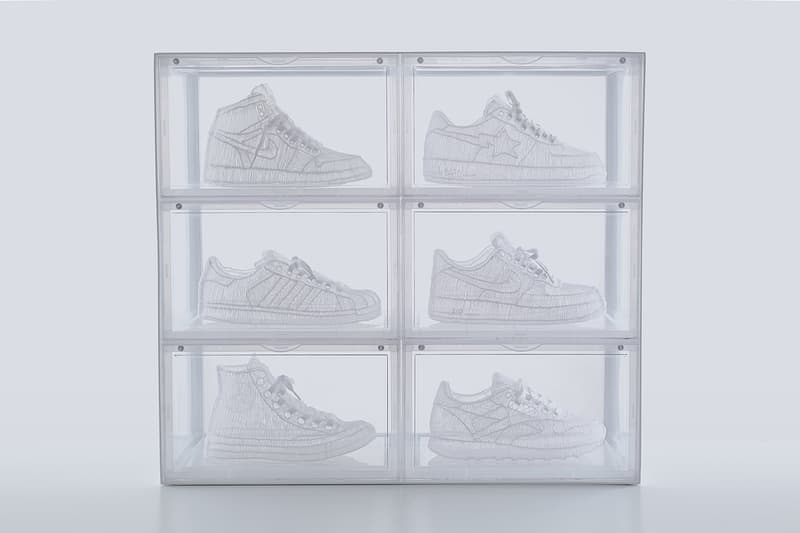 Izaak Brandt's Artworks Reduce Sneakers to Skeletons
The British artist is part of a group show opening today in London.
---
Is sneaker culture a form of fetishization? That's the question being posed by the artist Izaak Brandt, whose new work 'Deadstock Archive: The Classics' aims to probe our obsession with acquiring rare styles.
The piece takes six of the most famous and recognisable classic sneakers: the Air Jordan 1, BAPESTA, adidas Superstar, Nike Air Force 1, Converse Chuck Taylor and the Reebok Classic. But each of them has been transformed into a semi-transparent, skeletal sculpture, which now exists only as a decorative object. What remains are a kind of 'ghost' of the sneaker that was there before, preserved in a powder-coated steel frame.
In doing so, Brandt hopes to highlight how sneaker collectors strip away the functional purpose of the footwear they collect, transforming a practical item into a piece of sculpture.
The 'Deadstock' series is an ongoing project for Brandt, whose Instagram channel shows previous renderings of footwear from YEEZY, Crocs, Merrell, and Prada, among others. The artist has also worked on collaborations for brands including Louis Vuitton and the emerging British designer Saul Nash (who HYPEBEAST tipped earlier this year as one of sportswear's brightest rising stars).
'Deadstock Archive: The Classics' forms part of the Sarabande Foundation's group show, 'Served', which opens in London today, and runs until September 2. The foundation was set up by the designer Alexander McQueen in 2006, before his death, and offers mentoring, studio space and financial support to emerging artists.
Among the other artists on show is the painter Evie O'Connor, an artist in residence at the foundation, who is best-known for her colorful canvases and painted ceramics. And in other streetwear-meets-art crossovers, check out the latest showing from Cali Thornhill Dewitt. 
Sarabande Foundation
22 Hertford Road
London
N1 5SH