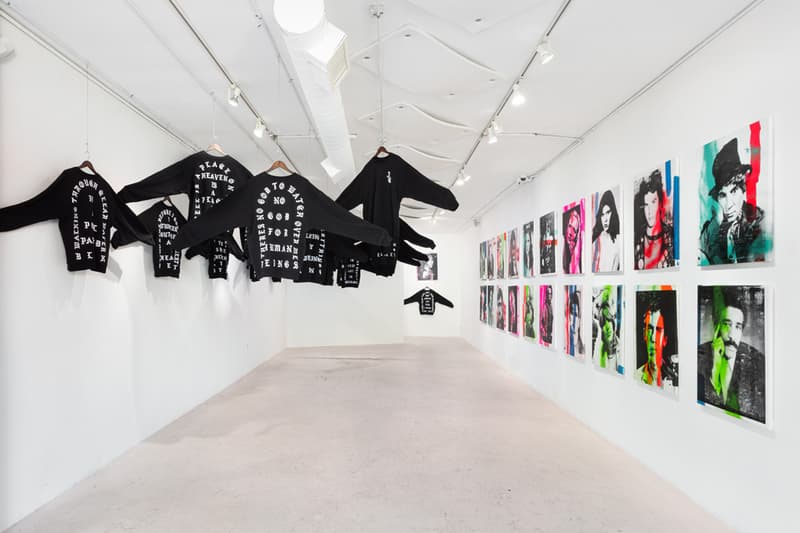 Cali Thornhill Dewitt's "Haunted House" Uses the Crewneck as an Obituary Tribute
Paying respects to cultural figures such as Darby Crash and Whitney Houston.
---
Cali Thornhill Dewitt's eclectic career has spanned working on capsule collections with NEIGHBORHOOD and HYPEBEAST, to showcasing art at Brixton Village Market and Tokyo's COMMON Gallery. For his latest exhibition, "Haunted House," the Los Angeles-based artist uses his background in streetwear to speak on the tragic fate to befall some of the most revered musicians and entertainers in history.
The solo exhibition is located at Los Angeles' One Trick Pony and features 20 never-before-seen obituary sweatshirts designed by Dewitt, alongside a grid of two-tone portraits of the obituary subject. Amongst the legendary figures on display, you can find a piece dedicated to Whitney Houston, Joan Crawford, Carrie Fisher, Harpo Marx and Darby Crash.
Speaking on this latest body of work, Dewitt tells Hypebeast:
"These are portraits, both text based and actual portraits, of 21 people who's work and lives are heartbreaking and messy, singular and inspirational, beautiful and frightening. Most of them ended in some form of tragedy. History has showed us, time and time again, there isn't much room on this planet for people with this kind of vision. They are too beautiful for this world."
Fans of Kanye West's The Life of Pablo merch, will instantly gravitate towards Dewitt's work which, for this sereis, will run at One Trick Pony until August 28.
Also happening in art, Yoko Ono invites you to mend broken pottery in her new interactive exhibition at Whitechapel Gallery.
One Trick Pony
1051 S Fairfax Ave.
Los Angeles, CA 90019