Best New Tracks: Baby Keem x Kendrick Lamar, Halsey and More
Enjoy the weekend with these 10 music projects.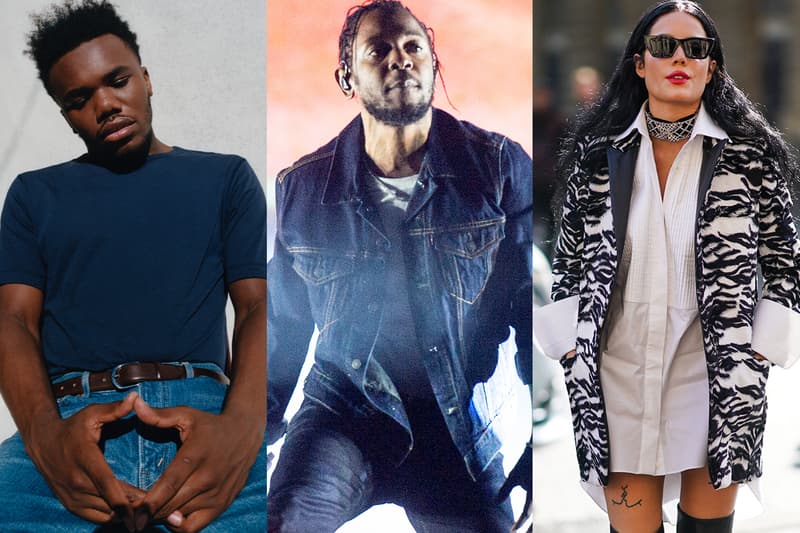 As the week in music comes to a close, HYPEBEAST has rounded up the 10 best projects for the latest installment of Best New Tracks.
This week's list is led by Baby Keem and Kendrick Lamar's collaborative debut "family ties" and Halsey's latest full-length record, If I Can't Have Love, I Want Power. Other albums joining this week's list are Westside Gunn's Hitler Wears Hermes 8: Sincerely Adolf, Belly's See You Next Wednesday, Lil Tecca's We Love You Tecca 2, Jackboy's Jackboy 2 and the deluxe editions of WizKid's Made in Lagos and Jaden's CTV3. There's also Kehlani's Cloud 19 hitting streaming services for the first time, and a new single from Headie One entitled "2 Chains."
Baby Keem x Kendrick Lamar – "family ties"
Baby Keem enlisted the help of cousin and pgLang head Kendrick Lamar for "family ties." The track is billed as the debut single from his highly-anticipated upcoming album, The Melodic Blue, and is p roduced by Cardo, Outtatown, Roselilah, Jasper Harris, Frankie Bash, Deats and Keem himself. The cut also arrives with an accompanying music video directed by Dave Free and features appearances from both artists and Normani.
Listen: Spotify | Apple Music
Halsey - If I Can't Have Love, I Want Power
Halsey followed up her 2020 record Manic with If I Can't Have Love, I Want Power, which is impressively produced by Nine Inch Nails' Trent Reznor and Atticus Ross. "This album is a concept album about the joys and horrors of pregnancy and childbirth. It was very important to me that the cover art conveyed the sentiment of my journey over the past few months," they wrote on Instagram. "The dichotomy of the Madonna and the Whore. The idea that me as a sexual being and my body as a vessel and gift to my child are two concepts that can co-exist peacefully and powerfully."
Listen: Spotify | Apple Music
Belly - See You Next Wednesday
Belly finally returned with his stacked new album See You Next Wednesday, executive produced by The Weeknd, DannyBoyStyles, The ANMLS and the artist himself. The 15-track record features high-profile appearances from the XO Records head, Nas, Young Thug, Moneybagg Yo, PnB Rock, Gunna, Nav, Big Sean, Lil Uzi Vert and Benny the Butcher. "Before I officially close out an album, there's two people I play it for to get the seal of approval. Hov and Abel," he said in a statement. "That being said, I can officially say the album is done."
Listen: Spotify | Apple Music
Westside Gunn - Hitler Wears Hermes 8: Sincerely Adolf
Griselda titan Westside Gunn dropped his eight Hitler Wears Hermes 8 project, Sincerely Adolf, the same night he was present at Kanye West's DONDA listening party in Chicago. For Gunn's release, he joined forces with Lil Wayne, Jadakiss, Benny The Butcher, Conway The Machine, Stove God Cooks, Sauce Walka, Boldy James, Mach-Hommy and Rome Streetz, with Sincerely Adolf's second volume releasing on September 3.
Listen: Spotify | Apple Music
Lil Tecca - We Love You Tecca 2
Less than a year after dropping off his debut studio album Virgo World, Lil Tecca delivered his second mixtape, We Love You Tecca 2. The 20-track project features appearances from the likes of Gunna, NAV, Trippie Redd, Lil Yachty and more and is the sequel to 2019's We Love You Tecca. Its predecessor debuted at No. 4 on the Billboard 200 and is currently certified platinum by the RIAA.
Listen: Spotify | Apple Music
Kehlani - Cloud 19
For the first time since its release, Kehlani's debut mixtape, Cloud 19, is finally available on streaming services. The 2014 effort is widely considered as her breakout project and features guest verses from Kyle Dion on "How We Do Us" and Iamsu! on "Act a Fool." Despite not charting, Cloud 19 served as the jump off point for Kehlani's career, with her followup You Should Be Here hitting No. 5 on the Billboard US Top R&B/Hip-Hop Albums.
Listen: Spotify | Apple Music
WizKid – Made in Lagos (Deluxe)
WizKid shared the deluxe edition of his stunning 2020 record, Made in Lagos. Now with 18 tracks, the new version includes a total of four new songs — "Anoti," "Mood" with Buju, "Steady" and a remix of "Essence" with Justin Bieber and Tems. The album's original edition hit No. 1 on the Billboard World Albums and is, as of writing, at No. 4.
Listen: Spotify | Apple Music
Headie One – "2 Chains"
Headie One dropped of his newest single "2 Chains," produced by M1onthebeat and TwinTwo, along with its DAPS-directed music video that borrows the aesthetic of Call of Duty and Warzone. "2 Chains" follows the EDNA rapper's "Pound Signs," which he released earlier this June.
Listen: Spotify | Apple Music
Jackboy - Jackboy 2
South Florida's Jackboy is back with Jackboy 2, the second installment of his 2020 project. The 23-year-old rapper's latest release is evidence of both his personal and musical growth, and features Fireboy DML, Plies and Money Man, plus production from the likes of Jai Beats, Seph Got The Waves and more.
Listen: Spotify | Apple Music
Jaden - CTV3: Day Tripper's Edition
Jaden shared an expanded deluxe version of CTV3, which features a total of 19 tracks. The Day Tripper's Edition features guest appearances from the likes of Justin Bieber, Babe Rainbow, Joey Bada$$, Raury and more. "I Really Don't Know What To Say. Making This Album Has Really Been One Of The Hardest Things I've Ever Put Myself Through," Jaden said in a statement. "This Is For The Day Trippers And All The Lonely Hearts I Love You And We Won't Be Crying Forever."
Listen: Spotify | Apple Music