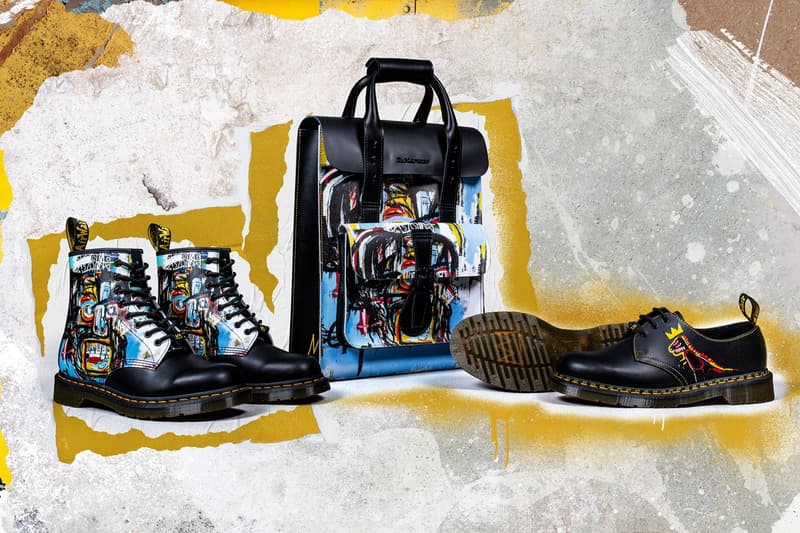 Why Is There Such a Boom in Basquiat Merchandise?
You can take home the artist's iconography on everything from skateboards to slippers. But is there a risk of consumer fatigue?
---
You wake up in the morning, and turn off the alarm on your Basquiat-printed phone. You take a loving look at the Basquiat-printed BE@RBRICK on your bedside table, and throw on your Basquiat-printed shirt, pick up your Basquiat-printed skateboard, and slip your feet into a pair of Basquiat-printed DCs. Or Doc Martens.
And those are just the releases since this spring. Beyond that, the artist's works have been applied to everything from candles to slippers to hoodies and watches. And he's not the only one: his contemporary, Keith Haring, is equally plastered everywhere.
"Collaborations need equilibrium: that the artist, or their estate, are getting as much out of the collaboration as the fashion brand."
It's a curious irony that those two figures — whose identities as a Black man and a gay man, respectively, positioned them as 'outsider' figures in their own lifetimes — have become arguably the most profitable of artists to sell to the mass market. So where did this boom in merchandise spring from?
The rationale from the artists' side remains murky: Artestar, which manages the licensing of Basquiat, Haring, and other artists, declined to speak to HYPEBEAST about the strategy behind their management of the artists' estate. Yet in an interview given earlier this year, the company's president, David Stark, insisted that the commercial significance of these partnerships is "a secondary part", sitting behind the "storytelling" that such collaborations offer.
The writer Charlie Porter, whose book What Artists Wear examines the relationship between artists and clothing, believes their omnipresence is partly due to an increased appetite for their works, based on their scarcity. "Both Basquiat and Haring were artists of the street," he says, "and the art industry has been playing catchup since. Even now that they are accepted as major artists, it's pretty hard to see their work: there are no works by either of them in the Tate collection, and only works on paper by both at MoMA."
"This is why they are such perennials for fashion collaboration – it's so hard to otherwise see their work", he says.
"It's fairly apparent when you are faced with something that feels like a truly genuine moment."
There's an accessibility, too, to their iconography — which makes it easy to apply to other mediums. "In many ways, they were the perfect pre-Instagram creatives," says Simon Chilvers, creative director at Matches Fashion. "They own super punchy, strongly-recognisable handwritings that pop on a canvas the way clothes now need to pop on a phone screen." And it makes them straightforward to replicate on merchandise: it's far easier to spot a Keith Haring at 100 paces than a John Baldessari.
What's more, both artists maintained a level of celebrity during their lifetimes which stretched far beyond the art world. "They've always been a part of the popular consciousness," says the art critic, writer, and editorial director for the fine art sales platform 1stDibs, Anthony Barzilay Freund. "​​The fact that they were friends with Warhol, or going to Studio 54…they lived these lives where their personal exploits were well-known. So they have name recognition among the larger consumer audience."
There's a risk, though, that by continuing to spin their works into ever-increasing merchandise collections, the political and social justice issues that they represent might be lost. Haring's work wasn't just about squiggly line drawings — it was a reflection on his own gay identity. And the symbolism of Basquiat's paintings is arguably harder to parse when it's applied to a scented candle.
"Collaborations need equilibrium," says Porter, "that the artist, or their estate, are getting as much out of the collaboration as the fashion brand." He points to Dior Men's recent collaboration with Peter Doig as a successful example for it. But he believes, too, that link-ups between fashion and art shouldn't always be so focussed on churning out product.
"Anthea Hamilton's work with Loewe was fantastic and all the better for their being no product," he says. "There was no merch in the store, nothing spun off from it."
There's a risk, too, of over-saturating the market, and ultimately boring potential consumers. As one HYPEBEAST commenter remarked of a recent Basquiat collaboration, is there anything left to print these artworks on to?
"Yes, there is the potential for fatigue," acknowledges Chilvers. "But for those who appreciate good design or great art, it's fairly apparent when you are faced with something that feels like a truly genuine moment."
He stresses, too, that not every art tie-up is a purely cynical exercise. "These one-off fashion moments can become collectable in their own right – I can't afford a Robert Mapplethorpe print, but I can hang a Raf Simons Mapplethorpe tabard on my wall."
"In many ways, they were the perfect pre-Instagram creatives"
As Freund points out, the glut of products from these artists has done little to dent the popularity of their real works. In March of this year, Basquiat's 'Warrior' became the most expensive Western artwork ever sold at auction in Asia, when it was listed for $41.9 million USD. And as recently as 2017, a work by the artist reached $110.5 million USD at auction in the United States.
Yet the estate of the artist will likely have made nothing from either of those sales — instead, the money will have gone to the collectors and dealers. So it's hard to begrudge the estates (which are often families of the artists) for trying to make some profit from the works — though its plausible that the shifts in artistic ownership due to the rise of NFTs could shift this model forever.
Until then, there's little risk that the inundation of merchandise will weaken the value of the works themselves. "The guy who's buying the multi-million dollar artwork isn't the same guy buying the t-shirt," says Freund. "I'm not such a cynic about it — there's always been profiteers, and people who wanted to raise their social standing through affiliations with art."
"And besides," he adds, "I'm sure the guy who owns the $100m painting thinks its' really cool that someone is wearing the t-shirt with his work on it."