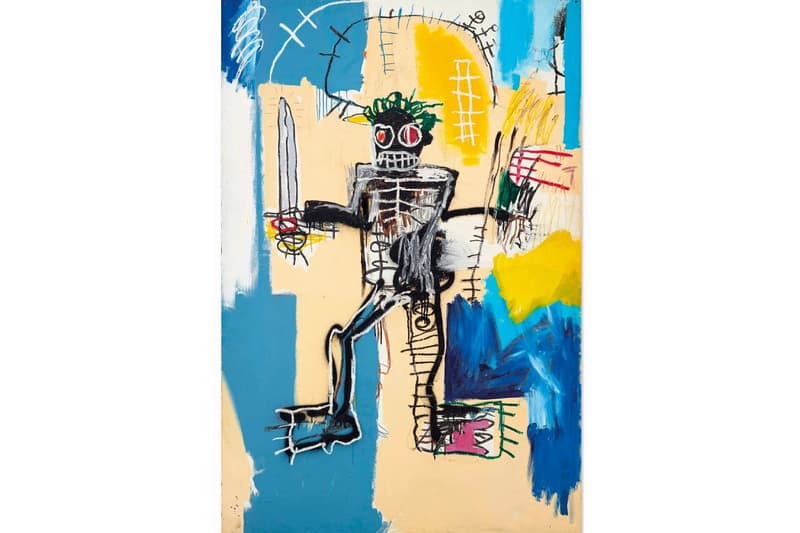 Basquiat's 'Warrior' Becomes Most Expensive Western Artwork Auctioned in Asia
A significant work meant to "symbolize the struggles of Black men in a white-dominated world."
---
In February, Christie's Hong Kong announced that it will be listing Jean-Michel Basquiat's 1982 painting, entitled Warrior, up for auction as part of its Global Spring Season of 20th Century sales. The artwork portrays a bold, anatomical subject brandishing a sword and shield with made with forceful lines alongside blue and yellow color blocking in the backdrop. With this mixed-media piece on wood panel, Basquiat wanted to "symbolize the struggles of Black men in a white-dominated world," as per The New York Times.
Warrior recently sold for $41.9 million USD with fees, becoming the most expensive Western artwork ever sold at auction in Asia. Having an initial pre-sale estimate between $31-$41 million USD, Warrior was offered unconventionally as a single lot and led the live-streamed evening sale which also included several old masterworks including a rediscovered portrait by Vincent van Gogh entitled La Mousmé. The sale is a milestone for the Western art market in Asia and follows the auction house's continued success from previous auctions especially in London and New York that realized  $61,139,818 USD in total value.
"Basquiat is one of the strongest markets coming out of the pandemic," said Christophe van de Weghe, a dealer who specializes in Basquiats told the Times. "It's worldwide. You can sell Basquiat, like Picasso, to someone in India or Kazakhstan or Mexico. You can have a 28-year-old spending millions on Basquiat and you can have a guy who is 85. He appeals to all kinds of people, from rappers to hedge-fund guys."
Get a closer look at Basquiat's Warrior above and then head to Christie's website for more information on the sale.
In case you missed it, Christie's offered free NFTS back in 2018 and now they're worth thousands of dollars.