Rick Owens Is Ready to Embrace the World
The legendary designer is spreading his message through new collaborations and a new approach.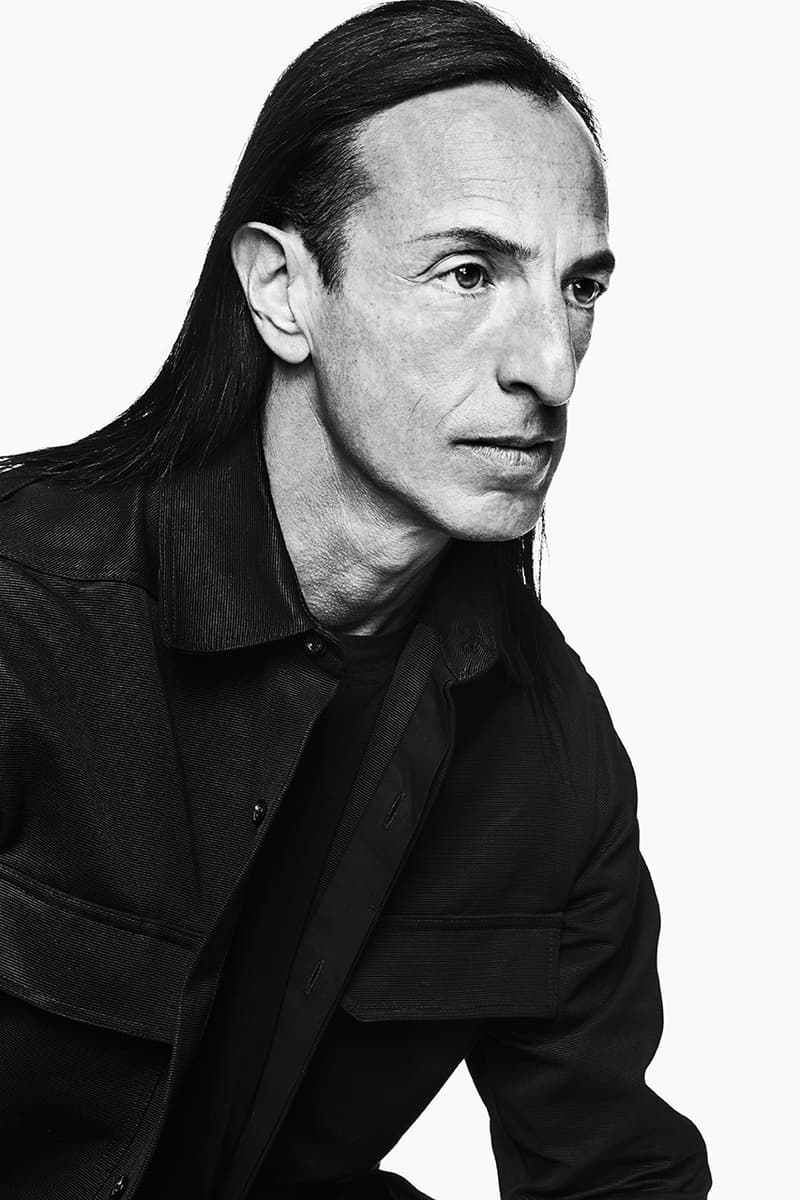 Rick Owens Is Ready to Embrace the World
The legendary designer is spreading his message through new collaborations and a new approach.
Despite everything, Rick Owens had a good year. When the COVID-19 pandemic showed no sign of slowing, he decamped to the village of Concordia, Italy, where his factory is based. Owens describes the location as idyllic, but is also aware of the privilege it affords him. "It seems less ominous here in a provincial village than it does in the middle of the city," he says. "It's not like there's much to do here anyway, so we don't feel the absence of stimulation." Owens' time in Concordia — where he is currently planting a new vegetable garden and reconfiguring the Owenscorp cafe menu — is symbolic of how his priorities have changed over the last 12 months.
This interview is taking place almost exactly a year since restrictions were announced across Europe. Paris, the city Owens has called home for 18 years, has just been plunged into another month-long lockdown. "I'm coming from a privileged corner, I didn't have to endure a lot of the hardships and I totally sympathize and empathize with that," he says. "I had a certain amount of comfort, I was able to get quieter. I'm kind of reclusive anyway, so an excuse not to engage with the world wasn't really a problem. I'll really remember the first lockdown as a magic time, being forced to sit under a tree every day and read was a blessing, being able to appreciate everything we had, being able to appreciate how far we'd come, and being able to develop the relationships with the people closest to us. I'll never forget it."
Owens' appreciation of the last year represents the two sides of the pandemic: while many have experienced their hardest and most traumatic times, others have been able to press pause. In Owens' case, the enforced break gave him and his team a new appreciation of what they were doing. "When we started going back to work, everybody was so happy to be back together and back at work. That was joyful. Everybody was determined to not let this slow us down," he says.
"I'm kind of reclusive anyway, so an excuse not to engage with the world wasn't really a problem."
Once the team was back together, they worked on Owens' sombre Spring/Summer 2021 presentation, which was modelled by Tyrone Dylan Susman and shot entirely in his studio. "That felt like the suitable thing for the moment," Owens continues. "It felt modest, intimate and personal." After that show, however, it was time for Owenscorp to open up. Rick Owens' Fall/Winter 2021 show was an altogether different affair, shot in Venice — where Owens lives for half the year — and featuring a bigger cast of models. "I realized we have to fight back," he explains. "If we are supposed to be representing excellence in this field, we have to step it up, we have to be a good example and we have to do our very best."
Although the FW21 "GETHSEMANE" show was more expansive, it was all put together by the small team at Owens' studio, as the designer continued to strip things back. "Some of us have been together for 18 years, so this was a completely new way to play together. The team were there from the conception of the collection, putting it together, assembling everything to the final presentation," Owens says. "That was very fulfilling for all of us, it was a different dynamic that was really bonding. It turned into a personal, private little ceremony."
It would be easy to dismiss fashion as a frivolity, particularly in these times. Owens is awake to that. But he views the medium as a vital means of communication — and, in his words, "communicating is what we're put on earth to do."
"I do believe fashion and aesthetics are a cultural contribution, I believe they move civilization forward," he says. "You're giving a lot of messages through the way you adorn yourself, and adorning oneself has been a human instinct forever."
"The way you are telling people who you are through your clothes will never die, it's an important part of communication. It's like breathing, eating and f*cking. You've got to do it." Besides, he jokes, "I can't do anything else, so I like to think of it as a contribution."
While the idea of expressing yourself through your clothing is universal, Owens' work has always veered towards the subcultural. For three decades, he has fostered a devoted fan base which goes all-in for his designs — no matter how fantastical. "Cult" is the word most frequently attached to his following. For Owens, that is partly because of the clear ethos and aesthetics he has pursued. "We built a strong identity that people can identify with, but that probably excluded some other people," he says, "which I regret, because it was supposed to be inclusive but it ends up being exclusive."
Yet unlike so many of his competitors, Owens isn't fixated on endlessly growing his audience. "The clothes I make serve a niche," he says. "That niche has always been there, and that niche will always be there. It's not hugely popular, but that's OK because I don't need to be huge."
Aware that the world he's created can be seen as exclusive from the outside, Owens is beginning to open up, and is developing new entry points into his world. At the end of last year, he announced a string of collaborations that included Moncler and Stüssy, while this year began with a divisive release in partnership with Converse, followed by a new take on the Dr. Martens 1460 and, now, his second collection with Champion.
"I do believe fashion and aesthetics are a cultural contribution, I believe they move civilization forward.
"Doing collaborations has been an interesting new exercise for me — originally I dismissed collaborations as hype machines and I rolled my eyes, like a lot of us," he explains. "I've been aloof and reclusive for so long, but I changed my life a little bit and I opened up a little bit more. I was ready to talk to people, I was ready to participate in the world more. Before, I had my head down, working on my own in isolation. I'd been doing that for 18 years, and it felt like time to look around and meet some people, get involved and participate in the world."
As well as opening himself up to the world — and to new people — collaborations have also helped Owens continue to spread his message. "The message I've been saying for a long time is one of tolerance," he explains. "Intolerance is something that I lived with for all of my youth and I really resented that. I resented a conservative intolerance judging me so I retaliated. My career has been one long act of revenge. Being able to spread that revenge and that spirit out, that's too enticing and I can't resist."
As a result, Owens' work– particularly in recent years — has moved further into the realm of wearable sculpture, with the aim of expanding and redefining what fashion can look like. "I have proposed ideas that have not been universally beautiful, or do not fit into the sometimes very rigid standards of conventional beauty," he says. "By blurring those borders, or expanding them, I have done a service. I have encouraged people to think outside the narrow parameters of our contemporary cultural aesthetics."
As he continues to broaden his message, Owens' next project is the newly-revealed collaboration with Champion. While this is only the second time the two brands have worked together, it represents a much longer, more casual relationship, which began with Owens partly basing his label's logo on Champion's signature script (combined with a Jean Patou perfume label from the 1930s).
A key focus for this collaboration is a move towards sustainability. Throughout the collection, items are constructed from organic, local and recycled materials — a prerequisite for Owens, who has been increasingly concerned about ethical production. "It's about responsibility, and I love the idea of responsibility," Owens says. "The fashion world can be so much about entitlement, but the idea of being grateful for what you've got, and trying to make the best of things, that's a message I've been pusing a lot. Thinking responsibly and less gluttonously. I like that."
He hopes, too, that his approach will shape the practices of other fashion industry players. "When I do collaborations, I'm working with big groups," he adds. "Big groups have a hard time making changes, so when I do these collaborations and I emphasize that it has to be made in Italy with a certain radius from my factory, it has to be made from organic fibers, it has to be more conscientious, I'm encouraging these companies to apply that to other elements of their business. Being able to work from the inside and influence companies like that is a tremendous advantage, it's a tremendous attraction for me. Doing it on my own is one thing, but this is encouraging other people to do it as well."
"I have proposed ideas that have not been universally beautiful, or do not fit into the sometimes very rigid standards of conventional beauty."
Going forward, Rick Owens is keen to learn from the lessons of the last year. Partly influenced by the smaller way he and his team have had to organize shows this year, they are all experimenting with new roles at Owenscorp HQ. "We're asking people to wear new hats here in our group, and it's great, having been so stable for so long. Everybody has to shift around and try on a new hat."
The last 12 months have allowed Owens to take stock of everything he has achieved over his career, giving him a new perspective on his work, and a new message that he is keen to spread. "We have a certain level of confidence now, whereas before it was more about survival," he says. "Now there's a little more room for play, and play is essential. Play is one of the most important things in life. Being able to encourage a little bit of that seems like a great thing to do, and doing it with our family here… that's a great new dynamic."
In the short term, however, Owens has a new focus for his energy: "My vegetable garden, my beautiful vegetable garden here in Concordia."