UPDATE: Tour de France Drops Lawsuit Against Spectator Who Caused Crash
After fears she had fled the country.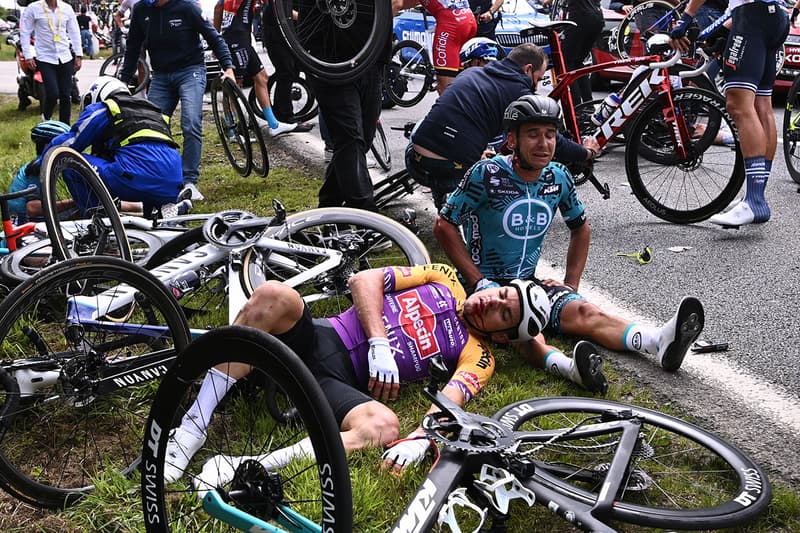 UPDATE (July 1, 2021): Tour de France officials have withdrawn its lawsuit against spectator who caused crash:
"We are withdrawing our complaint," said Tour director Christian Prudhomme in a statement. "This story has been blown out of proportion but we wish to remind everyone of the safety rules on the race. If you come to the Tour, you hold your kid, you hold your pet and don't cross the road carelessly. And above all, you respect the riders – they're the ones worthy of live TV."
---
ORIGINAL STORY (July 1, 2021):
French authorities have confirmed the apprehension of the Tour de France spectator who caused the pile-up at last weekend's opening stage.
The crash — which has been described as one of the worst in the history of cycling — was caused when a spectator's sign clipped German rider Tony Martin 45km from the end of stage one, resulting in a mass pile-up that saw two riders pull out of the race and eight treated for injuries.
After fears that the spectator in question had fled to Germany following the incident, French authorities have since confirmed the arrest of a woman who is currently in custody in Landerneau, Northwestern France.
"We are suing this woman who behaved so badly," Tour de France Deputy Director Pierre-Yves Thouault told AFP news agency. "We are doing this so that the tiny minority of people who do this do not spoil the show for everyone".
Reports coming out of the cycling organization are that they could sue for up to €15,000 EUR (approximately $17,900 USD) in damages, with police saying she could be facing one year in prison too.
In other sporting news, Serena Williams has been forced to retire from this year's Wimbledon.