Fan Holding Cardboard Sign Causes One of Tour de France's Worst Pile-Ups
There were two massive crashes on the opening stage.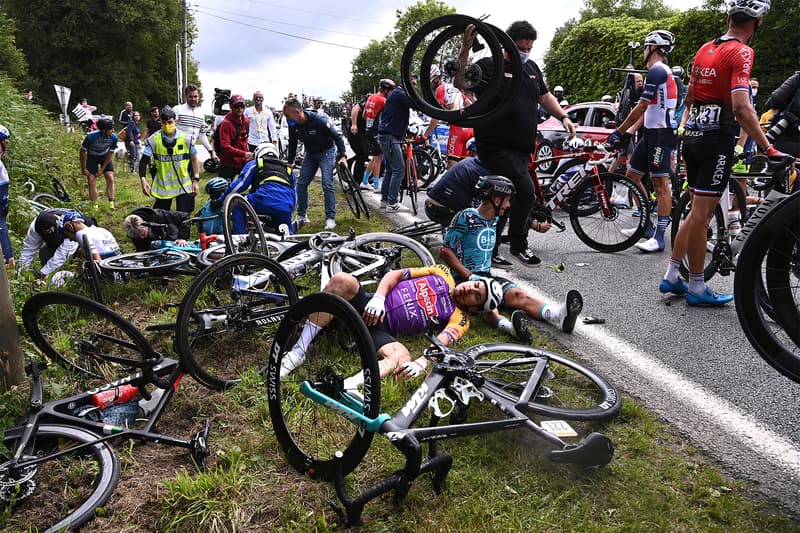 A fan with a cardboard sign caused one of Tour de France's worst pile-ups in history. Holding a sign that read "Allez Opi-Omi!," (a mix of French and German for "Let's Go Grandpa-Grandma!") the sign collided with Tony Martin with some 45kms left in the race.
Happening right out of Stage 1, a trail of bicycles and bodies covered the road with many cyclists unable to continue the competition. Tour deputy director Pierre-Yves Thouault told Agence France-Presse that the organization would be taking legal action against the fan who "behaved so badly."
This wasn't the last crash of the first stage, as some 7.6kms from the finish line, a crash involving four-time Tour champion Chris Froome took place. While not as bad as the first accident, the second added to the taxing trial with a lot of star riders mentally exhausted. France's Julian Alaphilippe would go on to take the yellow jersey for the opening stage.
The worst Tour de France crash I've ever seen pic.twitter.com/1jngQE1pYg

— daniel (@cyclingreporter) June 26, 2021
What the heck is wrong with this fan?! It's only Stage 1 of the #tourdefrance! pic.twitter.com/oxeQAK7WVI

— Julio Deluxe (@Julio_Deluxe) June 26, 2021
⚠ We're glad to have the public on the side of the road on the #TDF2021.

But for the Tour to be a success, respect the safety of the riders!

Don't risk everything for a photo or to get on television! pic.twitter.com/eA6nnhRhWv

— Tour de France™ (@LeTour) June 26, 2021
How not to watch a bike race!

A crazy fan causes chaos on stage 1 of the Tour de France. pic.twitter.com/nydkPZWvXm

— GlobalCyclingNetwork (@gcntweet) June 26, 2021
Another crash! Chris Froome down! #TourDeFrance pic.twitter.com/tzlLsBeYF1

— Sudatta (@iSudatta) June 26, 2021
In other sports news, is Devin Booker the player to watch in the NBA?