The 'Chitose Effect': Is sacai Fashion's Most Underrated Collaborator?
From COMME des GARÇONS alumni to streetwear pioneer, Abe's done it all.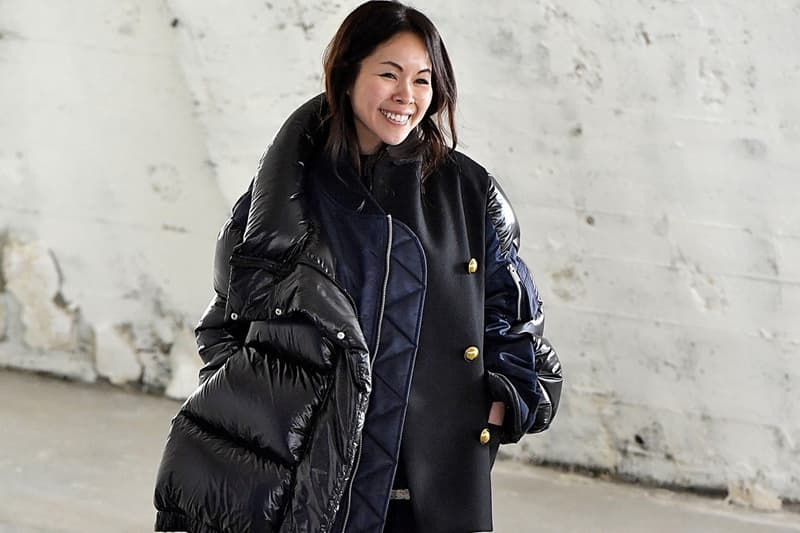 It feels strange to say that Chitose Abe's label sacai is underappreciated, given the global grail status of its collaborations with Nike — not to mention a just-announced partnership with Kim Jones at Dior. But the brand has never garnered as much critical acclaim as other renowned Japanese designers (Yohji Yamamoto, Hiroshi Fujiwara, Junya Watanabe, Issey Miyake and so on), despite having done just as much as them in sacai's 21 years of existence.
From humble beginnings growing up in Gifu, near Nagoya in Japan, Abe transformed her fascination with fashion into a career, working at World Co. Ltd (responsible for lots of what we see on the high street) in the early '90s before heading to COMME des GARÇONS under Rei Kawakubo. It was from there where she learned, mastered, and appreciated fashion more than ever, and after having her daughter in 1997 she went on to found sacai in 1999.
Her way of designing is left-field, small-scale, and became a quintessential bookmark of her taste: you know sacai when you see it, just like any other great designer's work. Known for splicing and cutting things up, patching it back together, and reworking garments, Abe was doing double layers and exaggerated cuts long before her time with Nike and the streetwear boom she now plays a considerable role in.
In the early 2000s, sacai was worn by those in the know, but now (like most COMME-derived brands), we can't get enough of it. And she has a mastery of collaborations unlike almost any other designer: her deconstructive aesthetic and canny reworking of recognizable garments applies so easily to any number of partnerships. What's more, they sell: there seems to be a growing 'Chitose Effect', where any brand she deigns to align with becomes retail gold. 
Collaboration is the key to many success stories, but Abe was doing just fine before. All the same, here are five of the designer's greatest collaborations so far.
The New York Times x sacai
sacai debuted its collaboration with The New York Times for FW18, and while printing text on T-shirts and hoodies was nothing new, its timing was absolutely spot on. Focusing on the newspaper's multi-award-winning "Truth Is Hard" campaign that aimed to tackle fake news, garments were emblazoned with slogans acknowledging the importance of truthful reporting. It came during the time of the Trump administration, a rise of independent and citizen journalism, and went on to become "The Truth Has A Voice," representing women's rights. And all this could be worn on a T-shirt.
sacai x NikeLab SS15
Chitose Abe's first collaboration with Nike wasn't the one that put her on the streetwear map (that came later, with her inaugural LDWaffle and Blazer) but it is by far one of her best. At a time when Kanye West, Hiroshi Fujiwara, and even Pharrell dominated the streetwear-sneakers industry, Abe came in from behind with her Nike Air Max 90s and a full collaborative look for women — it was something fresh and often overlooked in the industry, but she was the one paving the way. The looks were technical and functional but still featured archetypal sacai elements, from ruffles and lightweight fabrics to pleating and frills in places you wouldn't expect, which added flair to otherwise simple pieces. 
sacai x Nike Blazer Mid and LDWaffle
It's 2019 and peak "insert brand x brand = hyped sneaker" era. sacai is now well-and-truly on the map, having been co-signed by every Instagrammable figure known to hype-kind. Its next Nike project was already being touted as one of the collaborations of the year. Needless to say, Abe did not disappoint. The collaboration turned out to be a huge success for both sacai and Nike, leading on to more colorways, new fabrications, and further collaborations down the line on the Vaporwaffle and the Blazer Low.
sacai x The North Face
sacai's FW17 runway show debuted a collaboration with The North Face, and dare we say this one might just have kick-started TNF's foray into high-end collaborations (Gucci and Margiela, as opposed to Supreme). In true sacai form, everything was designed to be functional but beautiful, and we saw the likes of TNF's Mountain Jacket and Nuptse get dressed up with newfound intricacies that, to this day, make it one of the strongest outerwear collaborations to come from The North Face. 
sacai x A.P.C. 
Many wouldn't put the A.P.C. collaboration on the same level as the rest of sacai's work, but that's where you're wrong — this collaboration was different from the rest. It was a) more affordable than other high-end collabs and b) daring but still approachable, and for that we love it. By fusing a denim jacket with an MA-1 bomber, Abe gave an everyday staple that was wearable but still a talking point. The same goes for the T-shirts and hoodies, while the collaborative denim-pleated nylon skirts were another star of the collection. 
Jean Paul Gaultier and Chitose Abe
Leading up to Abe's appointment as Jean Paul Gaultier's couture designer, JPG was also experiencing somewhat of a revival. For SS19, JPG teamed up with Supreme for a collaboration capsule, with more appearing in 2020. Then the designer announced his retirement, and soon came Abe's partnership.
As a result of COVID delays, we're still waiting for Abe to debut her Jean Paul Gaultier couture collection in July at Paris Couture — and we're hoping for something incredible. We know it's going to be visionary and special, it's going to be an ode to femininity and the brand's past, and hopefully, we'll get a closer look at those JPG x sacai x Nike LDVaporwaffle Mix sneakers. For now, all we can do is reflect on Abe's words: "I have a long-held admiration for Jean Paul's unique vision of subversive femininity and his originality, both of which I've strived towards in my work since the beginning. It's a true honor to be given the opportunity to be custodian of his house as the first designer of this project."