What the Tech? District Vision's Calm-Tech Lenses Are Immune to Fogging Up
A closer look at the brand's moisture-absorbing innovation.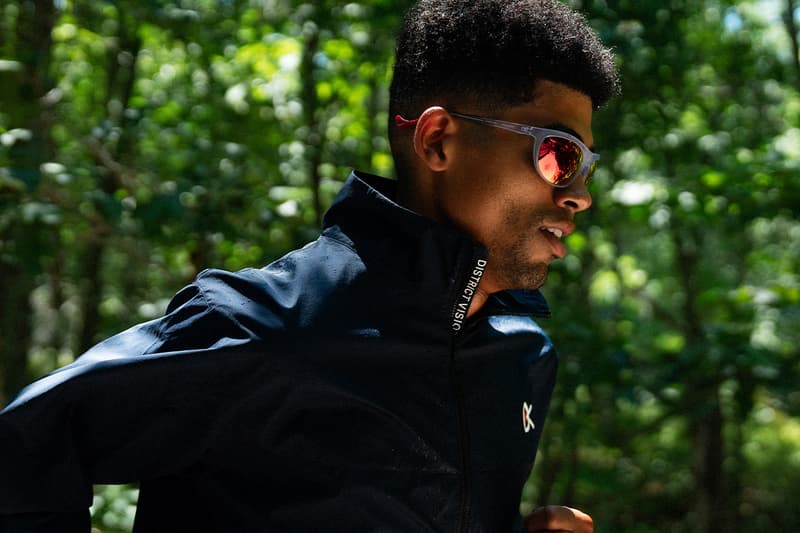 Sunglasses and face masks are undoubtedly one of 2021's least compatible duos. One heavy, laboured breath when wearing them both together, and your vision is immediately out of commission thanks to a thick lens-covered fog. But even without the mask too, many sunglasses will fall victim to fog as a result of a sudden change of temperature or weather.
One company might have the solution: District Vision, which was founded in 2016 by lifetime best friends Tom Daly and Max Vallot. Daly (formerly of Acne Studios) and Vallot (of Saint Laurent) pride District Vision on its extensive research and development processes. Through a love of Japanese eyewear and craftsmanship, alongside a yearn for well-being and health, District Vision sets about creating eyewear that not only looks good, but is functional and protective simultaneously.
In a bid to craft a lens that covered all bases but functionally took things to the next level, District Vision created Calm-Tech, the world's first porous lens that not only protects us from harmful rays, but absorbs moisture to enhance visual clarity in any condition too. For our latest instalment of What the Tech?, HYPEBEAST sat down with Daly to discuss the origin of Calm-Tech, learning more about what it does and where he sees it going in the future.
The What, Why and How
HYPEBEAST: Starting with the basics, what is Calm-Tech and what does it do?
Tom Daly: With eyewear, there hasn't really been any innovation in the industry since Oakley, and we wanted to change that.
Calm-Tech is the world's first porous lens. It absorbs different kinds of moisture and distributes it. It's made from a proprietary form of polycarbonate and, in short, essentially enhances visual clarity and protection in any condition.
Anti-fog is one of the main technical components, because — especially with athletes — what they're dealing with constantly is a change in outdoor temperature and a differential temperature to the head. When you're on the move, fog is rarely an issue, but when you stop, that will often cause a lens to fog.
The market has come up with various solutions like different coatings, whereby they'll apply a coating to a lens that has certain performance capabilities. But few companies go into the supply chain like we do and source and develop our own coatings in order for them to function correctly. Calm-Tech is a result of us recognising our own needs from glasses, and coming up with chemical compounds that can absorb and distribute moisture on the lens more effectively.
How are the lenses different to that of any other pair of sunglasses?
For us, it's all in the functionality. If you've had a fog on your lens, you can't see. So there are conditions where that's less of an issue, but when you're there, there's no easy way to solve it. You can take the frame off, you can wipe the lens, but it actually proliferates the problem, because when you drop the temperature of the lens and then put them back onto the head it prolongs the fogging. With our Calm-Tech lenses, it's different and the problem is exasperated a lot faster.
This lens is like a Ferrari, in the sense that it has very specific cleaning instructions. It's almost like a membrane that sits on the lens, it does not bond to the lens to a degree that would need vigorous physical clean, so it's like a Ferrari for race day when you need big functionality. It basically absorbs more moisture, and distributes it faster, so you never have a fogged lens.
The eyewear industry is a very licensed-driven business, where most brands outsource their production sales and distribution for ease, so the integrity of a product can often get lost. So when we launched, we wanted to come at it with integrity first, and then apply ourselves to this category from an intellectual standpoint.
The History of District Vision's Calm-Tech Lenses
What was the creative process like for Calm-Tech?
An issue we had with Calm-Tech is we found that you can never really bond a coating to a material-base, so we needed to find how to increase the performance to the maximum point possible; absorbing as much water as possible and redistribute it across the plain of the lens — that's essentially what the coating does.
When you start to increase this functionality to its maximum level, you soon encounter quality issues as you shorten the life of the frame as you increase the performance of it. Ultimately what every product developer in the game has to do is find a sweet spot between that, which is what we did.
It's crafted through testing, science and communication. I think that's where I really need to
put the emphasis on our team in Japan.
How has the Calm-Tech lens changed since the original?
There have been 53 compound iterations, which has really been based on the performance aspect of the lens rather than the lifetime of it. By which I mean, the absorption and distribution of moisture has been prioritized and taken to the absolute maximum. We want our lenses to be multi-purpose, we want them to be worn by everyone from triathletes and runners, to hikers and walkers, so it was paramount we got the functionality side of things correct. We never like to make alterations post-launch, but do things in more of a front-ended way, which is why creating something like Calm-Tech takes up to two-and-a-half years.
The Future
Where do you see Calm-Tech in 20 years? How do you intend to keep it a thing?
I think we're going to see two things with eyewear: there's going to be the technology component, there's going to be bells and whistles and augmented realities and display systems. Right now you're restricted by your phone or your watch and you only operate that with your finger or your thumb, which is incredibly restrictive, and a lot of companies now are focused on eyewear because the next display module, a new way of getting a screen in front of you.
The other side though, is where we sit: eye health. We know we have to protect ourselves from UV Rays, that's been done and we know that and protect from that, the infrared rays though, as we get closer to the sun and the O-Zone layer is increasingly eroded is where retina damage is going to come from. Say you're climbing a mountain and you go over, say, 14,000 feet, it's very dangerous on an infrared ray level. We have lenses that are tested at that height, that if you put them on at sea level you wouldn't be able to see anything and only become effective and useful in extreme conditions.
I think eye health is going to become a bigger focus for us, such is the world and environment we live in. To survive on this planet in the long run or even live on other planets in the future, the wardrobe will need to change.
What's next for Calm-Tech?
It's about teaming more protective elements with the existing technology base. Ensuring we remain protected from UV and infrared, but then expanding and ensuring they meet more extreme and demanding situations. It's not up to District Vision to find these situations, it's what the world offers and faces us with and we serve them. The more extreme the situation, the more excited we get about offering bespoke solutions to those requirements.