Best New Tracks: Migos, SAINt JHN x SZA, Megan Thee Stallion and More
Head into the weekend with these 10 music projects.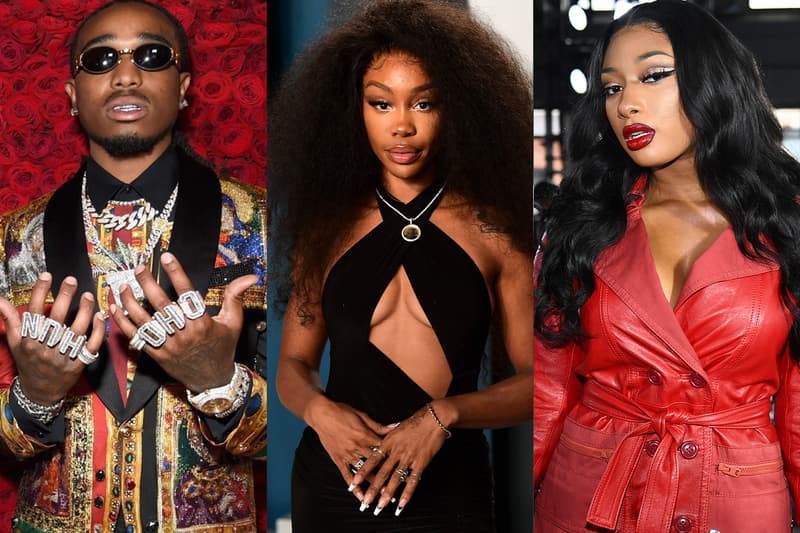 As the week in music comes to a close, HYPEBEAST has rounded up the 10 best projects for the latest installment of Best New Tracks.
This week's list is led by Migos with the release of their highly-anticipated album, Culture III, and Megan Thee Stallion's first release of 2021, "Thot Shit." SAINt JHN and SZA also join the selection with their Space Jam: A New Legacy contribution "Just For Me," as well new music from Madlib, MED and Declaime, Doja Cat, Deb Never and Larry June, plus music videos from Mach-Hommy, Westside Gunn and Keisha Plum, Isaiah Rashad and Jon Batiste.
Migos - Culture III
After several delays, Migos finally released their highly-anticipated album Culture III. The culmination of their Culture series, the lengthy 19-track record features guest appearances from Drake, Juice WRLD, Pop Smoke, Cardi B, Justin Bieber, Polo G and Future, and is a proper send-off to the trilogy that shot them to stardom.
Listen: Spotify | Apple Music
Megan Thee Stallion – "Thot Shit"
Megan Thee Stallion is back after a short hiatus with "Thot Shit," the official anthem of Hot Girl Summer 2021. Writing on Twitter, the Houston hottie shared that she released the empowering track in order to take "ownership of the words "thot" and "hoe" bc they're not the drag the men think it is when trying to come at women for doing them.
Listen: Spotify | Apple Music
SAINt JHN x SZA – "Just For Me"
Those waiting to catch Space Jam: A New Legacy were offered a new cut from the forthcoming film's expansive soundtrack, SAINt JHN and SZA's "Just For Me." The single arrives just after fans heard snippets of Lil Uzi Vert's "Pump Up The Jam" and Cordae and Duckwrth's "Settle The Score" in the latest trailer. The full soundtrack is set to release on July 9 while the film will open across theaters in the U.S. and on HBO Max on July 16.
Listen: Spotify | Apple Music
Madlib x MED x Declaime – "All Over The World"
Madlib and Declaime have shared their previously unheard collaboration, "All Over The World." The cut is the first release from In The Beginning (Vol. 1), an album that features music they recorded together in the 1990s and is set to release on July 2. "We recorded this track around '94-95," Declaime said in a statement. "Me and MED would hustle most of the day, then hit the studio with Otis [Madlib] and try and record on anything boomin'. We wrote these verses together with Madlib at the Crate Diggas Station."
Listen: Spotify | Apple Music
Larry June - Orange Print
Bay Area's Larry June enlisted Dej Loaf, Trae tha Truth and Money Man for his newest album, Orange Print. The 13-track project features production from the likes of Jake One, Mr, Rogers, Helluva and Cardo, and hears the full scope of the artist's musical approach. "A large part of that ease is the attention he pays to health and wellness – denoted by the orange emojis left by him and fans alike across his social media," a press release reads. "Coming from a family of diabetics, he takes a great deal of pride in his morning jogs, meditations, and juice cleanses to keep himself healthy and spread the word through Black communities affected by the disease."
Listen: Spotify | Apple Music
Deb Never – "Disassociate"
Deb Never officially announced her upcoming project, Where Have All The Flowers Gone, with the release of her new single "Disassociate." The track is a fusion of her hip-hop and alt-rock affections and is a somber, explicit portrait of an artist who is growing older. Where Have All The Flowers Gone will be a reflection of her new perspective on the modern world and is scheduled to drop in late July.
Listen: Spotify | Apple Music
Isaiah Rashad – "200/Warning"
A week after its release, TDE's Isaiah Rashad shared the accompanying music video of his latest loosie "200/Warning." Featuring production from Nabeyin, Amaire Johnson, Rory Behr, Almatic and Kenny Beats, the song arrives just after he performed a freestyle on The Cave.
Listen: YouTube
Doja Cat – "Need To Know"
Ahead of the release of her new album Planet Her, Doja Cat dropped off the brand new single "Need To Know." Her Hot Pink followup is scheduled to drop on June 25 and will include appearances from SZA on the previous single "Kiss Me More," The Weeknd on "You Right," Young Thug on "Pay Day," Ariana Grande on "I Don't Do Drugs" and J.I.D. on "Options."
Listen: Spotify | Apple Music
Mach-Hommy x Westside Gunn x Keisha Plum – "Folie A Deux"
Mach-Hommy delivered an accompanying music video for "Folie A Deux," his Pray For Haiti track featuring Westside Gunn and Keisha Plum. This marks the first visual from the album, the latter of which also acts as a charitable vehicle with 20 percent of the proceeds going towards the Pray For Haiti Trust Fund.
Listen: Spotify | Apple Music
Jon Batiste – "FREEDOM"
Jon Batiste shared a stunning music video for his WE ARE track, "FREEDOM." Billed as "an electrifying love letter to his hometown of New Orleans," the visual sees the artist linking with the legendary St. Augustine High School Marching 100 (also Batiste's alma mater), the Joyful Choir of New Orleans, Queen Tahj of the Golden Eagles Mardi Grass Indian Tribe, dancers, musicians and residents. "I'm publicly known for some things already," Batiste said in a statement. "But there's so much more to know about me. It's always been there. Now is the time to show the world my full artistry."
Listen: Spotify | Apple Music