Balenciaga Presents Dystopian Fall 2021 Campaign
Following on from the house's 'Afterworld: The Age of Tomorrow' videogame.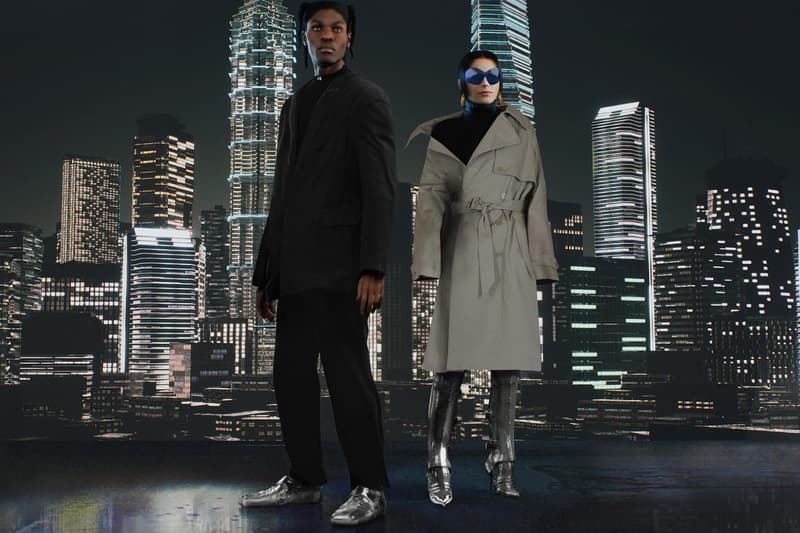 Balenciaga debuted its Fall 2021 collection in the videogame Afterworld: The Age of Tomorrow, and now the Demna Gvasalia-helmed house has teamed up with video game developer Quantic Dream for the collection's campaign.
This short film celebrates the collection landing in Balenciaga boutiques around the world, and is equally dystopian, eerie, futuristic, and adventurous as the game that came before it. Using motion capture to create animated versions of real actors, the video starts in this simulated line-up of models that welcomes us to meet our two protagonists. After bumping into each other and locking eyes, they lose one another in the mix of things, before they step forward to accept the VR headset that's placed upon them.
Transporting them into a new world that's littered with references to the aforementioned videogame, the characters are tasked with coping with the controlled chaos that unfolds around them. Despite this, they can't forget the one they found in the line back in the real world, and after coming close to the truth, they realize once more that it's all a simulation.
Once back in the real world, the characters finally find each other and embrace one another, before the video shows an entire cast of models embracing one after the after. Of course, the characters are decked in the latest collection from Balenciaga, which debuted futuristic garments that were inspired by NASA, plenty of wacky eyewear looks, pieces from the PlayStation capsule collection, new battle-ready footwear, tailoring that wouldn't look out of place in The Matrix, and much more.
Take a look at the Balenciaga Fall 2021 campaign above, and shop the entire collection in-store and online now.
In other news, LOEWE has just presented its trippy SS22 collection.