Dave Chappelle Sits With Joe Rogan for 'The Joe Rogan Experience'
Discussing everything from leaving the 'Chappelle's Show' to fighting for gay rights and equality issues.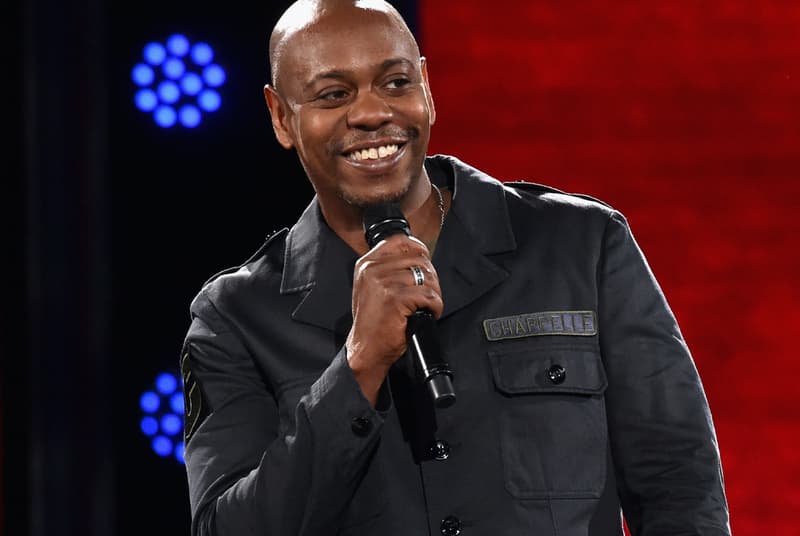 Dave Chappelle recently sat down with Joe Rogan for an episode of The Joe Rogan Experience, touching on an array of topics including his decision to leave Chappelle's Show and ironically, his disdain for interviews due to the inability to control the audience's perceptions.
The comedian revealed why he chose to walk away from a $50 million USD deal to continue Chappelle's Show on Comedy Central and instead, set off to South Africa. Chappelle told Rogan, "If I had taken that money and finished the show, I would've gotten the money, but might've never been the same." He added, "The way people close to you react to it, like I… failed or ruined my life. And, you know, when you're cold, that phone don't ring that often, and I had over a decade of sitting in that choice but I didn't languish in that experience. I started doing stand-up for much better reasons than making it."
While Chappelle reminds listeners to treat everyone with kindness while Rogan praises the comedian for his superior attitude despite the money and fame. Chappelle uses actor, Idris Elba as an example, sharing, "Idris Elba, the famous actor, used to be a security guard at [comedy club] Caroline's…I used to buy weed from him."
Chappelle dives deeper in a discussion acknowledging the many social issues plaguing the world at this moment, speaking to the importance of raising awareness for the fight for gay rights and equality issues. He also talks about the criticism surrounding his Netflix comedy special stating, "There was a thing going on in the press where everyone was saying that the specials were dated, because there were jokes in there that they considered transphobic. I still don't think those jokes are transphobic, I'm not gonna have that discussion but if I ever have to, boy I'm ready."
During the interview, the famed comic also finds time to talk about his newly launched podcast, The Midnight Miracle, which he hosts alongside Talib Kweli and Yasiin Bey. He explains why the production value of the podcast is so high, revealing that the podcast is formatted for an intended release on vinyl. Elsewhere in the conversation, Chappelle gives his two cents on how Donald Trump responded to the pandemic calling him a "catalyst" for the multiple social issues that have sprouted in recent periods.
Those interested can listen to the full interview on Spotify.
In case you missed it, Amazon is currently developing a live-action adaptation of hit sci-fi podcast From Now.