Best New Tracks: Doja Cat x SZA, Sonder x Jorja Smith and More
10 music projects to round out your week.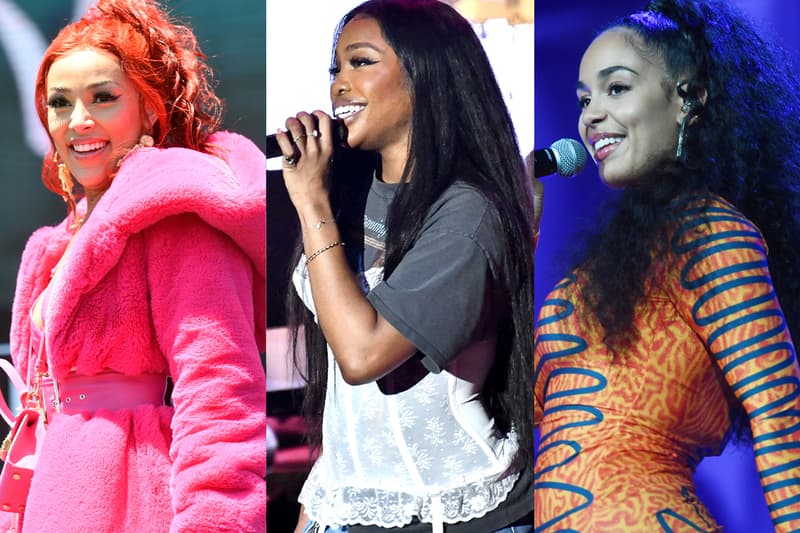 As the week in music comes to a close, HYPEBEAST has rounded up the 10 best projects for the latest installment of Best New Tracks.
This week's list is led by collaborations between Doja Cat and SZA and Sonder and Jorja Smith, a new single from Japanese Breakfast and material from Tierra Whack. Also joining this selection are Cuco, Conway The Machine and Jae Skeese, Piers James, Majid Jordan, Phabo and DESTIN CONRAD and Rostam.
Doja Cat x SZA – "Kiss Me More"
Doja Cat tagged SZA to deliver a new collab, "Kiss Me More." The single arrives ahead of her upcoming album Planet Her, which drops this Summer 2021, and is described by the L.A. rapper as "a song about kissing." Speaking to Zane Lowe on Apple Music, she explained, "I just thought it would be cute. That doesn't happen too often, but just a song that's solely about kissing. So I started there and then [SZA] took it to like a deeper level, which is what I needed, you know what I mean? Because then it starts to become like a children's jingle and she just made it feel relatable and adult and sexy and funny and awesome."
Listen: Spotify | Apple Music
Sonder x Jorja Smith - "Nobody But You"
Brent Faiyaz, Dpat and Atu have revived their Sonder project for a collaborative track with Jorja Smith entitled "Nobody But You." This marks the trio's first solo release since 2019's one-off single "What You Heard" and the 2017 record Intro, and will hopefully be part of an album that's on the way.
Listen: Spotify | Apple Music
Japanese Breakfast – "Posing In Bondage"
Ahead of the release of Jubilee, Michelle Zauner a.k.a. Japanese Breakfast released a self-directed music video for her latest single, "Posing In Bondage." In a statement, the artist called the cut "a ballad about loneliness and longing, a song about two people who want so badly to connect but are never quite able to do so. No place felt lonelier than an empty grocery at 1 AM." She added, "The video is actually an epilogue to the one that will accompany our next single, here presented out of order."
Listen: Spotify | Apple Music
Tierra Whack – "Link"
Tierra Whack linked up with the LEGO Group for the official music video of "Link." The two were aided by Philadelphia school children and director Cat Scolen to create different inter-galactic creatures, rocket launchers, hummingbirds and castles inspired by the artist's childhood memories. "I was so excited to work with kids because their energy is fun, exhilarating, never-ending, and full of surprises," she said in a statement. "I really trusted them, and I knew they were going to come up with something great. What I loved most about the process was being able to partner with such an iconic company like the LEGO Group because we could make anything happen!"
Listen: Spotify | Apple Music
Cuco – "Paradise"
Almost two years after the release of his debut studio album Para Mi, bedroom-pop figure Cuco is making his return with the brand new single, "Paradise." "Thanks to everyone for sticking with me , this is a new chapter for me and I'm beyond grateful. This is just the beginning," he wrote on Instagram.
Listen: Spotify | Apple Music
Conway The Machine x Jae Skeese - "Blood Roses"
Conway The Machine has dropped off his new single, "Blood Roses." Enlisting his Drumwork label artist Jae Skeese, the cut features production from Cardiak and is set to release on his From King To A GOD followup La Maquina, which drops on April 16.
Listen: Spotify | Apple Music
Rostam – "Changephobia"
Rostam is gearing up to drop his solo record Changephobia with the release of the title track. In a recent interview on RADIO.COM's New Arrivals With Bryce Segall, the 37-year-old labelled the upcoming album (releasing June 4) as a new phase in his career. "I almost thought of this forthcoming album 'Changephobia' as a second phase of my career," he said. "Because I kind of wanted to get away from some of the stuff that people knew me for, and I kind of wanted to see how far I could push the boat out and go to a completely new territory."
Listen: Spotify | Apple Music
Piers James – "BEST OUT HERE"
Piers James, one of HYPEBEAST's fresh faces on New Gen: Spring 2021, dropped off his second single of 2021 entitled "BEST OUT HERE." The track follows "Mass Appeal" with Quentin Miller — two promising cuts that will get listeners excited for his forthcoming project, A Dying Breed Pt. II.
Listen: Spotify | Apple Music
Majid Jordan - "Waves of Blue"
Canadian R&B duo Majid Jordan is finally making their return with the brand new single, "Waves of Blue." The new track arrives almost four years since the OVO Sound signees' last solo record, The Space Between, and two years since the singles "Caught Up" and "Superstar." The pair took to social media to share a video where they revealed that they are working on a new record. "Hey, everyone. It's been awhile. We miss you," they said. "We spent time listening, feeling, learning, and we're ready to share our experiences with you. The story begins with our new song 'Waves Of Blue.' It's the song that takes us to the place that we all want to be: our wildest dreams. We're working on finishing our next album, so stay tuned, and we'll see you soon."
Listen: Spotify | Apple Music
Phabo x DESTIN CONRAD - "Slippery"
Soulection's Phabo has tagged DESTIN CONRAD for his first 2021 single, "Slippery." The followup to 2020's "LNF," the cut features production from Los Hendrix and hears the artist's journey through Los Angeles' notorious rush hour traffic to see his muse before her interest fades — comparing it to the setting California sun.
Listen: Spotify | Apple Music