'TIME' Auctions Iconic Covers as NFT Artworks on Superrare
The latest brand to join the crypto art craze.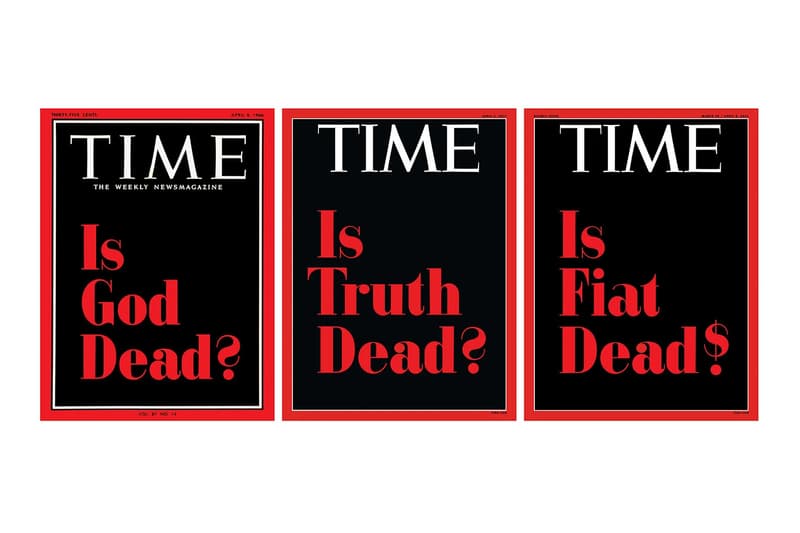 TIME Magazine is foraying into the world of crypto art by auctioning three non-fungible tokens inspired by some of its most iconic covers from the past few decades. The famed publication announced on Monday that the three NFTs will be sold separately and as a collection on the digital-art training platform, SuperRare.
The NFT selection is based on the theme "Is ___ Dead?", which refers to a series of provocative typological covers inspired by TIME's original April 8, 1966 version Is God Dead? And as TIME mentioned in a news post, this was the first cover in the magazine's history to include only typography with no graphics or images. The text was written by the publication's religion editor John Elson who expressed at the time that the title  "is a question that tantalizes both believers, who perhaps secretly fear that he is, and atheists, who possibly suspect the answer is no." The cover sparked controversy and debate amongst thousands of readers.
In April 2017, TIME unveiled its April 3, 2017 cover which posed the question: Is Truth Dead? The question referenced the first year of Donald Trump's presidency with editor Nancy Gibbs having stated: "Just like many said they believed in god in 1966, many today would say they believe in truth, and yet we find ourselves having an intense debate over its role and power in the face of a president who treats it like a toy. What does he actually believe? Does it count as lying if he believes what he says?"
The third cover "Is Fiat Dead?" was unveiled amid the rise of NFTs and cryptocurrencies. It recalls the huge decline in the purchasing power of government-controlled currencies such as the U.S. dollar. As TIME mentioned, cryptocurrencies such as Bitcoin are subverting traditional monetary standards through stable supply and open monetary policies. "I love the idea that its meaning isn't clear to the casual viewer — much like the crazy, lucrative world of NFTs," said TIME creative director D. W. Pine, who designed the cover.
All three NFTs are currently up for auction on SuperRare until March 24 at 8 p.m. EST. A minimum price of 10 Ether, or roughly $18,000 USD, has been set for each cover.
In related stories, Superchief will be opening the first NFT art gallery in New York.