NOAH and New Order's Collaboration Is an Expression of "True Faith"
A thematic collection and playlist born from founder Brendon Babenzien's devotion to the legendary new wave band.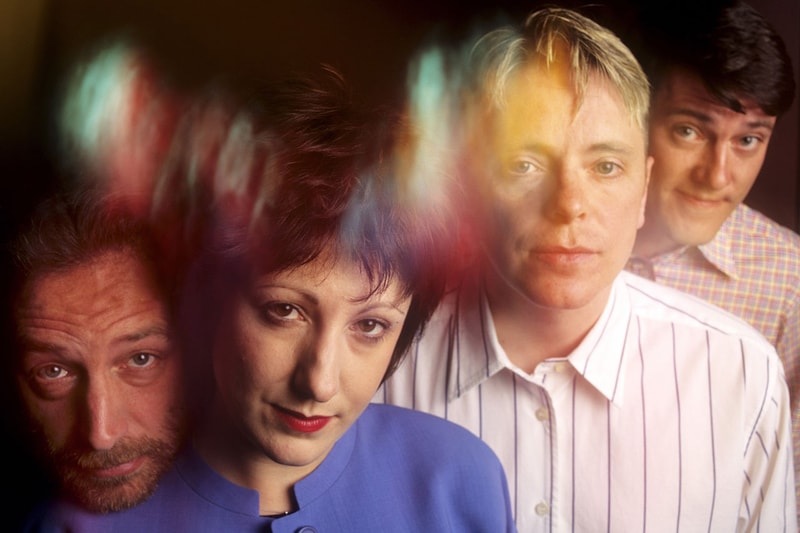 From Depeche Mode to Peter Tosh, the only factor unifying NOAH's far-flung musical collaborations is founder Brendon Babenzien's diverse musical influences. Born in 1972, Babenzien's childhood in the '80s shaped his taste, including a deep-seated appreciation for new wave outfit New Order. The brand's latest collaborative capsule is a celebration of the pioneering British band — but more than being a mere apparel drop, it's steeped in a true love for New Order's legacy, which is worth exploring before the collection is revealed in late March.
"We thrilled at every [New Order] record," NOAH's team explained. "They took us on a journey that continues to this day." That's well-deserved praise, considering the indelible impact that New Order left upon the music industry. Ostensibly a rock band, the group incorporated elements of clubby dance, experimental electronica and post-punk, the latter a holdover from the bandmates' ultra-influential former group, Joy Division.
Salford-based Joy Division enjoyed a cult following in American and Britain after the release of their debut album, Unknown Pleasures, issued by Factory Records in 1979 after the band had gigged around the UK for three years. Tragically, singer Ian Curtis took his own life less than a year later, mere months before the band would issue its second record, Closer. In observance of a pact made before Curtis' death, the members of Joy Division retired the band name, toying with a selection of different names before settling on The New Order Of The Kampuchean Front, eventually shortened to New Order.
Moody early records gave way to bouncy disco and electro pop, blending inimitable live instrumentation — notably, Peter Hook's robust bass tones — with sampled sound effects, percussion and stabs of glowing synthesizer. Club culture and Kraftwerk inspired drawn-out singles like "The Perfect Kiss," "Confusion" and "Blue Monday," the latter being the best-selling 12" record ever, but even the shorter standouts — like "Ecstasy," "True Faith" and "Bizarre Love Triangle" — clock in at over four minutes apiece.
Instead, as their career continued, New Order issued sprawling singles that explored dancey themes like Ibiza and acid house, expanding upon the moody goth tones of Joy Division's oeuvre. A devoted following and strong radio play encouraged respectable sales — the band's albums always topped the independent UK charts and frequently broke into the conventional top 10 — and a series of global tours.
New Order separated in the early '90s, ostensibly at the top of its game having just recorded the anthem for 1990's English World Cup. However, the members reformed and broke up a few more times, eventually coming together for good in 2011.
The musical stylings of the group influenced a new generation of musicians ranging from Radiohead to The Killers to the Chemical Brothers, but New Order's album covers, designed by Peter Saville, have proven to be truly transcendent. The band members often had no input on the finished result: "I found out that they never really believed those photos would end up on the [Low-Life] cover," Saville said. "I don't think they liked the sleeve."
Even still, not unlike Storm Thorgerson's work for Pink Floyd, New Order's Saville-designed album and single art became inextricably intertwined with the group's musical output. The striking layouts have always eschewed convention, often obscuring or avoiding the name of the band or album in favor of stylized imagery that Saville drew from influences as diverse as Richard Prince and an industrial slab of Titaanzink (titanium–zinc alloy).
Thanks to Saville, no two New Order albums or singles look the same: compare the movie poster-like Republic to "Blue Monday"s deceptively complex layout or Music Complete's Mondrian-like montage. Of course, Saville's early New Order album covers remain fan favorites, none more popular than Power, Corruption & Lies, which juxtaposes a Henri Fantin-Latour painting with bold blocks of color that could be decoded with the corresponding translator on the LP sleeve's rear.
Famously, Supreme licensed the image for Spring/Summer 2013, while Raf Simons — the original cool club kid fashion designer — borrowed the image and several other Saville designs for his lusted-after Fall/Winter 2003 collection.
NOAH was similarly affected by both Saville's work and New Order's music. Thus, the label has crafted a special New Order capsule collection alongside a hand-curated Spotify playlist. Here, NOAH presents an homage to the pioneering band's visual and audio legacy, uniting the two worlds in a package appropriate for New Order die-hards and newcomers alike.
Look for the New Order x NOAH collection to arrive on HBX's website, NOAH's web store and flagships on March 25.