Gallant is Ready to Take Risks
The R&B musician reflects on collaborating with Brandy, navigating lockdown, and his newest EP album 'Neptune'.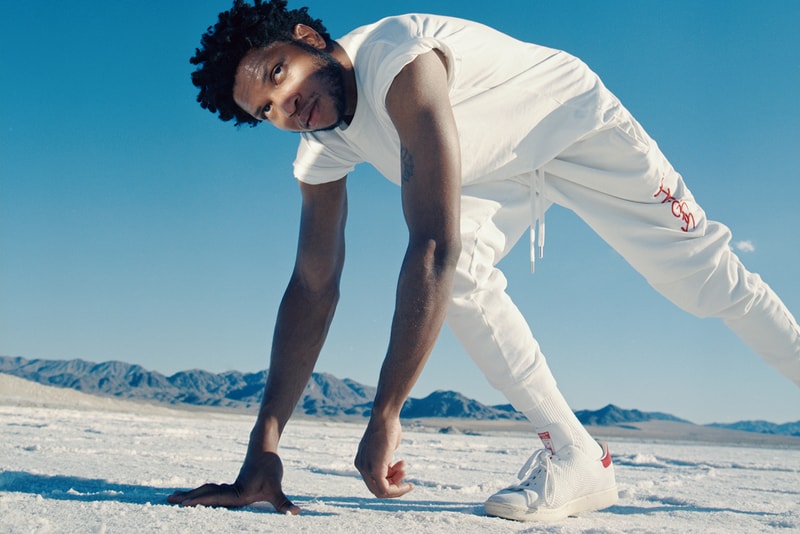 Few R&B artists have the capacity to mesmerize an audience the way Gallant does. Since his early career days where he was catapulted into the limelight for his hit single "Weight in Gold" — which is found on his debut album Ology — he's impressed the world with his unique sound and powerful vocals. When you listen to his songs, one will notice that familiar tones and beat elements of 80s and 90s R&B are brought to life, but it's his striking falsettos and abilities to morph his past struggles into musical stories that molded him into the successful artist he is today.
Following up on his last album Sweet Insomnia — which dropped back in 2019 — the Maryland-born, LA-based crooner has returned with a fresh body of work: his latest EP album Neptune. The project has been in the works since December of 2019 — the first pieces being "Comeback" and "Relapse" which are two singles that were released to the public in the early months of 2021. The record is a product of the pandemic as the days being stuck in quarantine permitted Gallant to take a step back from his hectic touring schedule, depart from his label and transition to being an independent artist, divert back to creating his most authentic music and doing it on his own timeline.
Eight tracks are implemented into this assemblage, many of which are backdropped with smooth rhythms and melodies, while others are rife with Gallant's signature emotional tones. A few collaborators take a seat at the Neptune table including that of R&B duo VanJess on "No More Tries", Arin Ray for "Third Eye Blind" and the one and only Brandy who appears on "Dynamite".
Ahead of the launch, HYPEBEAST caught up with the artist to talk about why he decided to go independent, the process behind creating the new record and more.
HYPEBEAST: You're now an independent artist. What was your thought process behind making that decision and why did you feel like now was the perfect time to do it?
Gallant: I was catapulted into the industry and into a label fairly quickly and I'll admit that I struggled to operate within a major label system because I wasn't ready to do box office smash hits on purpose yet. I was really just trying to strengthen my sound, so after having an adult conversation with the [Warner Bros.] label about leaving, it made sense for both sides. Now I feel more like myself. I feel like I can create more in my own world and set my own timeline. It almost feels like I'm back in the space of creating from when I first started putting music out online.
So let's talk about Neptune, when did you start working on it?
I wrote the first song for the project back in December 2019 right after my second album came out. I worked on "Relapse" which I wanted to feel like a Summertime, 3pm in the afternoon type of vibe. From there, I felt like the album was starting to thematically take shape during April/May of 2020. I shot a video during quarantine in September for "Comeback", then earlier last month I was making some last minute adjustments, and now it's finally out.
It felt meditative, somber and self-reflective. I felt like that blue color informed a lot of things like the lyrics and I was referencing a lot of planets and this idea of floating in space.
What's the backstory behind the album title?
So back in 2014 I wrote a list of potential album titles on a note and "Neptune" was on there. I just felt like the album was blue and it felt like isolation and quarantine. It felt meditative, somber and self-reflective. I felt like that blue color informed a lot of things like the lyrics and I was referencing a lot of planets and this idea of floating in space. So I revisited that note and saw "Neptune" there and decided that it just aligned with the project's theme.
So is it safe to say that the pandemic and being stuck in quarantine contributed to the overall vibe the project?
Definitely. I hate saying that because I didn't necessarily want this to be a "quarantine project". I think it was a defense mechanism to put more work on my plate and distract myself from my tour cancellation. I know everybody had to do that, but I also canceled a tour in 2018, and that really affected me in a negative way. I just felt like I let so many people down and I didn't want to have to go through that again. But this was the perfect distraction and it gave me a break from being on the road all the time. Between my first and second albums, I lost a lot of time to just be just creative and craft the world that I wanted to build from doing one-off shows and festivals and that got really tiring.
So while we're still on the topic of creativity, can you walk me through your creative process?
I usually like to create in my own space and approach it by myself. I've always been weirded out by big studios. I was born in the suburbs in Maryland so I'm used to being in a solitary state. I usually record vocals here at the crib and take time to make sure that the lyrics flow in a way that I can read them out loud and they'll make sense, and then tailoring that. From there, I'll take it over to my friend Stint who has produced most of the things that I've released, and then we'll fine tune it from there. However, my process has potential to change after the pandemic because, like a lot of other artists right now, I'm definitely craving more collaborative energy.
Were there any specific artists or songs that you were listening to over the past year that inspired this record?
I was watching a lot of things from the 80s like one-off Indie and new wave bands and that gave me a bunch of ideas. I watched American Music Awards-related stuff on archive.org and went year after year just trying to see what I could pull. But also I was listening to a lot of younger artists like Jenavieve who is making really cool bedroom pop music right now and I found that really inspiring because it felt like these younger kids were just doing their thing and it helped me realize that I didn't have to conform to any type of genre or sound. That was the one thing that I was trying to fight against when I was the label system so I wanted to emphasize getting back to myself getting back to an independent kind of vibe.
Let's talk about collaborations on this album. One that stood out to me was Brandy on "Dynamite". How did that come about?
Yeah that one was crazy. I've always wanted to work with Brandy since I was a kid. That track was one of the early ones that I wrote, and I thought it could've worked by myself, but I knew it needed another perspective. Her manager somehow got his hands on a demo of that song and played it for her, and one day I just heard through the grapevine that she loved it. In my head I thought it was going to be a long shot that she'd hop on the song because we had never met before, but one day, I just opened my iMessages and I had Brandy vocals sent to me. She's one of the greatest vocalists of all time so it's crazy to have her on a project.
Elsewhere on the EP you have Arin Ray for "Third Eye Blind" and VanJess on "No More Tries". How did those come together?
Arin Ray is a homie that I can call up at any time. He reminds me of myself but in an alternate universe reality because he's such a chill person. He pulls influences from R&B, but executes it in the opposite way kind of like myself. The song we did together ["Third Eye Blind"] was already a really serious song, so I wanted to bring in someone who could lighten it up. He pulled influences from Usher and other early 2000s songs and made it feel a little bit more fun.
VanJess has been family for years. I wanted to reach out to them because I felt like their sound made a lot of sense for this project. I called them through to Stint's place and we just vibed, exchanged ideas and made something out of it. They come in at a perfect point on the album because "No More Tries" is a feel good track.
Do you have any other collaborators that you'd love to work with down the line?
I've always wanted to do something with Babyface. He's who I aspire to be just on a human level, and I feel like he always knows what he wants to make, he has his own style and he doesn't really care about what anyone has to say. And he's been killing it for decades. We've worked on some things together but they never came out, so I'm still hoping to do a proper collaboration with him. Toni Braxton is also another one on my list.
Earlier in the year, you released the visual for "Comeback" and it looked like you had plenty of fun making that. How did that concept come to life?
I wanted to make things that genuinely just made me feel good and put me in a positive space. I've always wanted to do something that was weird and surreal and I just wanted to make something that was challenging and fun for me like transforming myself into a bobble head, framing myself as some silly dude on TV ads and really just loosening myself up. For the music video, I had this concept of a romance that flickered out, but found it hilarious that I somehow popped up in every single scenario that she least expected.
I'm speaking my truth and took a risk by experimenting with sounds that maybe other people haven't necessarily experimented with all the way.
Without giving too much away, because I know the joy is in the hearing, what do you want people to take away from this new album?
I hope that the fans see it as a return to form, and that it seems like I'm speaking my truth and took a risk by experimenting with sounds that maybe other people haven't necessarily experimented with all the way. I bended my sound in a way that I haven't done in awhile too and I want people to feel that. I hope that these slight differences in the sound really pull people in.
Switching gears a bit, is there anyone in the music industry that you consider to be a mentor?
I'd say Seal. He just appreciates people who are willing to unapologetically be themselves, and make whatever speaks to them, and his own discography speaks to that. I don't talk to him every day, but I consider him a mentor just because he leads by example. And every time I start doubting myself or find pressure to conform or change my sound, I always think about what he did and who he still is and I instantly feel better about what I'm making.
What's next for Gallant for the rest of 2021?
I'm working right now and I have an actual album that I really want to get out but I don't know when that will be yet. I really don't want to do any touring this year because I just want to stay in a creative space. I might want to do live things that I can film or do live streamed ticket events, but also I feel like this time is just a good reminder for me that I need to stay in my element and continue to challenge myself.
One last question that's super quick, Can we expect you to make an appearance in the next season of Insecure?
*Laughs* Man, in some way, shape or form I really hope so. But if not, I hope me and Issa Rae can work together again soon cause she's the best.
Listen to Neptune now on streaming platforms like Spotify and Apple Music.