Oscar Mayer's Bacon-Scented Shoelaces Will Add a Sizzle to Your Sneakers
The perfect side dish to the Nike Air Max 90 "Bacon."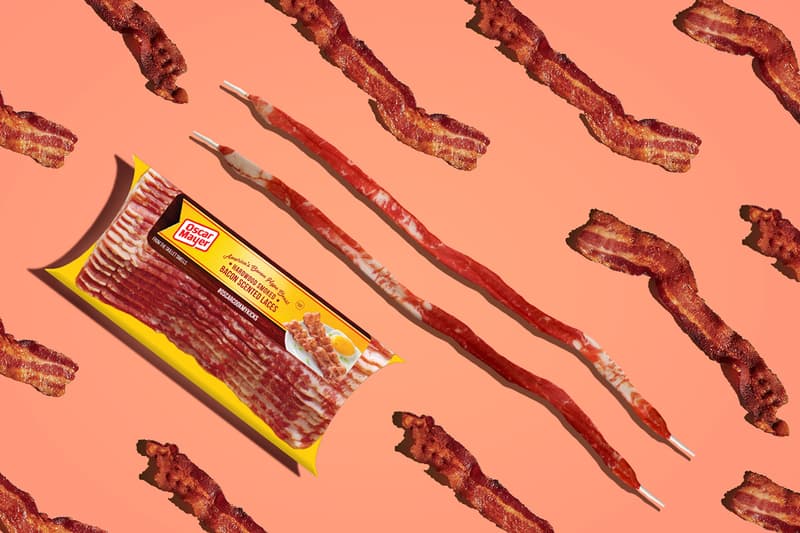 For those lucky enough to have picked up the Nike Air Max 90 "Bacon" this morning, good news: Oscar Mayer has got your new shoes covered with the launch of its bacon-scented shoelaces.
Oscar Mayer is famous for many things, most notably its Wienermobile and for offering a wide selection of hot dogs, bacon, cold cuts, and even a hot dog ice cream sandwich to the masses. Now, it looks to branch into the world of sneakers, producing a set of laces that coincide with the release of the aforementioned AM90 "Bacon," and not only are they very apt for this pair, they can also be used throughout your sneaker collection.
Scented with real Oscar Mayer Hardwood Smoked Bacon, the laces are sure to add a sizzle to any pair of kicks with their hyper-realistic bacon design. The red-toned pair features speckles of white to look like fat marbling on a slab of bacon, while white aglets round out the tasty look. 
Speaking on the release, Megan Lang, associate director of Oscar Mayer said, "There are few things better than the delicious smell of freshly cooked Oscar Mayer Bacon, but you shouldn't have to turn on the stove to fill your nostrils with the heavenly scent… We know bacon lovers can't get enough of it, so we've created these bacon-scented laces to give fans the chance to carry their bacon love everywhere, whether they're styling the hottest new sneakers or sizzling up an old pair of shoes."
For those interested in copping a pair of the laces, Oscar Mayer will be hosting a competition running from now until April 1. This is no April Fools joke, as 1,500 people will be selected as the winners of these laces on April 2. Tweet Oscar Mayer using the hashtags #OscarCookMyKicks and #Sweepstakes to be in with a chance.
In case you missed it, check out Sevenstore's editorial for the Nike Air Max 90 "Bacon."