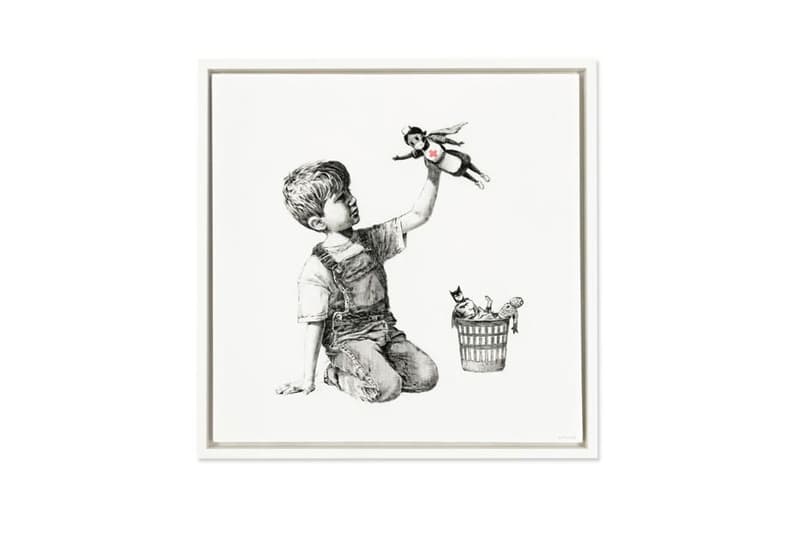 Christie's to Auction Banksy's 'Game Changer' Painting to Support National Health Service
A reproduction will remain on view for future patients at the Southampton General Hospital in the UK.
---
After unveiling a new prisoner mural and having one of his prints burned by a group of crypto enthusiasts to create an NFT piece, Banksy continues to make headlines. This time, Christie's is spotlighting one of his recent paintings entitled Game Changer as part of its 20th Century Art Evening Sale this March 23 — it has a resale estimate of £2,500,000-3,500,000 GBP (approx. $3.4-4.9 million USD).
The hand-painted artwork was initially a gift to the Southampton General Hospital by Banksy amid the first wave of the COVID-19 pandemic. The work portrays Batman and Spiderman toy figures inside a trash bin as a child clutches a new idol featuring a masked nurse dressed in the international uniform of the Red Cross. When the work was first unveiled, it was accompanied with a note by the artist saying: "Thanks for all you're doing. I hope this brightens the place up a bit, even if it's only black and white."
A reproduction of Game Changer will remain on view for future patients, visitors and staff at the hospital. Proceeds from the sale of the original work will benefit the NHS. "Appearing at a time when countries across the world applauded their frontline workers from their doorsteps during the first global lockdown, and painted rainbows in support, 'Game Changer' spoke directly to the international zeitgeist. Until now, the work has only been seen in person by frontline medical staff and those admitted to hospital for treatment: the auction marks 'Game Changer"s first appearance outside of the hospital," said Christie's in a statement.
Head to Christie's website to learn more about Banksy's Game Changer for auction.