UPDATE: Banksy Confirms Prisoner Artwork in "Create Escape" Video Featuring Bob Ross
A behind-the-scenes clip featuring the artist executing the piece on the brick walls of HM Prison.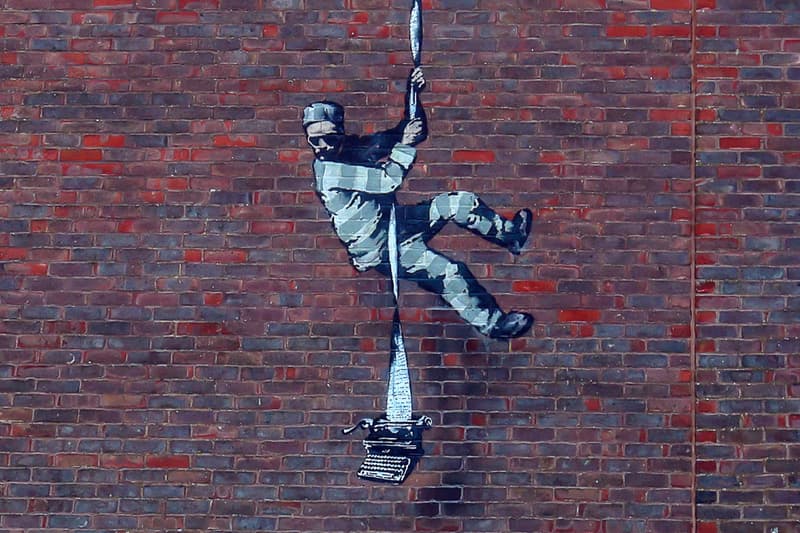 UPDATE (3/5/21, 1:39 p.m. EST): Banksy recently took to Instagram to confirm that he is indeed the artist behind the stenciled artwork featuring an escaped prisoner located on the walls of HM Prison Reading in Berkshire, South East England. The social media post features a three-minute video entitled "Create Escape" of the process with the artist executing the work with the utmost precision in total darkness. The elusive British artist also honored Bob Ross by including a snippet of the late painter's a Joy of Painting episode at the beginning of the clip — a witty edit coupled with an extended voiceover from Ross to juxtapose the artist's night out of street art vandalism.
All Banksy pieces come with a message or homage. For this work, the artist celebrates Oscar Wilde who served two years as an inmate at the HM Prison from 1895-1897. A clear visual nod to the late author in the work is the long strand of paper that emerges from a typewriter instead of the familiar bedsheets which prisoners have used to climb out of a window to escape from jail. Check out the "Create Escape" video by Banksy below.
---
ORIGINAL STORY (3/2/21, 6:56 a.m. EST): A potential new work of art from Banksy has just been discovered. Done in the elusive artist's stencil style, the piece was found on the side of Reading Prison.
Many that gathered around the piece strongly believe it to be one of Banksy's newest works as a bit of social commentary on what is currently happening with regards to freedom of speech on social media platforms. Others believe that this artwork was meant to shine a light on the historic value of the derelict prison. This is the same jail that once housed Oscar Wilde, and inspired The Ballad of Reading Gaol which he wrote when he was released in 1897. The prison has been vacant since 2013 and was put up for sale by the government in 2019 with hopes of eventually turning it into an art and cultural center.
The art sees a man climbing down the jail's brick wall via tied bedsheets that form the paper in a typewriter. Banksy expert Prof Paul Gough commented that there is evidence that it could be Banksy, and that, "at the moment it would take a good copier to get that right." Meaning if it was a fake, the copier has done their homework.
Though not confirmed, do check back as we will be updating you if/once Banksy confirms this as one of his on his Instagram account.
View this post on Instagram
In other art news, Damien Hirst accepts cryptocurrency payments for new cherry blossom prints.