Burger King Apologizes for Saying 'Women Belong in the Kitchen'
The tweet sparked discussion about how and why strategies like these miss the mark.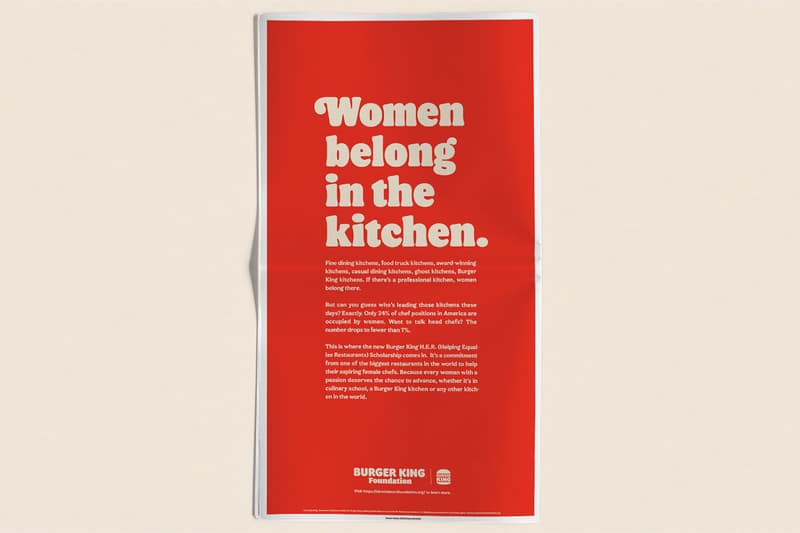 A Burger King U.K. initiative for International Women's Day (IWD), received backlash yesterday for leading its campaign with the phrase, "women belong in the kitchen."
Further clarification followed in the since-deleted Twitter thread: "If they want to, of course. Yet only 20% of chefs are women. We're on a mission to change the gender ratio in the restaurant industry by empowering female employees with the opportunity to pursue a culinary career." The tweet was intended to announce the Burger King H.E.R. (Helping Equalize Restaurants) Scholarship, and an open letter to the same effect also ran in a full-page newspaper advertisement.
People say that Burger King tweet is bad, but the subsequent exchange with the KFC account is so much grimmer pic.twitter.com/PaEEVPsr9s

— Tom Gara (@tomgara) March 8, 2021
We hear you. We got our initial tweet wrong and we're sorry. Our aim was to draw attention to the fact that only 20% of professional chefs in UK kitchens are women and to help change that by awarding culinary scholarships. We will do better next time.

— Burger King (@BurgerKingUK) March 8, 2021
After previously defending the statement in a Twitter exchange with the KFC Gaming account, Burger King UK issued an apology on Twitter for its initial statement yesterday. HYPEBEAST reached out to Burger King for additional comment and received the following statement:
We are committed to helping women break through a male-dominated culinary culture in the world's fine dining restaurants – and sometimes that requires drawing attention to the problem we're trying to help fix.

Our tweet in the UK today was designed to draw attention to the fact that only a small percentage of chefs and head chefs are women. It was our mistake to not include the full explanation in our initial tweet and have adjusted our activity moving forward because we're sure that when people read the entirety of our commitment, they will share our belief in this important opportunity.

Our commitment: As a start to doing our small part, we've created the Burger King H.E.R. (Helping Equalize Restaurants) Scholarship as part of the Burger King℠ Foundation Scholars Program, which has awarded more than $3 million in scholarships to support female team members in achieving their educational goals in North America. The newly created Burger King H.E.R. Scholarship will help female team members who are interested in or pursuing a degree in culinary arts. Outside of the U.S., similar programs are coming to life in the U.K. and Mexico focused on supporting female team members to pursue further culinary education.
The tweet's backlash opened a conversation about how and why initiatives like these are upsetting to consumers.
Some critics saw the tweet as clickbait meant to lure consumers in with hate-engagement: "using women as a marketing tool by purposely offending people," as one user put it.
A 2018 Heineken ad, which used the phrase "lighter is better" received similar criticism: "I think some companies are purposely putting out noticably racist ads so they can get more views," Chance the Rapper tweeted in response.
Other critics pointed to previous sexist characterizations of women in Burger King advertisements, as well as the dissonance between this campaign and the serious complaints made by female Burger King employees.