NISSIN and Tablelog Concoct Mouth-Watering Instant Shoyu Ramen
Based on the recipe of Yokohama ramen shop Sakurai Chuka Soba.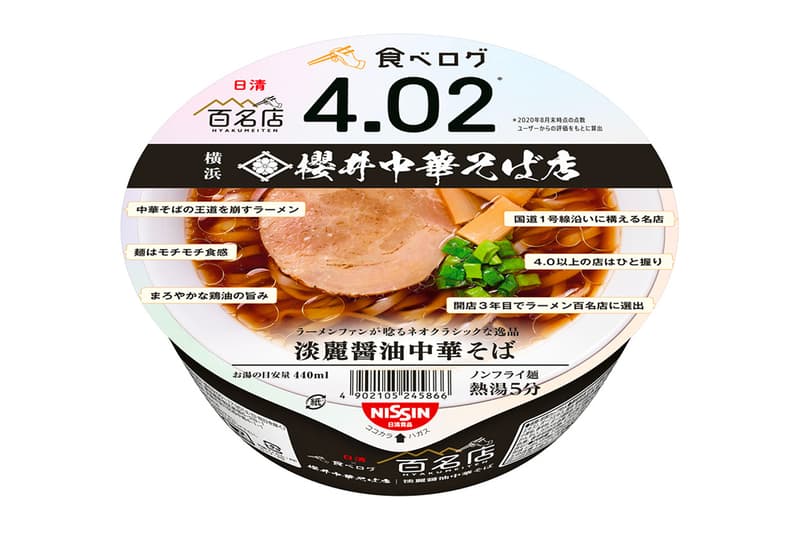 NISSIN has teamed up with Tabelog, a popular Japanese restaurant guide, for instant ramen with a shoyu flavor. This marks NISSIN and Tablelog's fourth collaboration.
The ramen's flavor is a recipe from a shop in Yokohama called Sakurai Chuka Soba, which has been listed on Tablelog's top 100 ramen shops in Eastern Japan for two consecutive years — its owner Keigo Sakurai oversaw the production of the instant ramen. Stamped boldly at the top of the ramen bowl is the ramen shop's Tablelog rating "4.02," below which an image of the shop's shoyu ramen can be seen. It comes with medium-thick, non-fried noodles with a chewy texture that pairs well with the ramen's chicken oil-based broth.
Tablelog and NISSIN's Shoyu-flavored Sakurai Chuka Soba instant ramen will be available on February 15 in Japan for ¥296 JPY (approximately $3 USD).
In case you missed it, here's a look at NISSIN's meter-long Donbei Tempura soba noodles.