Is Hands-Free the Future of Footwear?
The arrival of Nike's Go FlyEase marks a new era of accessibility.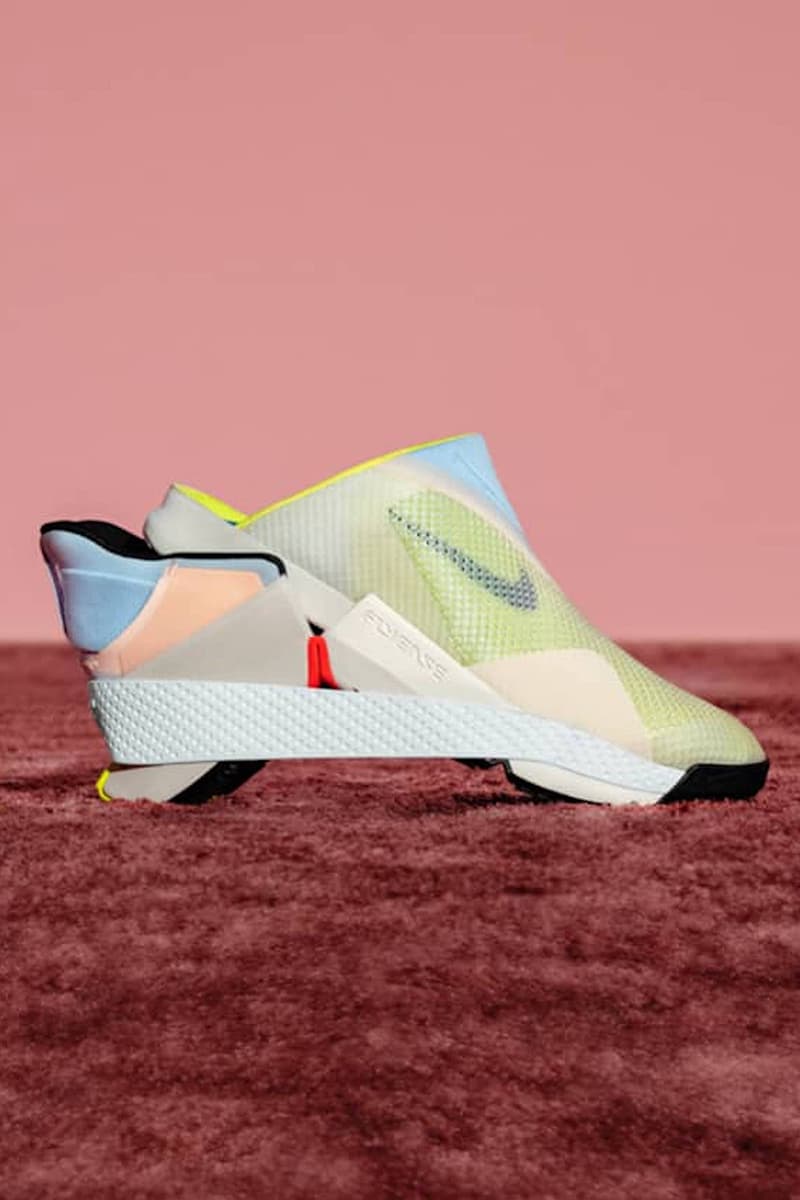 Is Hands-Free the Future of Footwear?
The arrival of Nike's Go FlyEase marks a new era of accessibility.
Nike's announcement of the Go FlyEase last week made headlines in the footwear world and beyond. The hands-free sneaker featured Nike's latest innovations, a bi-stable hinge to keep it secure when open or closed, and a Kickstand Heel that references how people kick off their shoes. The Go FlyEase is the latest silhouette since Nike launched its FlyEase line, with a commitment to "creating shoes that are quick and easy to get into, and more hands-free." Previous releases have seen reworkings of much-loved silhouettes including the Air Max 90 and the Air Jordan 1, but the Go FlyEase takes the idea of hands-free footwear even further.
"This Nike innovation has the potential to impact so many lives," explains Sarah Reinertsen, a three-time paratriathlon world champion and member of Nike's FlyEase Innovation Team. "For some wearers, the Nike Go FlyEase may just be a sneaker with enhanced convenience, for others, with disabilities invisible or visible, it could be the freedom to put on their shoes independently."
"For people with disabilities invisible or visible, it could be the freedom to put on their shoes independently."
While Reinertsen is a highly-decorated adaptive athlete, she adds that the Go FlyEase is more of a lifestyle sneaker, and can bring more accessibility in that world. "It's more of an everyday shoe to help you on-the-go in life's transitions, instead of race transitions," she says, pointing to more performance-led FlyEase silhouettes as alternatives for athletes. "We truly hope this empowers more people to be active in life and play sports. But even if you're not an uber-athlete — to me, life is sport, and whether you're putting on your sneakers to go shoot hoops, or just to hit the streets, if we can help you get your shoes on quicker we can also help you move through your life with greater confidence, comfort and style."
Considering her athletics career and time working with Nike's innovation team since 2007, the arrival of Nike's latest adaptive silhouette is an important landmark for Reinertsen. "For me personally, working on the FlyEase collection is deeply meaningful," she explains. "As part of the disability sport movement for many years, I know how impactful our FlyEase solutions are to athletes with a range of different disabilities. I'm honored to work on the whole suite of FlyEase innovation that serve athletes from kids to adults, and also provide footwear options for a variety of disabilities."
Although the Nike Go FlyEase was only unveiled earlier this month, its announcement marks the latest stage in the brand's pursuit of hands-free footwear. FlyEase officially began in 2015, thanks to a letter from Matthew Walzer. In 2012, on the eve of starting college, Walzer wrote, "My dream is to go to the college of my choice without having to worry about someone coming to tie my shoes every day. I've worn Nike basketball shoes all my life. I can only wear this type of shoe, because I need ankle support to walk. At 16-years-old, I am able to completely dress myself, but my parents still have to tie my shoes. As a teenager who is striving to become self-sufficient, I find this extremely frustrating and, at times, embarrassing." Walzer's letter found its way into the hands of Tobie Hatfield, Nike engineer and younger brother of legendary Nike designer Tinker Hatfield, and the journey to FlyEase began.
The line went from strength to strength as new innovations and silhouettes were unveiled. Then, in late 2019, Nike announced "a strategic investment in and an exclusive intellectual property licensing partnership" with HandsFree Labs, a Utah-based company that had been pioneering developments in this field. At the time, Nike's President of Innovation Tom Clarke said, "Our Nike FlyEase platform is aimed at providing greater access to sport for all athletes, and we believe HandsFree's 'easy on and off' technology has the potential to broaden and enhance this effort by removing barriers to play and making sport easier for more people."
"I believe once people get used to putting on their sneakers hands-free, they will want more footwear options like this."
Echoing Sarah Reinertsen's views, HandsFree Labs believes that the benefits of hands-free sneakers will be felt far beyond the market of those with disabilities. "Hands-free footwear makes everyone's life better," explains Monte Deere, the company's CEO. "We often state the problem this way: 'No one likes the hassle of tying their shoes, and some people can't.' In his view, the solution to this problem has the potential to affect everyone: It improves everyone's life, and is life-changing for those who have a condition that makes tying their shoes difficult or impossible.
While the importance of making hands-free footwear is how easy it is to use for everyone, the technology that goes into it is more complicated. "There has long been a need for hands-free footwear, and others have tried to solve the problem," says Deere. "But the prior solutions are either overly complex (not commercially viable at scale), overly simplistic (do not perform well) or unattractive." The difficulties are also highlighted by Reinertsen. "The engineers and designers had to work through a few technical challenges," she says, "the first of them being that they had never put a hinge in the sole of a shoe before."
Both Reinertsen and Deere think that the Go FlyEase shows the direction that footwear is heading in. "The buzz Nike is creating hands-free footwear is encouraging," says Deere, also pointing to the HandsFree Labs-owned Kizik, which is reporting a 10-fold increase in sales year on year. "We envision a young generation of children who are empowered by the independence of the hands-free shoes, maybe even at the expense of knowing how to tie their shoes."
For Reinertsen, the Go FlyEase — like other Nike FlyEase silhouettes — shows how important "universal design" can be. "The Go FlyEase was created to celebrate the way people are already donning and doffing their shoes," she explains. "So while the Nike Go FlyEase completely changes how you put on and take off your shoes – it was designed with the current human behavior in mind. I believe once people get used to putting on their sneakers hands-free, they will want more footwear options like this, and we're already busy working on more FlyEase innovations for the future."
The Nike Go FlyEase is due to release on February 15 in Japan, before arriving in North America and EMEA March 19.