Dime's Reebok BB 4000 Collaboration Is a Gleeful Hodgepodge of Skateboarding, Basketball and Art
Dime co-founder Phil Lavoie talks his brand's latest footwear project, the playful sense of humor often infused in its products and more.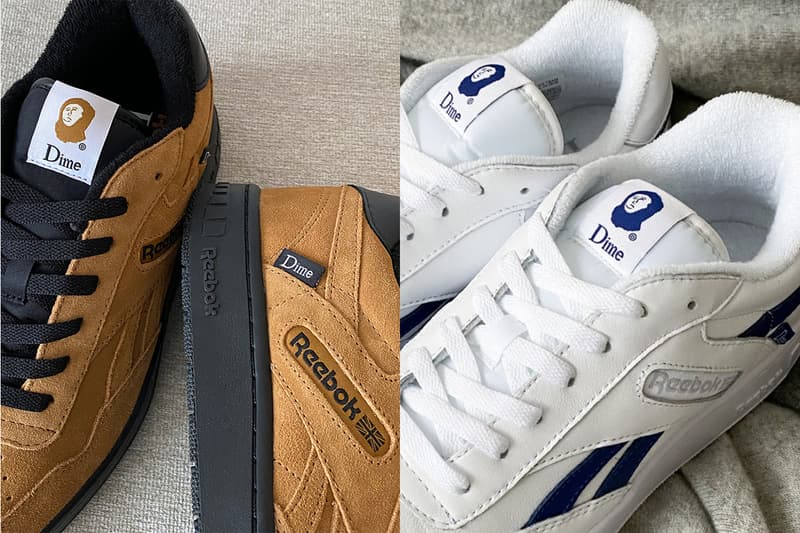 Music. Film. Streetwear. You name it and Montreal has a hand in it. The largest city in Canada's Québec province, Montreal is a veritable hotbed of multicultural creative talent, something Dime co-founder Phil Lavoie cheekily attributes to "drinking the water from the fountain at Peace Park." No matter if it is indeed the water from the fountain, the crisp air or its international port-adjacent location, Montreal is responsible for innovators like Lavoie and Vincent Tsang's Dime, Justin Saunders' JJJJound and dance music maven Kaytranada. The latest output from the city's creative class? Dime's new Reebok collaboration, two takes on the classic BB 4000.
A low-top leather basketball shoe from the late '80s/early '90s, the BB 4000 is a more under-the-radar Reebok style, but Dime was drawn to its versatile low-top cut and neutral shape. This no-frills build serves as an apt canvas for the brand's duo of collaborative takes, one of which mixes rich brown suede with black accents for a skate-ready look, the other which combines white and blue leather for a classic hoops style. Both, however, draw from the Dime archives for one of Lavoie and Tsang's favorite graphics: the botched restoration of Ecce Homo, playfully known as "Monkey Christ."
Though a poorly done — but heartfelt — rework of a century-old painting may seem like a strange source of inspiration for a skate brand-designed take on an old-school basketball sneaker, it's in fact perfectly apt for Dime's gleefully irreverent ethos. The brand has long been known for its playful products, which range from Ecce Homo T-shirts to a toaster that burns grin-inducing graphics onto your bread. The connection between skateboarding and art is clear for Dime, but basketball is in the mix too: Lavoie is a former high school basketball player who's long had an appreciation for retro hoops footwear and its history with the game. This led him to select the BB 4000 for Dime's second collaboration with Reebok after the two first partnered for three takes on the Kamikaze II Low in 2020.
HYPEBEAST recently spoke with Lavoie about Dime's BB 4000s, how his brand has managed to remain playful through the years and why Montreal has been such a hotbed of creative talent. See the full exclusive interview below, and expect the Dime x Reebok BB 4000 to release via the Dime webstore come February 6 before a wider global launch on February 12.
HYPEBEAST: This BB4000 marks your second basketball-themed collaboration with Reebok. Why have throwback basketball shoes been a constant in your collaborative efforts?
Phil Lavoie: The team over at Reebok trusted us with the idea of having Shawn Kemp go bowling with a basketball for our first campaign, so we decided to keep the theme going with this release.
How was the BB4000 decided on? Much like the Kamikaze II Low, it's a more under-the-radar style — not an obvious choice like an Instapump Fury or Club C.
The first collab was more for sports, and the BB4000 is more of a shoe to chill in. We thought it would be a good balance between the two releases. We always try to go with shoes that are rarely being used for collaborations.
Do you approach working on retro basketball footwear differently than you would a core skate shoe, or is the crossover effortless? I know there's a long history of basketball footwear being used for skateboarding.
People will literally skate anything nowadays. So in that case it was kind of effortless because the silhouette is so versatile.
What parallels do you see between the worlds of basketball and skateboarding? Are the Dime crew basketball fans too?
I used to play basketball in high school, and have always been into the rich history of footwear that the sport has to offer. I also think it's funny how in the NBA, for example, the music keeps playing when the game is on. Players just feel more fresh when they play to music they enjoy. It's some sort of dance, just like skateboarding. Also both are more enjoyable when you have a good crew to have fun with.
The "Restoration" graphic/story is a recurring theme in your collections and (occasionally) collaborations. What about it appeals to you specifically?
Somehow people really love when we put out that graphic with Dime written on it, which makes me really happy because I think to myself: they know. It's one of the coolest paintings in the world now. Sometimes accidents end up being better than what was originally intended. It happened many times at Dime that we accidentally came up with something which we ended up using. That Restoration story is the same thing, on a much more grandiose scale, and that's why we find it so relatable. One day I hope I get to see it in person. [Dime co-founder] Vincent Tsang and I used to always send each other that painting by text message cause we were so into that story, so we were really happy when Reebok was open to the idea of using this graphic as imagery on the shoe.
Dime seems to have a knack for injecting a touch of playfulness and personality into its collaborative projects. Why is that important?
We love to bring a laugh or a smile to people's faces when it comes to promoting our products. Maybe one day we'll make super serious commercials about skateboards and sneakers, but we haven't figured it out yet — those [kinds of commercials] are harder to make.
Montreal has been on the rise as a hotbed of creative talent in the past few years. What about the area breeds and/or encourages creativity?
From Oscar Peterson to Kaytranada, and Alanis Obomsawin to Xavier Dolan, Montreal's always been a hotbed of creative talent. Maybe it's just that Montreal never got the recognition it deserved. Port cities are most likely to have more multiculturalism — I think that's a good thing for creative talent. Other than that I don't know if there's a science to it, but I like to think it's due to drinking the water from the fountain at Peace Park.