Essentials: Salehe Bembury
The Spunge founder and FNAA Designer of the Year shares his favorite items.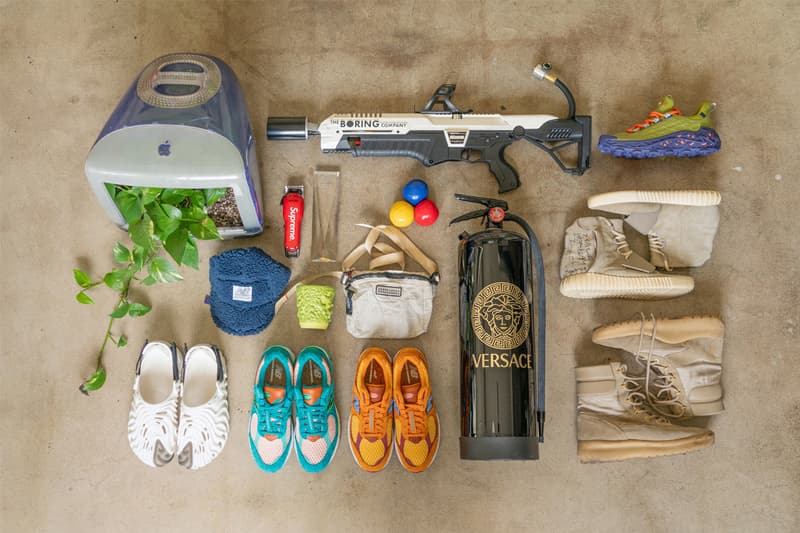 It's been three years since we last spoke to Salehe Bembury for our Essentials series. Since then, the footwear designer has stayed busy and has continued to elevate his craft, moving on from the YEEZY footwear team to become Senior Director of Sneakers & Footwear at Versace, while simultaneously introducing a wide range of footwear and apparel in collaboration with Anta, Lexus, Vans, New Balance, and Crocs. Bembury is now working on developing his own label, Spunge.
Over the years, Bembury's distinctive and innovative designs have undoubtedly broken the mold of conventional footwear silhouettes, and his achievements were formally recognized in 2020 in which he won FNAA Designer of the Year. For our latest Essentials installment, Bembury displays an all-new spread of products that include his personal works, gifts from friends, everyday staples, and fun specialty items.
Highlights include a retro iMac G3 which has been transformed into a plant holder, The Boring Company Flamethrower with a Versace Fire Extinguisher to match, gifted Yeezy Season 3 Samples, pottery from Seth Rogan, juggling balls for meditation and a pair of Salehe Bembury x Crocs "Spackle" expected to release this December.
Follow us below as we dive deeper into Bembury's picks.
What makes your Crocs collaboration different from the current silhouettes on the market?
My Crocs feature forefoot and heel outsole pods. This gives The Pollex more traction and durability than any other injected foam shoe on the market.
We spot the Boring Company flamethrower. How did you get it and are you a big fan of Elon?
We all bought ridiculous things at the beginning of COVID… this was my purchase. I'm a fan of Elon because he is a real-life "Genius." These days anyone that displays any level of "thought" is coined a "genius," however, I believe them to simply be a "thinker." We find ourselves in a time with such a lack of human thought, attention to detail, and sensitivity that when it is presented tangibly, the audience's unfamiliarity conditions an identification of "genius." Elon is a genius…many others that are described as such…are not.
Your Yeezy Season 3 Boots look different?
These were early samples from the Season 3 design process. Kanye and I are the same shoe size so he allowed me to wear test some styles. The final iteration does not feature the collar padding.
Is there a story behind the signed Yeezy 750s?

Kanye signed a pair of his personal 750 samples for my birthday.
Can you tell us more about the green ceramic cup?

Seth Rogen is a pottery god. Many have witnessed his transition from pottery novice, to pottery legend. I had the pleasure of spinning some bowls at his home and he was nice enough to give me some of his work. His glazing technique is extremely cool and I hope to one day have a bathroom featuring tiles with a similar vibe.
What's the story behind the apple monitor plant holder?
That apple monitor's design was extremely significant in the world of computers. It also holds a lot of nostalgic value to my childhood. It is a design aesthetic that came and went, which makes it that much cooler. Whenever I'd see pictures of the monitor or laptop I'd feel something. Eventually, I bought a broken one, gutted it, water sealed the bottom with flex seal…and boom you have yourself a planter.
Take a look at Bembury's product spread above, and stay tuned for more Essentials features in the coming weeks
For last week's Essentials, we had the opportunity to speak with NYC-based jeweler Greg Yüna.